Chin Augmentation Thailand – Cosmetic Surgery Thailand
Chin Augmentation

in Thailand Cost & Reviews at Urban Beauty Thailand

What You Need To Know About Chin Augmentation Thailand Quick guide on how chin augmentation is performed. Instead of risking your financial future and even your home for chin and jaw augmentation, why not book an appointment with Urban Beauty Thailand and save thousands of dollars. Luxury accommodation save you transport fees from the airport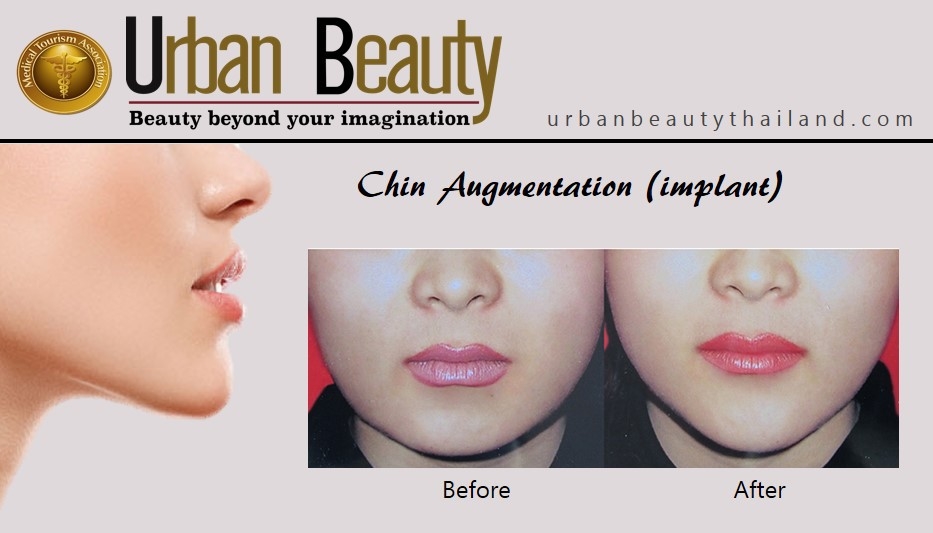 What You Need To Know About

Chin Augmentation

in Thailand. In Thailand Same surgery saving most patients upto 70% vs. Australia, US, NZ in Bangkok, Phuket, Pattaya and Samui.
What You Need To Know About Chin Augmentation Thailand
Because medical procedures are typically less expensive in foreign countries, getting cosmetic surgery Thailand may be a better option if you are considering this procedure.
Although you could potentially save a great deal of money, there are many details and risks you should be aware of before getting plastic surgery Thailand.
Chin augmentation surgery mentoplasty is a purely cosmetic procedure performed to enhance an individual's concept of their own attractiveness.
It involves cutting a pocket into the chin and inserting an implant to create the desired shape and effect.
The extent of your chin augmentation surgery Thailand depends on your facial structure.
The doctor will determine all of the things that must be done during his consultation.
There will be a fee for this clinical interview as well as a doctor fee. Be aware that heart or lung problems, diabetes, and high blood pressure can put you at an increased risk for surgery complications.
Instead of risking your financial future and even your home for chin and jaw augmentation, why not book an appointment with Urban Beauty Thailand and save thousands of dollars. If you are booking from overseas, we will find you the most affordable yet luxury accommodation and will even save you transport fees by bringing you to and from the airport.
 
Chin augmentation in Thailand with Urban Beauty Thailand
During the plastic surgery Thailand, you will be placed under anesthesia – either general or local. Patients under general anesthesia are awake during the procedure while those under local anesthesia are asleep.
You will have the ability to choose which one you want to be used for your chin augmentation surgery Thailand
The duration of this particular kind of plastic surgery is only about 30 minutes and typically done as an outpatient procedure.
Patients often experience common postoperative side effects such as tenderness, swelling, bleeding, bruising, scarring, numbness, and infection.
After the plastic surgery Thailand, you will experience a little difficulty chewing and your ability to move your lips may be decreased for a while.
Because of this, patients who undergo chin augmentation surgery mentoplasty are given a diet of liquid and soft foods for a few days.
Full recovery takes between one and two weeks at which point the majority of plastic surgery Thailand patients are able to return to work.
Thailand chin and nose are the most important factors in the facial profile. Together they determine balance and symmetry. It may be that during a nose correction a chin correction is also needed.
A correction of the chin is also possible as a separate procedures nose chin
Filling substances such as Soft Form® and the bodies own fat can be used to correct  the chin contour.
Filling substances on their own may not give the best result.
Good alternatives can be:a plastic surgery procedure which reconstructs the existing bone structure with or without an artificial implant.
Liposculpture of the neck and the cheek a neck lift with soft tissue enhancement of the chin
Risky in Thailand:
Although we have some of the best surgeons team, chin augmentation Thailand is not 100% free of risk.
There is always the possibility that patients will react badly to anesthetic though this is exceptionally rare.
If you have ever had adverse reactions to medication of any kind, please inform our medical team as soon as you book an appointment for chin  augmentation with Urban Beauty Thailand.
Other potential risks/side effects include:
Collection of blood beneath the skin, also known as hematoma
Tingling
Facial asymmetry
Erosion of the bone
Numbness of a temporary nature
Yet the risks are absolutely minimal and are far outweighed by the exceptional results of the surgery.
It is said that more than 90% of the top CEO's in the famous Fortune 500 list have chins that are average or above average in prominence.
If you have a weak chin or jaw and want to correct it immediately, contact us now and our staff, who are fluent in English, will be ready to take care of you.
What to choose? Preparing for your Chin Augmentation in Thailand:
If you decide to have this surgery done in Thailand, you must make preparations well in advance with the institution where it will be performed.
First be sure that the medical institution you select has a good track record and is appropriately licensed and certified.
You will need to send a copy of your passport and make appropriate flight arrangements.
Some institutions have a recommended list of airlines that provide extra comfort for those coming out of plastic surgery Thailand.
You can call them to get a list.
Because the chin augmentation surgery Thailand is so quick, you should not need to stay in the country very long.
If you do not intend to stay more than 30 days, you should not need to ascertain a VISA. The average price of this procedure is $1,100.
When you book with us, there are no hidden fees or charges as you will pay directly to the hospital, what you see is what you get! Ready to discuss with one of our beauty experts? Contact us at inquire@urban.nginnu.com or www.urbanbeautythailand.com +66(0)86 376 4826/086 655 2462 for voice call, WhatsApp, Viber, WeChat, Tango & Line chat.