Coolsculpting ™ Lowest Price Zeltiq DUO Coolsculpting Bangkok Phuket, Thailand
Coolsculpting Thailand, Lowest Cost Non-Surgical Zeltiq CoolSculpting® PRO Lipo Coolsculpting  Promotion in Bangkok, Thailand ONLY. Its time to treat yourself
Fat Freezing CoolSculpting Liposuction in Bangkok, Phuket Thailand for less @  7,900THB/approx. 238USD/area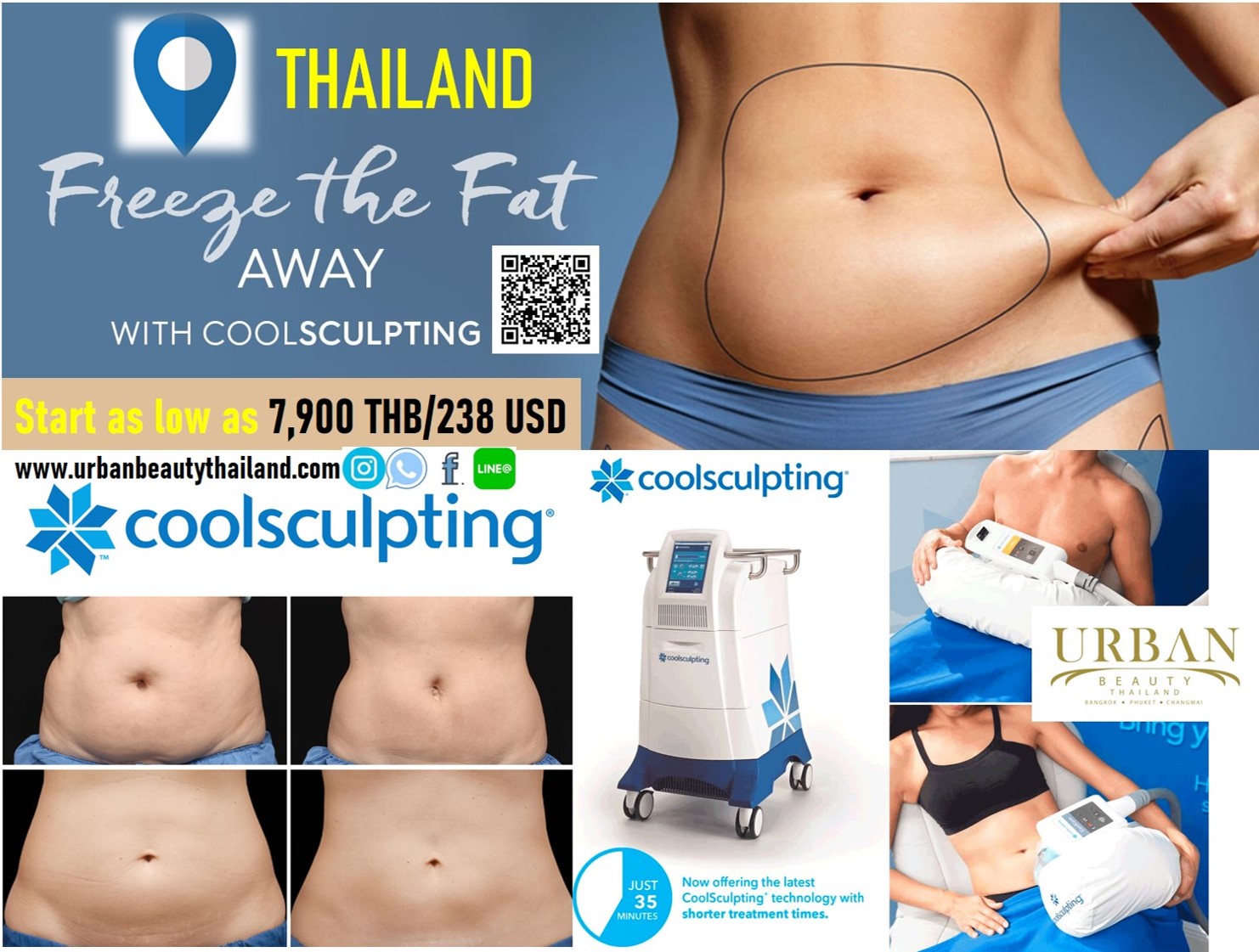 Lowest Price CoolSculpting Thailand: Fat-Freezing Fat Reduction Procedure Bangkok, Phuket Thailand: Treat yourself to the Perfect Body you've always wanted!

Urban Beauty Thailand offer Coolsculpting Thailand "SAVE TIME PRICELESS" NEW PRICE Start 7,900THB/approx. 238USD/area Duo Coolsculpting Zeltiq Cryolipolysis in Bangkok, Phuket Thailand. Prepare your Body for Holiday and GET A FLAB-U-LESS BODY with DUO Coolsculpting Zeltiq Cryolipolysis Bangkok Phuket, Thailand!
Holiday photographs are something that will stay with us forever, so obviously we want to look good in them.
A fifth of women say the photos they log on to Facebook to see are of friends and family holiday pictures; more than photos of friends on a night out. And, when it comes to browsing our own online albums, we are twice as likely to look back at holiday pictures than anything else.
Some say they want to share more photos because they think they look better than usual, thanks to that new holiday outfit and appearing jolly, and 18% admit it's because they want to show off and make others envious.
Coolsculpting Thailand by Current applicator; Cool Core, Cool Curve & CoolFit and CoolAdvantage applicator: 6.3 inch/area 
new promotion just for Bangkok
Coolsculpting Bangkok
1-19 areas is cost 7,900 THB per area
20 areas up is cost 7,400 THB per area
Preparing your body for a holiday can make a big difference to the way you look – and feel.
Coolsculpting Thailand takes 30–90 days for the full effect. If you want to look great this season, you'll need to start working towards those goals now. Duo coolsculpting Thailand can help you reclaim your body and look your best this holiday season. And save your time by doing 2 areas for an hour!
Cryolipolysis uses this science to destroy fatty tissue while putting the body's metabolism to work. Research has shown that cold temperatures can reduce the thickness of the fat layer without having any adverse effects on other types of cells. The body then naturally digests and our immune system will then remove the dead fat cells, and within a few weeks the patient is enjoying her new body contour.
The ZELTIQ system controls the rate of energy extraction or cooling during the procedure. The result is a reduction in fat bulges that are visible in most patients in two to four months. The fat cells in the treated area are gradually eliminated through the body's normal metabolic processes, similar to how fat from food is eliminated.
Unlike most other methods of fat reduction, CoolSculpting involves no needles, surgery, or downtime. Patients often spend procedure time reading, working on their laptops, or simply relaxing.
At Urban Beauty Thailand, we know how frustrating it can be to spend hours at the gym only to achieve lackluster results. If you're tired of battling stubborn ab fat or love handles, it's time to give nature a little boost.
Don't you deserve a slimmer, more attractive body and the increased confidence that comes with it? We believe you do. Call us today to schedule your FREE, private consultation. Our Duo Coolsculpting Thailand is a great value, so hurry and take advantage of this cool promotion!
Want to get your perfect body? Urban Beauty Thailand offer Fat Freezing Zeltiq CoolSculpting in Bangkok & Phuket at the Lowest Prices! Promotional Offer: Coolsculpting Thailand
Choose from Tummy, Love Handles,Thighs, Arms, Calves, Back or Others
Non-Invasive and Non-Surgical Alternative to Liposuction
Achieve Up to 25% Fat Reduction on Treated Area
FDA-Approved Technology
Comfortable and Safe Treatment

Simply contact Urban Beauty Thailand for a complimentary consultation. If you have questions about DUO COOLSCULPTING THAILAND . For more information you may visit us www.urbanbeautythailand.com or inquire@urbanbeautythailand.com or +66 86 376 4826/086 376 4826/086 655 2462.