Low Cost VASER Ultrasound Liposuction, VASER HI-Def Bangkok, Phuket, Thailand – Cosmetic Surgery Thailand
Cosmetic Surgery in Thailand

– VASER Ultrasound Liposuction, VASER HI-Def
Low Cost Liposuction in Bangkok,Phuket and Pattaya Cost & Review

Give You A Dream Body And Vacation in Thailand

 Six Pack Abs

-VASER- Hi Def Body Sculpting. The Next Generation of Body Contouring Urban Beauty Thailand, now offers VASER Liposuction and VASER Hi Def to sculpt your body.
VASER LIPO LOWER or UPPER ABDOMINAL With highly experiences with our surgeon team
LOW COST VASER ULTRASOUND LIPOSUCTION IN THAILAND
VASER Lipo is a minimally invasive surgical technique which removes the fat from your body in one treatment. It is a much much gentler form of liposuction, allowing you to return back to work or most normal activities within a couple of days.  For smaller areas, normal activities can be resumed the following day.
– Some areas of the body are predisposed to store fat, including the abdomen, hips, thighs and buttocks. If you have certain 'problem' areas or stubborn bulges that you just can't shift no matter how much you exercise, VASER Lipo Thailand could be the answer
If you are a regular gym go-er and are still not happy with your shape and are getting frustrated by it all, then you should consider VASER  Hi-def, which is the most advanced VASER technique, which sculpts away the stubborn fat from your defined muscles
Why Thailand And VASER Ultra Lipo and VASER Hi-def
Up until a few years ago, all of the above would have been too good to be true but VASER Hi-Def liposuction has ripped up the rule book.
Traditional liposuction can remove 20-25 pounds of fat safely but there is no real targeting involved.
You can strip fat from a certain area but you are unlikely to end up achieving the chiseled, firm look you desire. Instead, the fat removal could be uneven and although you are slimmer, your body still doesn't feel beach ready.
A Urban Beauty Thailand, our surgeons' team has performed thousands of liposuction treatments including VASER Lipo Thailand and other Lipo treatments to date, VASER Hi Def was launched in Thailand 2010.
VASER Lipo Thailand

is the very latest fat removal technology.
VASER Lipo Thailand is a minimally invasive procedure performed under local anesthesia.
VASER Lipo Thailand is less invasive than traditional liposuction and because it differentiates between fat and important tissues such as nerves, blood vessels and connective tissues, the risk of damage to these tissues is practically eliminated.
Vaser Hi-def before and After Photos;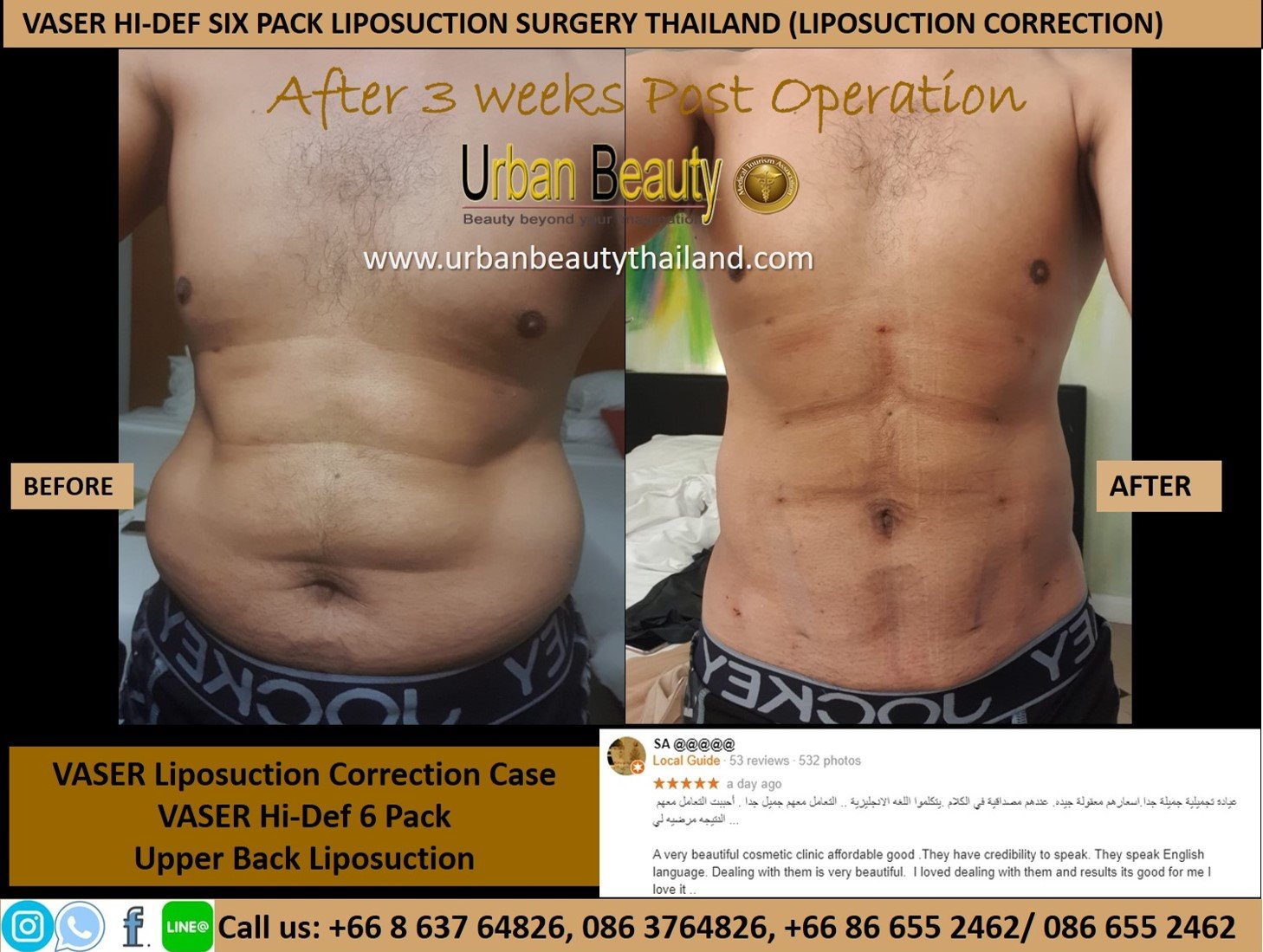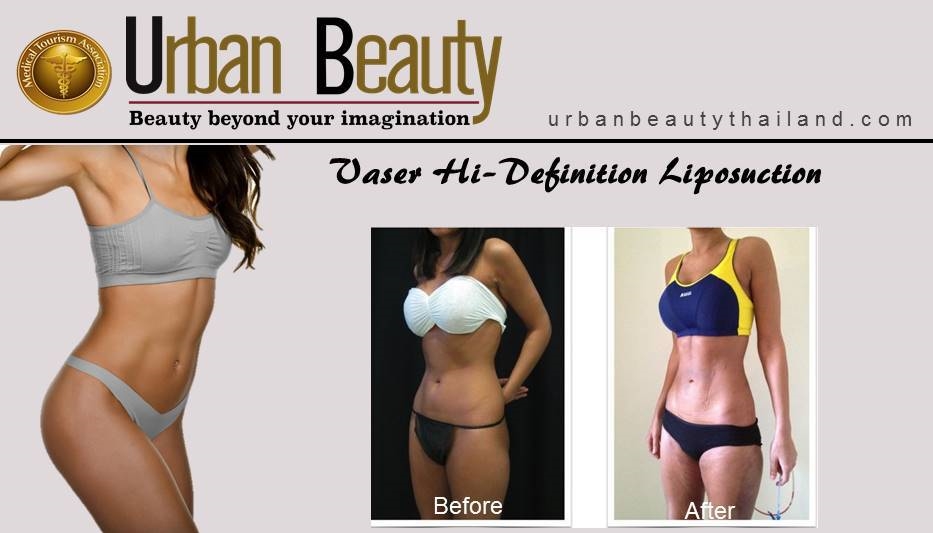 There is no hospital stay,

VASER Lipo Thailand

is a walk-in walk-out procedure with minimum downtime.
Stubborn, localised pockets of fat can successfully be removed, improving the overall shape and contours of your body. VASER Lipo Thailand results are very soft and natural looking. For anyone who prefer a very athletic, sculpted look, VASER High Definition Thailand is a better option.
Downtime in Thailand – VASER Lipo Thailand has minimal downtime and you can get back to your daily routine almost immediately. However because there may be some bruising and swelling, it's best to wait a couple of weeks before you hit the gym or do any rigorous physical activity.
Two different types of VASER treatment in Thailand
VASER and Assisted High Definition VASER or VASER Hi Def.
With VASER Lipo Thailand
With VASER, a small probe is inserted into the area to be treated.
It transmits ultrasound energy to break up or liquefy the fatty tissues and the liquefied fat is then removed through a gentle aspiration process.
The procedure also stimulates collagen production and a tightening of the skin.
With VASER Hi-def  Thailand Lipo Sculpting in Thailand
Assisted High Definition LipoSculpture, or VASER Hi Def is an advanced body sculpting technique.
The procedure creates a more sculpted, athletic appearance than traditional VASER by precisely removing both superficial and deep fat from around muscle groups to enhance the visibility of the underlying musculature.
VASER Hi Def Thailand
– can be performed on multiple body areas but on women tends to concentrate on the buttocks, upper thighs, small of back, love handles and the abdomen.
Make sure to verify your surgeon is one of them, before booking a VASER High Definition procedure in Thailand.
VASER High Definition technique in the Thailand.  Simply put, by coming to us for your VASER Lipo treatment you can rest assured you are in the hands of some of the most experienced surgeons team.
The 'art form' label attached to VASER Hi-Def liposuction is now so well known that it is often referred to as 'liposelection' because the surgeon can actually choose the exact level of fat from the precise area specified by the patient.
The process has become so advanc9ed that surgeons can grant your wishes to within millimeters of perfection
Compare this to old forms of surgery where blood vessels and other tissue was also damaged. This led to the severe bruising and bleeding associated with traditional liposuction.
Some of your questions answered:
What is tradition Lipo, Liposculpture and Lipo filling? VASER Lipo and

Smartlipo

– what is the difference?
VASER Hi-Def liposuction Thailand leaves all other tissue untouched which means less bleeding and a very small amount of bruising.
Hardly a high price to pay for your dream figure, is it?
What is VASER Med (Medium) Def in Thailand?
VASER Hi-Def Thailand is a term used to describe a VASER technique that gives results in-between Standard VASER Lipo and VASER Hi-Def Thailand.
It is particularly suitable for women who generally wish an athletic look but not as extreme as that of the VASER Hi Def Thailand appearance, i.e it looks like you spend some time in the gym as opposed to all your time!
We price VASER Hi-Def Thailand as the same as standard VASER i.e. per area
The amount of recovery time you will need after VASER Hi-Def liposuction Thailand is minimal. In fact, you will be able to do non-strenuous activities within a few days. Every thing has settled, you will see a tighter, slimmer more defined you. If you have dreams of becoming more muscular and having a movie star body, you now have the perfect canvas.
The technology used and skilled required during the VASER Hi-Def liposuction procedure means that it is as much an art form as it is surgery.
Fortunately, Urban Beauty Thailand has several of the world's top cosmetic surgeons under its roof and their combined expertise means that all our patients can achieve their dream figure without any issues.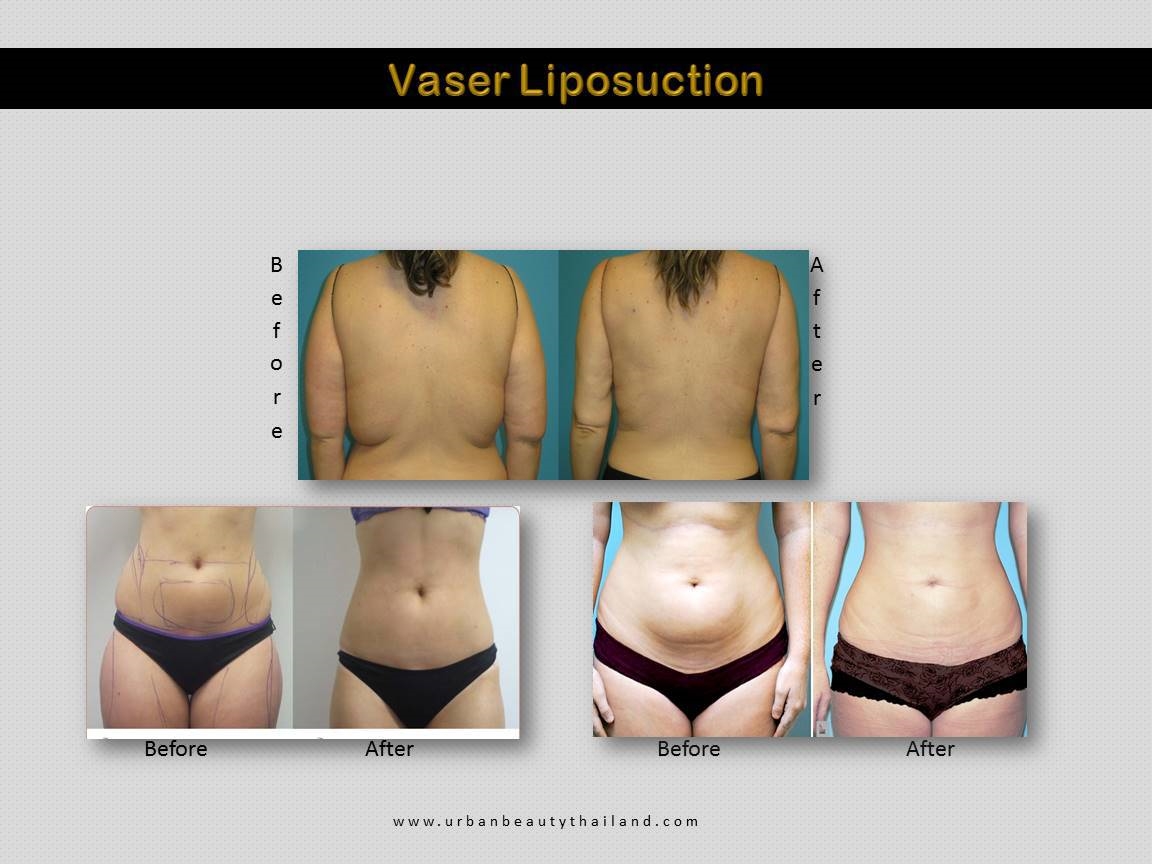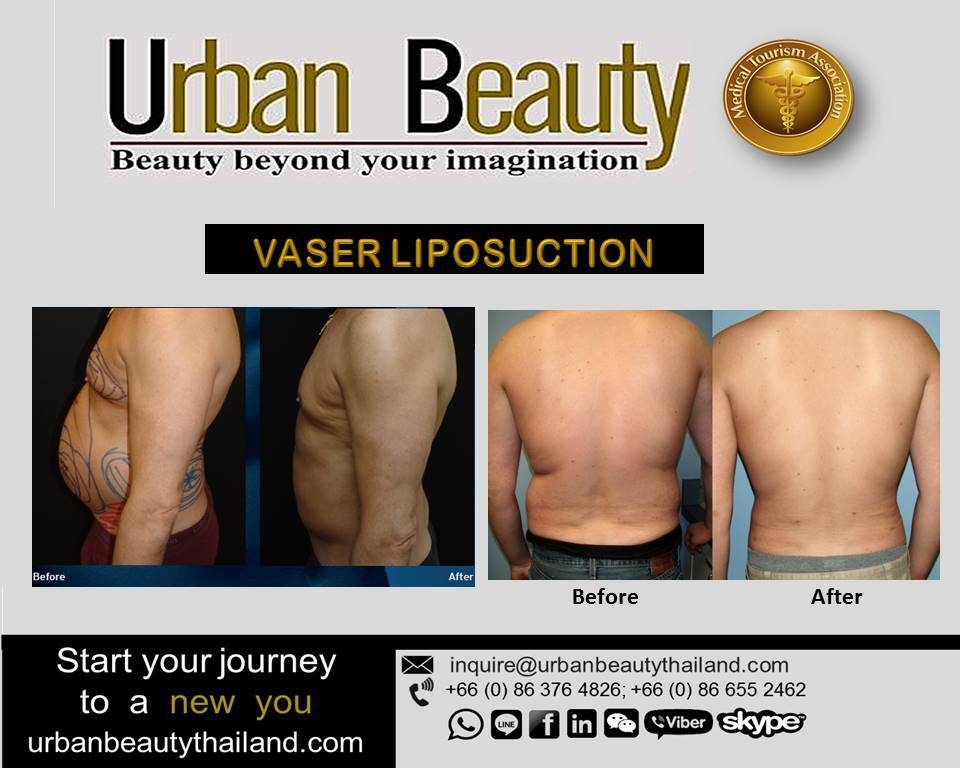 What to choose? Preparing for your Lipo in Thailand:
Take a few moments to review your desired outcome to make sure that you and our plastic surgeon are on the same page.
Surgeon will give instruction about surgery before operation.
After you have made up your mind to explore the wonders of VASER Hi-Def Liposuction Thailand, Book an appointment with Urban Beauty Thailand. We will take you from the airport to your five star accommodation which is easily affordable to virtually all visitors from the West.
Choose VASER Hi-Def Liposuction Thailand for a remarkably quick recovery which enables you to enjoy all the sights and sounds of the paradise that is Thailand and we will be your guide from the moment you step in Thailand until you go home with your fabulous new figure.
For more info. you may visit us www.urbanbeautythailand.com or inquire@urbanbeautythailand.com or +66 86 376 4826/086 376 4826/086 655 2462.
Let's us help you with Liposuction, VASER LIPO, VASER HI-DEF and Smart Lipo in Thailand today!!