Ultherapy Facelift Thailand & Coolsculpting Fat Removal by Zeltiq Thailand – Cosmetic Surgery Thailand
Promotion;

Ulthera Skin Tightening Thailand

,

Ulthera laser Facelift

&

Coolsculpting Fat Removal Zeltiq Bangkok

, Phuket, Thailand. 
The Urban Beauty Thailand offers the most cost effective Ulthera Skin Tightening Thailand and the price starts at 100baht/approx $3+ USD/Line in Bangkok, Phuket Thailand. The Cool Sculpting Bangkok price starts at 7,900 THB/approx. 238 USD/area  from $833usd.

Ulthera Skin Tightening Thailand

 and

Coolsculpting Bangkok, Phuket Thailand:

the new way for Skin Tightening and Body Contouring
Ulthera Skin Tightening Thailand is considered as one of the best non-surgical procedure for beauty rejuvenation.
Ulthera Skin Tightening Thailand harnesses the power of ultrasonic technology to restore a firmer, uplifted look to skin without surgery or downtime.
Ulthera Bangkok, Thailand is tightens the sagging skin by sending ultrasonic energy to the deep foundation beneath the skin to stimulate the renewal of tired collagen and the creation of new collagen this natural protein, which starts to decline and break down as we grow older, is responsible for giving the skin its firmness and strength.
Patients enjoy many benefits of this non-invasive technology including quick recovery times and lowered risk of health complications compare to traditional surgical procedures. Most patients return to normal activity after treatment; while rare, some may experience mild and temporary side effects such as redness or swelling following the procedure. Since collagen production is gradual, results appear immediately, upto two months after treatment. Ulthera procedure is safe and effective for all skin types on men and women.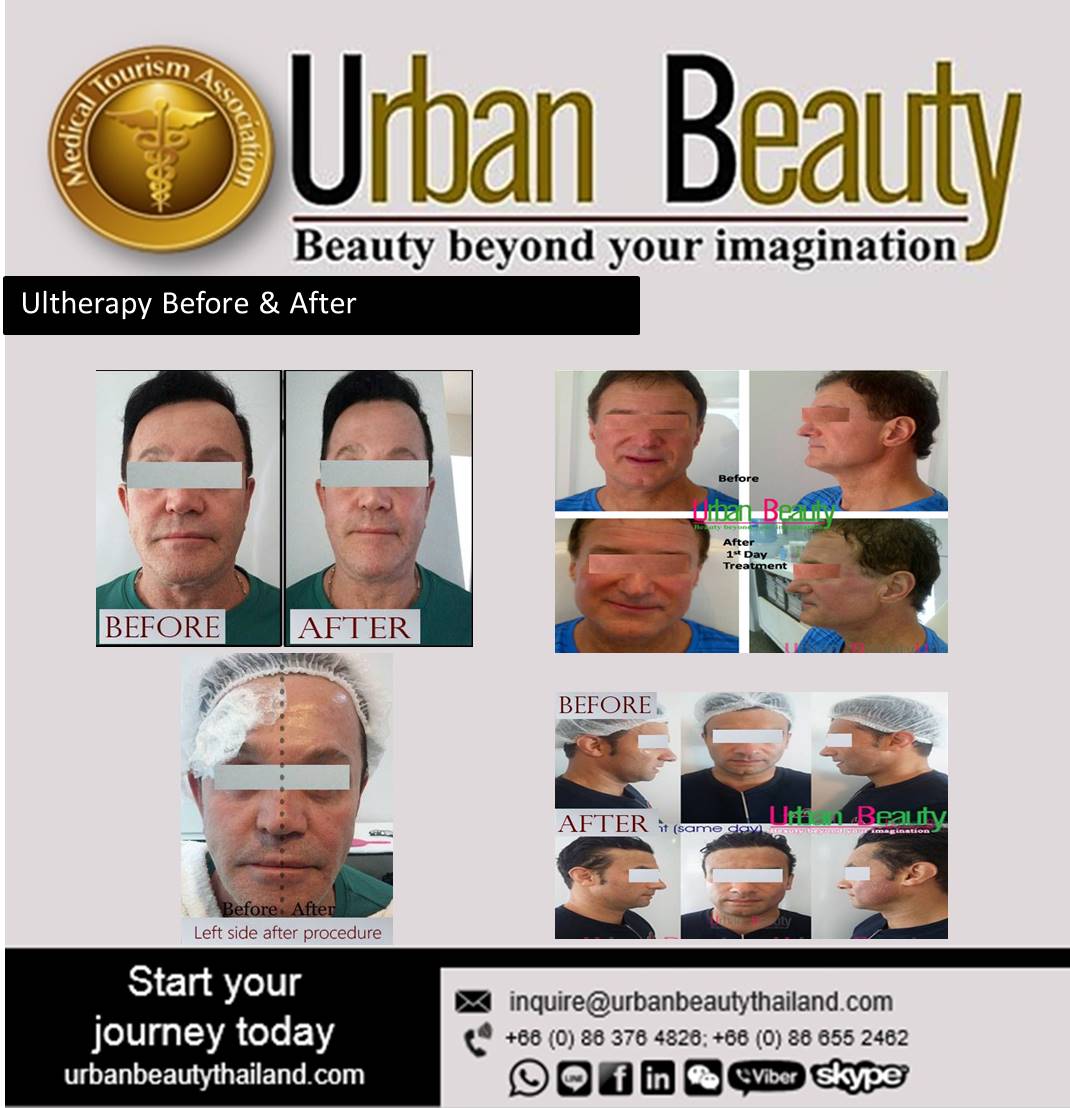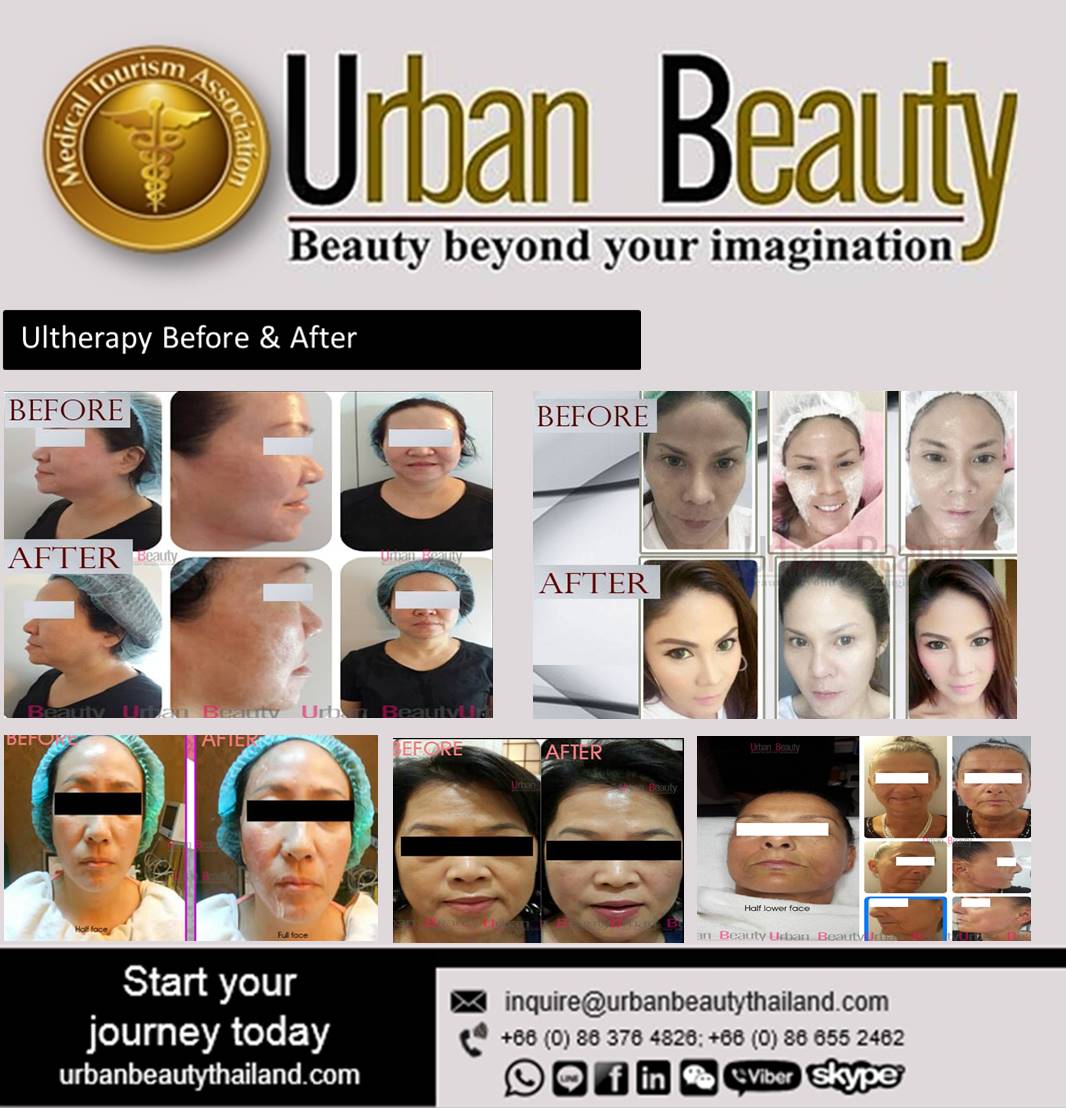 Review our patients says about Ulthera:
Hi Olivia… Thanks again for your company whilst i had my ultherapy treatment. i am starting to notice a difference already!! i am very happy. That slight sag i had under my chin has gone! My face still feels a little sore/bruised even though nothing is visable, its still a bit tender especially around the jaw area. i hope this is normal and will go completely. But overall im happy with results so far and hope they continue to improve!
Lisa x, Brisbane, Australia, Feb
Olivia,
Thank you so much for your reply.  I had a very good trip to Bangkok and was so glad to meet you and have your kind assistance.
My experience with Ulthera is that is was a lot more painful than I expected and it felt like my jaw and cheekbones were bruised, but it did not show.  The soreness is more than half gone and it will all be worth it if I have good results.  I am seeing a little bit of difference, but not too much yet.  With the Zeltiq, I am seeing much more results than I expected right away, mostly on my stomach and waist.  I have not noticed a big difference on my legs yet. See you again in March 2013
Thanks, Annette, U.S.A, Dec
Hi Olivia ,
I hope all is wonderful for you !!
Thank you for your Christmas wishes .. sorry for my late late re
I love my face and my friends are all raving about the difference

how r things going for you ?
i am planning to return to mid year and my daughter in law will come with me to get a breast Augmentation .. ill let you know when we make the arrangements to fly .. I might have a girlfriend too.
I will look for accommodation around Asoke or Chitlom this time so i am more central ..
Debra xx. Sydney, Australia, Nov
Aside from Ulthera Skin Tightening, another non-invasive, no downtime procedure for body contouring is cool sculpting in Bangkok, Phuket by Zeltiq. It takes just a single treatment to get you on your way to looking naturally slimmer with sculpting benefits that increase gradually for weeks.
Cool Sculpting Bangkok uses controlled cooling to reduce fat deposits. This non-surgical body contouring procedure is FDA approved for non-invasive fat layer reduction. It requires no incisions, anesthesia, pain medication or downtime.
During the cool sculpting Bangkok procedure, a process called Cryolipolysis gently and effectively reduces fat cell.
The cooling device will be pressed against the treatment area, targeting the fat cell that you want to dissolve without damaging any of the surrounding skin.
After the tissue has been precisely cooled for a carefully calculated period of time, the targeted fat cells begin to break down.
Because this treatment does not involve anesthesia or incisions, there is no required recovery period. In three days, as your fat cells begin to respond, some patients experience mild soreness or a numbing sensation.
However, you can return and enjoy your regular routine soon after the procedure, even if that means engaging in strenuous exercise. Any mild redness or minimal bruising should be gone within few days.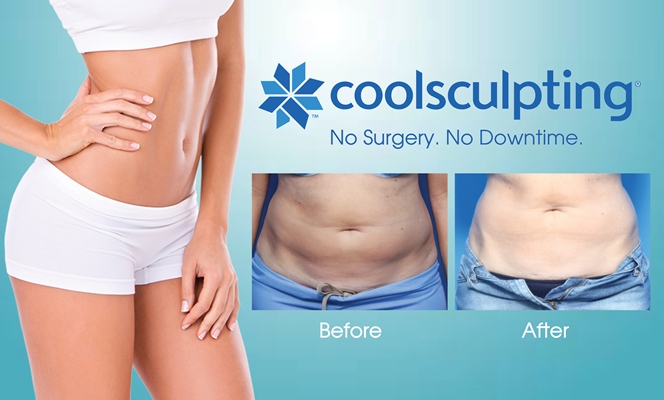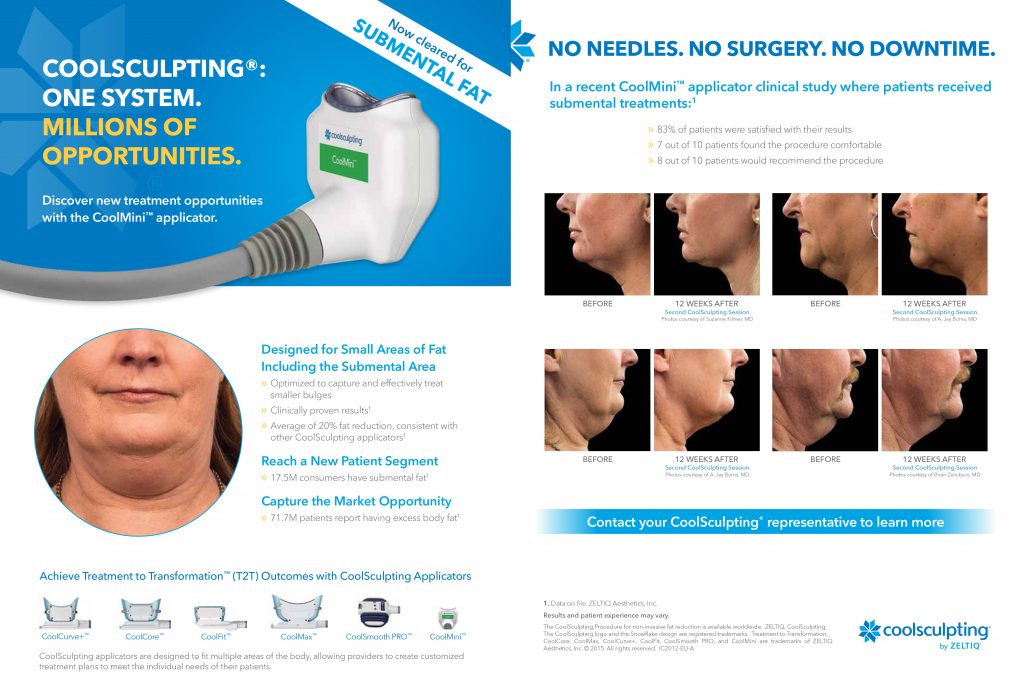 Ulthera Skin Tightening Thailand and Coolsculpting in Bangkok, Phuket use the newest technology that will bring back your youthful glow. The procedure of Urban Beauty Thailand's Ulthera and CoolSculpting Bangkok, Phuket came from US and practiced by the top surgeon in Thailand who is serving for almost 29 years and serving various celebrities and expats not just in Bangkok but all over the world.
At Urban Beauty Thailand, we are committed in providing exceptional value for our patients. This means not only attractive and affordable pricing, but also a dedication to excellent results for our patients. Our doctors are highly-trained, board-certified plastic surgeons by the American Board of Plastic Surgery who have decades of combined experience performing Ulthera and Coolsculpting Bangkok and other Cosmetic Treatment and Procedures such as cosmetic Stem cell treatment for face and body contouring, gold thread lift, liposuction and other forms of beauty and wellness.
The Urban Beauty Thailand offers the most cost effective Ulthera Skin Tightening Thailand and the price starts at 100baht/approx $3USD/Line. The Cool Sculpting Bangkok price starts at 7,900 THB/approx. 238USD/area  from $833usd. We are providing you with the best services that would meet your expectation and satisfaction.
New price

updated: Coolsculpting Bangkok

Zeltiq Thailand

is 7,900 THB/approx. 238USD/area /6.3 inches.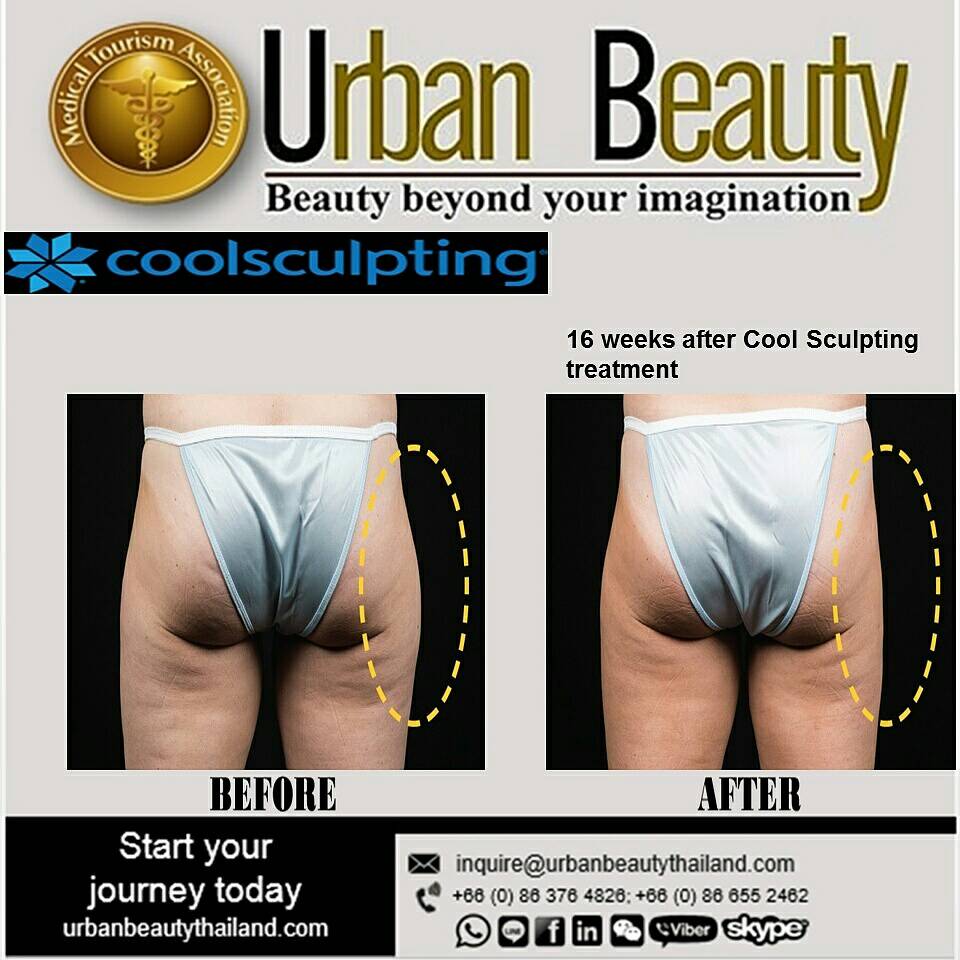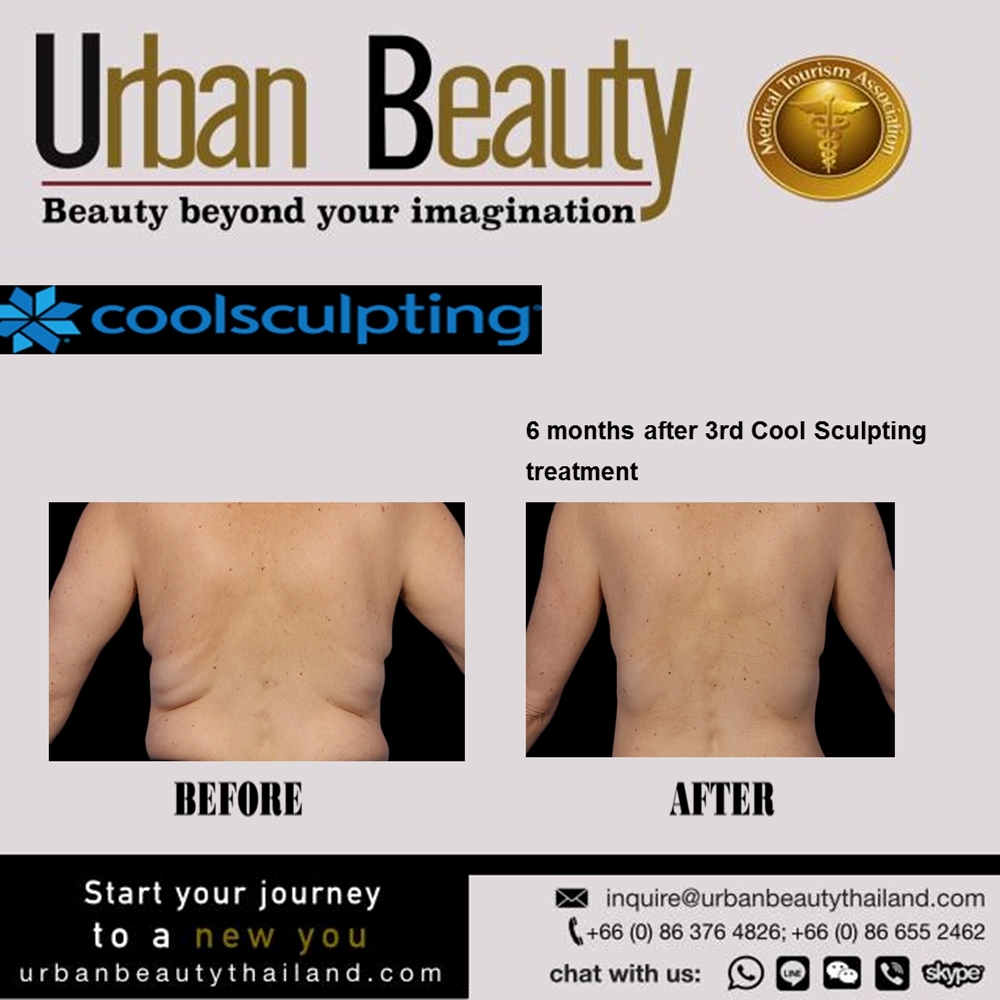 Urban Beauty Thailand offer "SAVE TIME PRICELESS" 7,900 THB/appx 238 USD DUO Coolsculpting  Cryolipolysis Fat removal in Bangkok, Phuket Thailand.
Coolsculpting by Current applicator; Cool Core, Cool Curve & CoolFit and CoolAdvantage applicator: 1 area 6.3 inch/area 
Best deals Coolsculpting, Zeltiq Bangkok, Phuket Thailand, Please contact Us; +668 6 376 4826/086 655 2462 or Cosmetic surgery Thailand, Plastic surgery Thailand cost & reviews. Provide FREE Consultation To get effective evaluation For more info. about Urban Beauty Thailand , Ulthera Bangkok and Cool Sculpting Bangkok you may email inquire@urbanbeautythailand.com