Get the perfect smile in the Land of Smiles – Dental Thailand
Urban Beauty Thailand know that your smile is one of your most important assets and that's why we offer the best cosmetic dentistry treatments available in Thailand. Based in the heart of Bangkok, our highly skilled dentists have vast experience in Thailand, Australia, New Zealand and USA.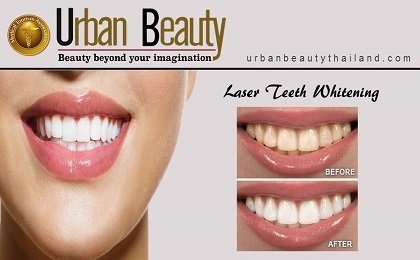 Modern cosmetic dentistry in Thailand has so much to offer to help give everyone the brightest, healthiest looking smile. If you want a Hollywood white smile, Laser Teeth Whitening in Bangkok is the best treatment, it takes around one hour and is completely pain free.
If you are looking for a more dramatic make-over, porcelain veneers Thailand are the perfect solution. Porcelain veneers in Thailand are custom-made and wafer-thin to recreate a completely natural and beautiful smile. Our specialist cosmetic dentists in Bangkok will work with you to do a full smile analysis in order to achieve the absolute best results for you.
Our cosmetic dentistry services can not only brighten a dull smile, but also replace missing teeth and restore your smile and confidence at the same time! Using the best dental implant products on the market, you can have a beautiful and healthy smile in just a few days! Our preferred model is the NobelSpeedy™ Groovy, implants integrate faster than other models with up to 30% increase in stability – not to mention, they look perfect.
Urban Beauty Thailand caters to all of your cosmetic dentistry needs with top quality dental care in Bangkok that is cost effective, safe and in a friendly environment. Whether you need teeth whitening, dental veneers, dental implants, dental crowns, Invisalign® aligners or a full mouth reconstruction, get in touch with us today to begin your journey to beauty beyond your imagination.
Dental Thailand, for more information visit www.urbanbeautythailand.com. Ready to discuss with one of our dentist experts? Contact us at inquire@urban.nginnu.com or +66(0)86 376 4826, 086 655 2462 for voice call, WhatsApp, Viber, WeChat, Tango and Line chat.