Thighlift Liposculpture after weight lost, Advanced Liposuction Phuket, Bangkok Thailand – When Diet and Exercise Won't Work – Cosmetic Surgery Thailand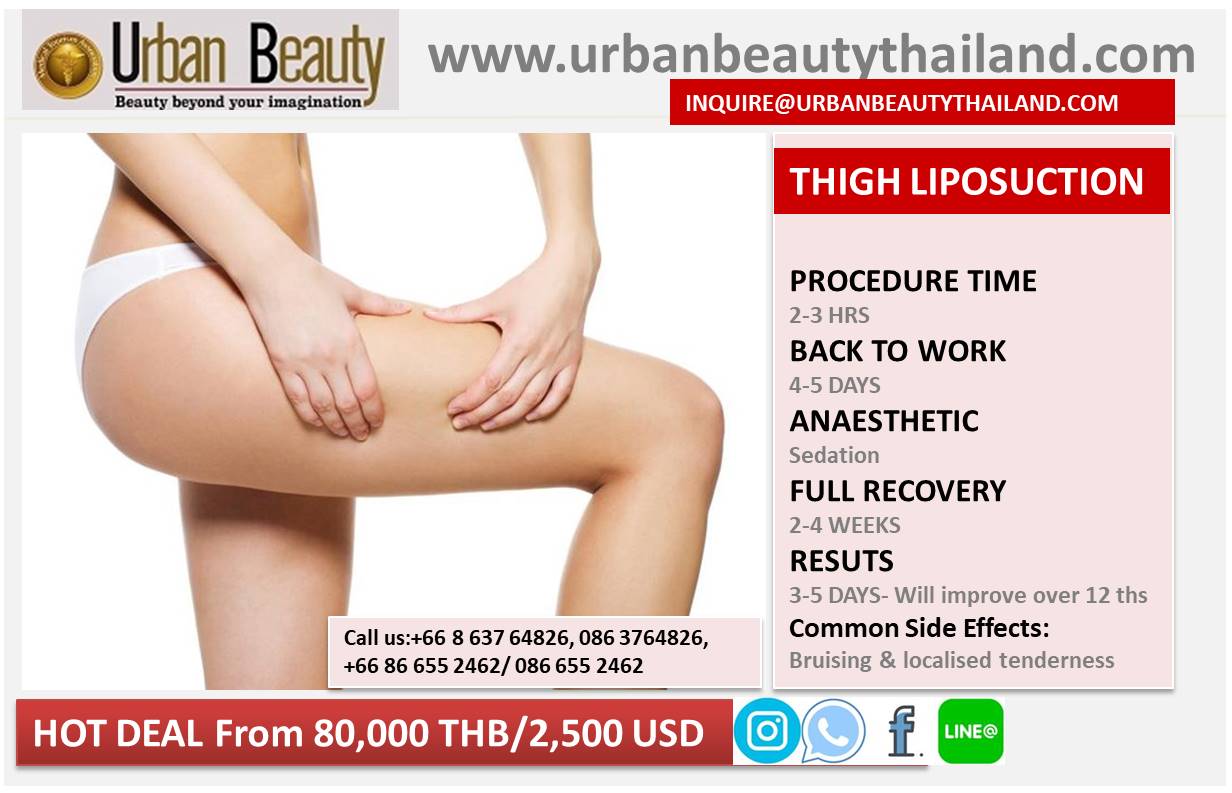 Women of all ages have problems with their thighs no matter how much they weight. If they are overweight, the excess fat on their bodies invariably gravitates towards their thighs. Even if they successfully manage to lose the weight, saggy skin remains, a legacy of weight loss and a constant reminder that you could go back to being heavy if you let your diet slip.
However, Urban Beauty Thailand has a ready made solution for you in the form of a thighlift. This is a procedure that promises to banish excess fat and skin, making you feel younger, slimmer and more attractive. Here are some benefits of a thighlift:
Improves the texture of skin, making your thighs look younger
Firms the skin which leads to a more attractive appearance overall
Improves body shape, giving you the confidence to wear figure hugging outfits
Eliminates chaffing of thighs which can be very painful

A Quick And Easy Solution
The thighlift procedure is a relatively basic one with the patient placed under general anesthesia. Our medical team will place the incision near where the pubic area and junction of your thighs intersect before removing any excess fat via liposuction. The skin is then tightened to give your thighs the appearance of someone who is extremely fit and active!
Weight loss can reduce the skin's elasticity which is why the skin around your thighs can be loose. No amount of exercise or healthy eating can deal with this loss of elasticity. Thanks to the skill of our surgeons however, the muscles and skin around the thighs will be tightened, leading a firmer set of thighs.
The recovery procedure is as follows:
There is likely to be some swelling and bruising in the thighs after the

thighlift

Our medical team will prescribe the requisite medication
The stitches will be removed within 7 days of the procedure
A supporting compression garment may need to be worn for several weeks after the thighlift
The majority of swelling vanishes within 2 weeks
Do not engage in strenuous activity for up to 3 weeks after the thighlift
As you can see, recovering from a thighlift can take some time but there are few better places in the world to recuperate than Thailand. Urban Beauty Thailand has clinics in four different cities: Bangkok, Samui, Phuket and Pattaya. Each of these cities holds its own mysteries for you to explore. All clinics with whom we are affiliated with are accredited by the Thailand Ministry for Tourism and Thailand Ministry for Public Health.
Holiday of a lifetime
At Urban Beauty Thailand, we leave no stone unturned in the quest to give our patients the holiday of a lifetime. Before, during and after the thighlift, we will treat you like royalty, ensuring that you are recovering well and are enjoying your vacation. To remove that excess fat or loose skin forever, book an appointment with us today.
Thighlift Liposculpture after weight lost, Advanced Liposuction Phuket, Bangkok Thailand – When Diet and Exercise Won't Work. Low Cost Liposuction Bangkok Cosmetic Surgery. Sculpt and shape a slimmer body, flat stomach or killer abs with quality, lower-cost cosmetic procedures in Bangkok, Phuket Thailand.  For more information you may visit us www.urbanbeautythailand.com or inquire@urbanbeautythailand.com or +66 86 376 4826/0863764826/0866552462.