Dental Laser surgery Thailand – cosmetic dentistry Bangkok, Phuket Thailand
Dental Laser Surgery Thailand For A Movie Star Smile
Zoom Teeth Whitening Bangkok, Phuket Thailand is only 8,900 baht or approx. $254 USD
You've heard of the phrase 'million dollar smile'. But right now, you don't even have a million baht smile. Modern products have managed to help you achieve glistening hair, smooth skin and alluring eyes but your smile lets the whole ensemble down. No amount of toothpaste and mouthwash can help you and the quest for the perfect smile seems destined to end in failure.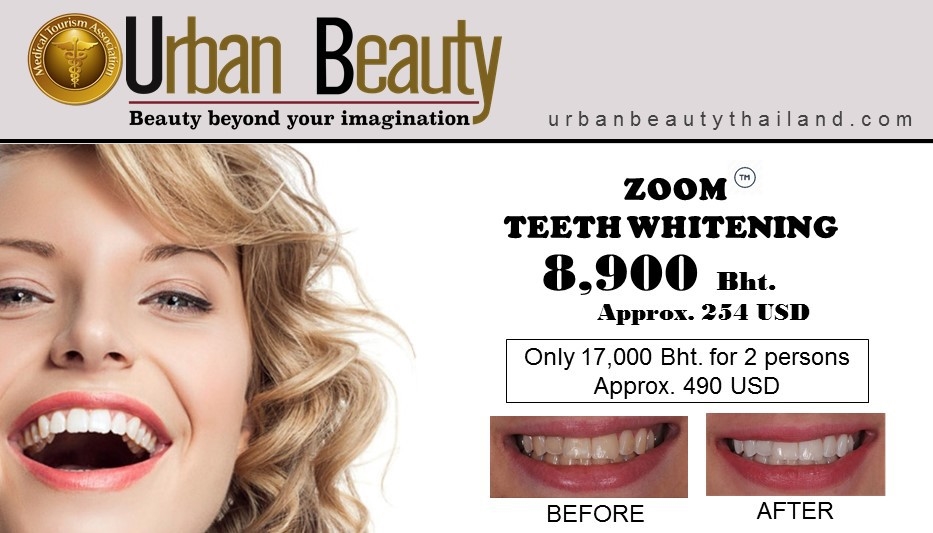 However, dental laser surgery Thailand at Urban Beauty is about to change all that. As well as welcoming patients throughout Southeast Asia, we are receiving an influx of clients from the United States and Europe where the cost of dental laser surgery is between $8,000 and $50,000. These are incredible charges, especially when all the patient wants is a bright, clear smile. We use dental laser surgery to treat patients who need the following services:
Defeat Tooth Decay: The laser can remove your decay and prepare the enamel on your teeth for a filling. We can also use dental laser surgery to harden a filling.
Destroy Gum Disease: Our laser can be used to reshape gums and eradicate bacteria during a root canal.
Lesion/Biopsy Removal: A biopsy is a tiny piece of tissue. We can remove this tissue to check it for cancer. Lasers also have the power to get rid of lesions and end any pain caused by canker sores.
Whitening Your Teeth: We apply a peroxide bleaching solution to the surface of your teeth and the laser can activate the bleach for a faster whitening process.
However

, we must inform you that dental laser surgery Thailand is not suitable if you:
Require it on teeth that already have fillings in place
Need cavities located between teeth to be filled
Have defective crowns or silver fillings to be removed
Don't want to undergo anesthesia
Dental Laser Surgery Procedure :
Dental laser surgery Thailand at Urban Beauty  is extremely easy. The laser emits an extraordinary amount of energy in the form of light.
The laser cuts and vaporizes tissue it comes into contact with. It also strengthens the bond that exists between a tooth and a filling.
When it comes to the whitening of teeth, dental laser surgery Thailand uses the laser as a heat source to speed up the bleaching process.
Once it becomes clear that dental laser surgery Thailand is a realistic option, you should:
Contact us now to find out more about the particular
dental laser surgery Thailand

you should be considering. This consultation will include a detailed analysis of what you'll be experiencing.
Stay away from alcohol and smoking for at least 14 days before the procedure
Fast for at least 6 hours before the surgery. This means no eating OR drinking
Note that the recovery time is fast and may not require a night in hospital. The option is available however
Recovery time is minimal as already explained but here are some things you need to remember:
Expect minor pain for a few days
Take medications prescribed by the Urban Beauty medical team
Take the rest of the day off but be prepared to return to work the following day if necessary
Stay on a liquid or soft diet for at least 72 hours after the procedure
Dental laser surgery Thailand is one of the easiest ways to get that Hollywood smile you've always dreamed of. There is no justification for the excessive prices charged in the West which is why dental laser surgery Thailand at Urban Beauty is 70% cheaper than in America or Europe. As Thailand has a specific cosmetic surgery program, the treatment you receive here is arguably better than in exclusive, expensive Western clinics.

Once you decide to book an appointment for dental laser surgery at Urban Beauty, you will never look back. You will finally be blessed with a killer smile that stops people dead in their tracks.
Dental Laser Surgery Thailand For A Movie Star Smile – Zoom Teeth Whitening Bangkok, Phuket Thailand is only 8,900 baht or approx. $254 USD
Urban Beauty caters to all of your cosmetic dentistry needs with top quality dental care in Bangkok, Phuket Thailand that is cost effective, safe and in a friendly environment. Whether you need teeth whitening, dental veneers, dental implants, dental crowns, Invisalign? aligners or a full mouth reconstruction, get in touch with us today to begin your journey to beauty beyond your imagination.
Dental Thailand, for more information visit www.urbanbeautythailand.com Ready to discuss with one of our dentist experts? Contact us at inquire@urbanbeautythailand.com or +66(0)86 376 4826/086 655 2462 for voice call, WhatsApp, Viber, WeChat, Tango and Line chat.