Laser Teeth Whitening Thailand – Dental Bangkok, Phuket Thailand
Why Laser Teeth Whitening

Is The Multi-layered Solution
Laser Teeth Whitening in Bangkok, Thailand for less than $200USD or 6,900 baht Only
   
For Stained Teeth
Modern living seems to take its toll on everything. Our hair starts going grey and possibly even falls out, our eyes develop bags underneath them and our skin becomes wrinkled and makes us look old. Yet we can use products to remove most of these problems. Not so with stained teeth. If your 'revolutionary' new toothpaste doesn't work, you face a lifetime of grins and half smiles as a legacy of coffee, tea and cigarettes ensures that white teeth are but a memory.
Did you know that your teeth are categorized into 17 shades of darkness according to the Vita shade guide? Do you know which category your teeth fall under? Are you aware of the fact that laser tooth whitening surgery Thailand could make up to 8 changes in shade?
Forget about other forms of improving your teeth, laser tooth whitening surgery is the most effective and convenient way to return your teeth to the pristine white color they once were.
Chemical whitening, mild acid whitening and abrasive teeth whitening are alternative methods but frankly, none of them give the same results and these procedures could also cause a great deal of pain to the patient.
Once you have decided on laser teeth whitening Thailand, we can book an appointment and invite you to the surgery at Urban Beauty.
Our surgeon will apply a translucent bleaching gel to your teeth and a laser will be activated.
The heat from the laser will activate the crystals which absorb the energy from the laser's light and penetrates the enamel of the teeth which helps brighten them.
We will measure the level of discoloration and this determines how long the procedure takes.
In terms of cost, laser teeth whitening Thailand generally costs in the ballpark of $1,500 in the West.
At Urban Beauty, laser teeth whitening Thailand is available for less than $200USD (6,900 baht).
For this trifling sum, you could gain a level of confidence you have never experienced before.
It's a well-known fact that a bright smile opens doors socially and career wise.
This small investment could well change your entire life. All our patients have reported a startling improvement in their quality of life that they have attributed to laser teeth whitening.

Here are some pros and cons to laser teeth whitening Thailand
Pros
    A whiter smile significantly improves your appearance
    People with white teeth are less self-conscious than others
    Whiter teeth make you appear younger as smiling more can help reduce the amount of facial wrinkles that appear
    Unlike chemical whitening, there are no allergic reactions with laser teeth whitening
Cons;
Your gums and teeth may hurt for a short time after the procedure
It doesn't keep your teeth permanently white, you have to take great care of your teeth to keep them that glorious color
As you can plainly see, the cons are not really disadvantages at all.
Who is going to complain about a day or so of pain when their teeth look better than ever? Laser tooth whitening Thailand is guaranteed to bring your teeth several layers closer to being white.
If your teeth are incredibly stained, you may need two sessions to have a dazzling white smile. Laser tooth whitening surgery gives you a second opportunity that hard living seemed to have taken from you.
You can permanently improve your appearance with laser teeth whitening if you commit to treating your teeth right.
Do so, and you will be turning heads and be the subject of admiration as your bright smile wins over all comers.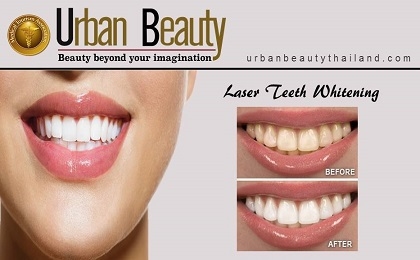 Laser Teeth Whitening in Bangkok, Thailand for less than $200USD or 6,900 baht Only
Urban Beauty caters to all of your cosmetic dentistry needs with top quality dental care in Bangkok, Phuket Thailand that is cost effective, safe and in a friendly environment. Whether you need teeth whitening, dental veneers, dental implants, dental crowns, Invisalign? aligners or a full mouth reconstruction, get in touch with us today to begin your journey to beauty beyond your imagination.
Dental Thailand, for more information visit www.urbanbeautythailand.com Ready to discuss with one of our dentist experts? Contact us at inquire@urbanbeautythailand.com or +66(0)86 376 4826/086 655 2462 for voice call, WhatsApp, Viber, WeChat, Tango and Line chat.