Diabetic Foot Ulcer  Thailand
Heal the Pain with Diabetic Foot Ulcer Treatment in Thailand
Specialist Plastic & Reconstructive Surgeon Specializes in  Complex & Chronic Wound Management
Diabetic Ulcer Chronic Wound Management & Healing Reconstructive Specialist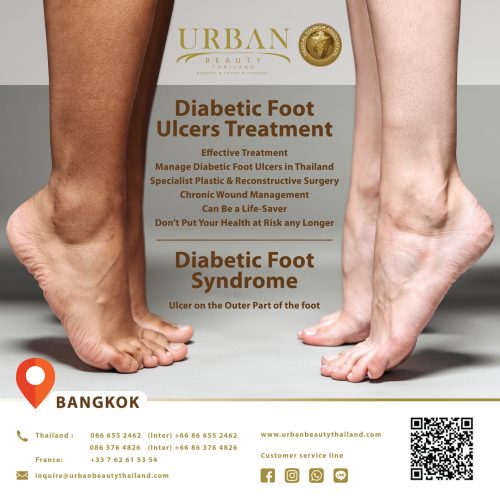 Diabetes Type 2 accounts for around 90% of all diabetes cases and is a serious, life-threatening and life-limiting condition that affects some 425 million people across the world. Bangkok, Thailand's capital. Is a medical hub that includes high-level specialists in diabetic ulcer wound management.
A growing health concern, with one in two diabetics undiagnosed, some 15% of Diabetes Type 2 sufferers develop chronic non-healing ulcers, particularly on the foot. Out of this group, around 6% will end up requiring hospital care for an infection or another related ailment. Healing can be compromised by peripheral neuropathy and peripheral arterial disease. In Bangkok, Thailand patients from all over the world benefit from treatment to help heal wounds.
Hospital studies suggest that mortality rates among diabetics with foot ulcers is around double that of diabetic patients without any ulcers. In Thailand you can benefit from immediate specialized reconstructive treatment for continued healing.
If you suffer from chronic or so-called non-healing diabetic ulcers you need to act without delay with effective treatment to promote wound healing that lasts. That means seeking specialist help through Urban Beauty Thailand with a consultant in Bangkok to deal with open sores immediately. This can avoid the many risk factors associated with Diabetes Type 2 and with diabetic ulcers. Diagnosed diabetics taking insulin are at particular risk of hypoglycaemia too, where low blood sugars can impair cognitive function, cause seizures and even prove fatal.
Diabetes Type 2 can lead to many health conditions, with ulcers accelerating issues such as infections and, with many current treatment options, raising the likelihood of amputation and other health complications. Other conditions include blindness and renal failure as well as heart attacks and strokes.
Urban Beauty Thailand offers diabetic sufferers the best integrated care and chronic wound management, with Bangkok renowned for its high standard of internationally-accredited hospitals and clinics. Comprehensive, personalized care helps heal diabetic ulcers, relieving sufferers from painful and unsightly sores and reducing the risks of further health problems and of surgery such as amputation which diminishes quality of life and mobility.

Treatments for diabetic foot ulcer wound management available in Bangkok, Thailand include:
PRP (Platelet-Rich Plasma): Stimulates and accelerates the wound-healing process and reduces inflammation.
Stem Cell Therapy: Increasingly used in the treatment of diabetic foot ulcers to target specific areas and as an alternative to amputation. Non-healing mechanisms are sought to be targeted in order to bypass these and promote healing.
Low Level Laser Therapy: A non-invasive, pain-free treatment that aims to stimulate healing by delivering electromagnetic radiations to diabetic ulcers.
Supplement: Nutritional intervention is applied to control and improve diabetes and diabetic ulcer healing outcomes, with blood-glucose levels targeted.
At Urban Beauty Thailand, we believe that patients, their desires, and anatomy are all unique. Therefore, we offer these procedures at its best discounted price for all who would like to have healthier body.
Our doctors evaluate each patient and create a customized treatment plan for all of their patients to meet their expectations. We are proud to offer a variety of Diabetic Ulcer Chronic Wound Management for a healthier you., Urban Beauty Thailand offer latest affordable anti-aging and regenerative medicine.  Thailand Anti-aging medicine including chiropractic, chelation, stem cell therapy, fat transfer, stem cell anti-aging, fresh cell therapy for anti-aging, osteoarthritis, hair growth, diabetes, liver disease, weight loss, hormone therapy HGH and anti aging hormone treatment, platelet-rich photo activation PRP, stem cell joint repair treatment osteoarthritis cartilage and Oxygen & Ozone therapy. For more info. contact us If you are ready to experience a healthy body, we encourage you to contact us at inquire@urbanbeautythailand.com or call us at +086 655 2462, +66863764826/086 655 2462 to schedule a consultation and learn more about Diabetic Foot Ulcer Treatment in Thailand