Women want to tighten their vagina for a whole host of reasons. Some simply want incredible intercourse, while others have had children or are suffering from medical conditions that result from having weak vaginal muscles. Whatever the case is, tightening and strengthening the vagina is something that every woman should do. It will not only make your sex life incredible, but you will also have a very healthy vagina for years to come.
The stress of childbirth as well as age can cause a loosening of the vagina, and consequently, reduced sexual satisfaction for both partners.
The loss of muscle tone that happens as women age can also cause a loosening of the vaginal muscles and surrounding tissues.
In some cases, younger women who have never had children have larger than expected vaginal openings and canals.
All of these women can benefit from vaginal tightening. Kegel exercise alone can't improve the condition of the vaginal muscles.
Vaginal Tightening Thailand uses a new way to tighten vagina called the Vulvo- Vaginal Laser Reshaping which is known as V2LR and the first and only no downtime vaginal tightening Thailand. Unlike other laser vaginal tightening, V2LR is an outpatient basis procedure which means, no downtime to tighten vagina. Using a machine called SmartXide with a new vaginal rejuvenation fractional technique, you will not need a surgical procedure to tighten vagina.
This new nonsurgical vaginal tightening is the answer to vaginal laxity common complaints such as: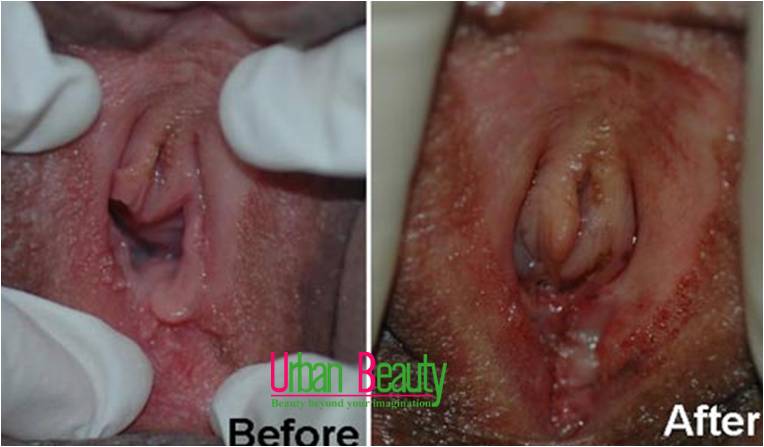 Discomfort and symptoms of prolapsed
Tampons fall out
Lack of friction during intercourse
Penis falls out during intercourse
Vaginal wind
Bathwater entrapment
These common complaints are caused by Vulvo- Vaginal Atrophic change which is a common and under reported condition associated with decreased estrogenization of the vaginal tissue. Symptoms include dryness, irritation, soreness, and dyspareunia with urinary frequency, urgency, and urge incontinence.
Vagina Tightening Thailand Before & After
It can occur at any time in a woman's life cycle, although more commonly in the postmenopausal phase, during which the prevalence is close to 50%. For many women, vaginal atrophy makes intercourse painful — and if intercourse hurts, your interest in sex will naturally wane. In addition, healthy genital function is closely intertwined with healthy urinary system function. And Vulvo – Vaginal Laser Reshaping (V2LR) is the answer for these problems with primary objective of reduction of Vulvo-vaginal symptoms, improvement in sexual function improvement in the VHI score and changes in the anterior and/or posterior vaginal thickness.


The procedure of Urban Beauty Thailand on Vaginal Tightening using the newest technology came from US and practiced by the top surgeon in Thailand who is serving for over 30 years and serving various celebrities and expats not just in Bangkok but all over the world.
Vagina Rejuvenation & Tightening Thailand Before & After
Cost of vaginal tightening is an important factor when considering vaginal tightening procedure. However the quality Vaginal tightening is more important than its cost. If the ultimate goal of Vulvo- Vaginal Laser Reshaping is to have a happy patient, then the surgeon's expertise and experience are probably more important than the price.
That's why the Urban Beauty Thailand is offering the FIRST AND ONLY NO DOWNTIME VAGINAL TIGHTENING THAILAND that starts at 15,000 THB/ appx. 468 USD  with expertise and services of our top surgeon.
At Urban Beauty Thailand, we are committed in providing exceptional value for our patients. This means not only attractive and affordable pricing, but also a dedication to excellent results for our patients. Our doctors are highly-trained, board-certified plastic surgeons by the American Board of Plastic Surgery who have decades of combined experience performing vaginal tightening that includes surgical and non-surgical procedures and other Cosmetic Treatment and Procedures such as cosmetic Stem cell treatment for face and body contouring. Available in Phuket, Pattaya and Bangkok providing you with the best services that would meet your expectation and satisfaction.
The Urban Beauty Thailand will help you achieve your goals in life through providing the best surgeons. The prices of the Urban Beauty Thailand are upfront and have a 100% satisfaction rate which means that they are professionals and experts giving world class services. For more information about Urban Beauty Thailand , Vulvo-Vaginal Laser Reshaping and Tightening, Stem Cell Treatment and other cosmetic treatment and/ or services, you may contact US at inquire@urbanbeautythailand.com
www.urbanbeautythailand.com