FUE Hair Transplant Thailand / Restore Hair Loss with FUE Thailand – Cosmetic Surgery Thailand
FUE Hair Transplant Thailand

/ Restore Hair Loss with FUE Thailand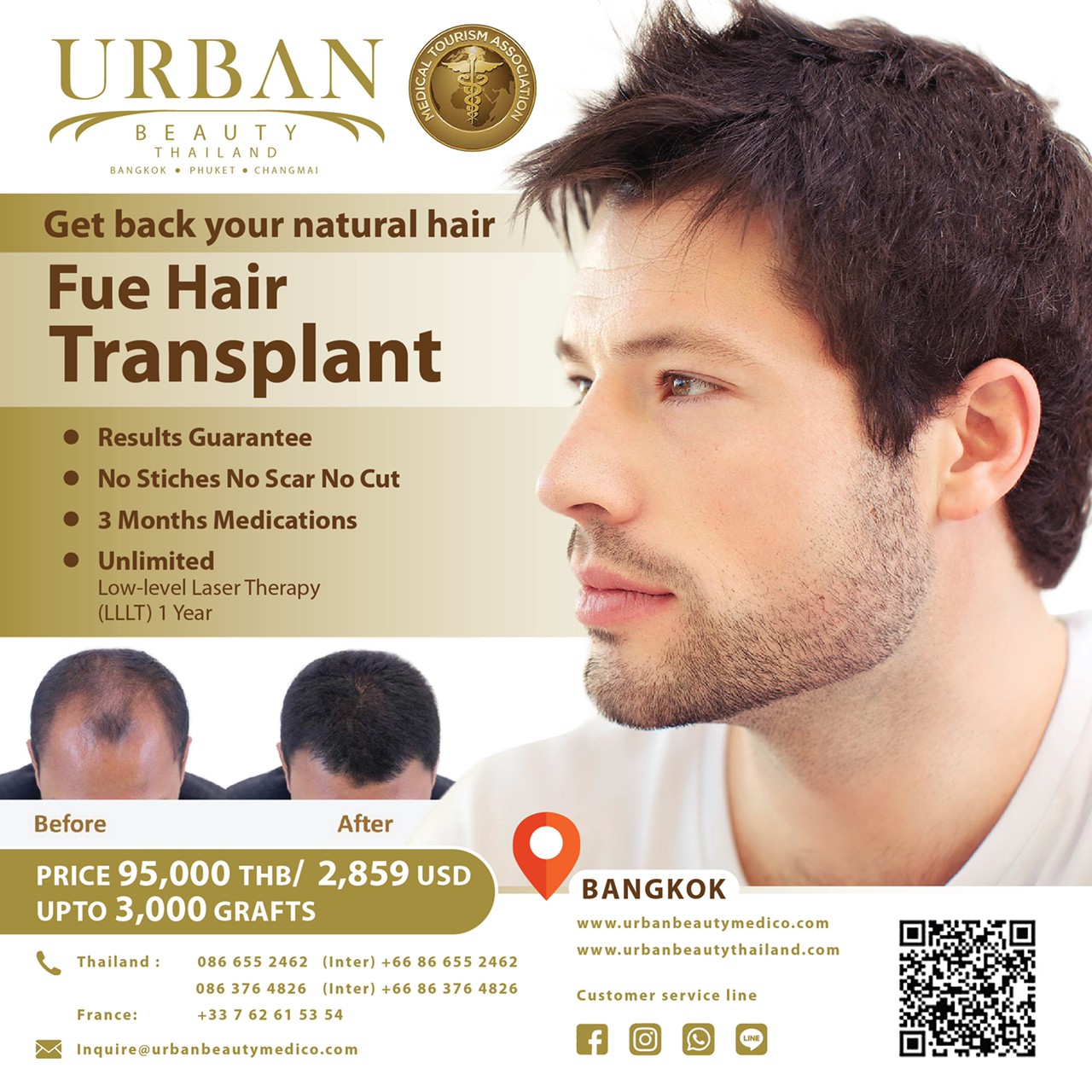 FUE, a minimally invasive hair transplant technique that restores hair loss is the latest innovative technology being offered in Thailand at specialist hair clinics. Follicular unit extraction involves taking individual donor hair follicles or up to four hairs and transplanting them. While more time consuming FUE is preferred in many Bangkok and Phuket clinics over strip harvesting because of the more natural results, the lack of any linear scars and a quicker recovery time of a week or less.
The low cost of individual hair grafts in Thailand also makes FUE an affordable hair loss solution that requires no sutres and a simply local anaesthetic.

SPECIAL PROMOTION PACKAGE 60 baht/ graft or as 1+ USD/graft

FREE PRP 
Hair loss, balding, alopecia patches, thinning crowns and receding hairlines can all look unsightly and knock confidence in your appearance, affecting both men and women. Hair loss can give the appearance of looking older too. Hair transplantation rejuvenates the face too and projects a younger image, making it one of the top procedures sought especially by male patients in Thailand.
Trying to cover hair loss is either not possible or simply accentuates the problem. Whilst medications can address specific causes of hair loss, beyond genetic propensity, hair transplantation offers hope of real restoration of your crowning glory. Coupled with the cost, success rate and lack of invasive technique FUE treatment has grown in popularity as a cosmetic procedure in Thailand with a choice of top-rated clinics in Bangkok.
Illness, surgery and hormonal changes such as pregnancy and menopause in women, can all contribute to hair loss and thinning, as can alopecia areata whereby your body's immune system attacks hair follicles. Male pattern baldness affects around 25% of men by the time they reach 30 and is the most common form of hair loss.
Both men and women affected by hair loss at a young age can suffer from stress, social anxiety and feelings of depression and disfigurement. A recent university hospital study in Berlin found that hair loss can lead to a major psychological breakdown in some sufferers, creating an, "enormous emotional burden", which can affect quality of life and wellbeing.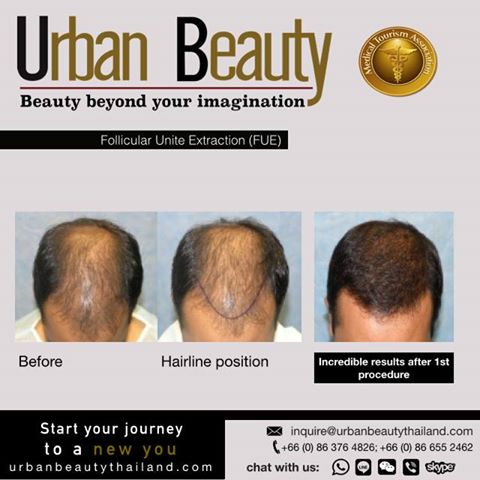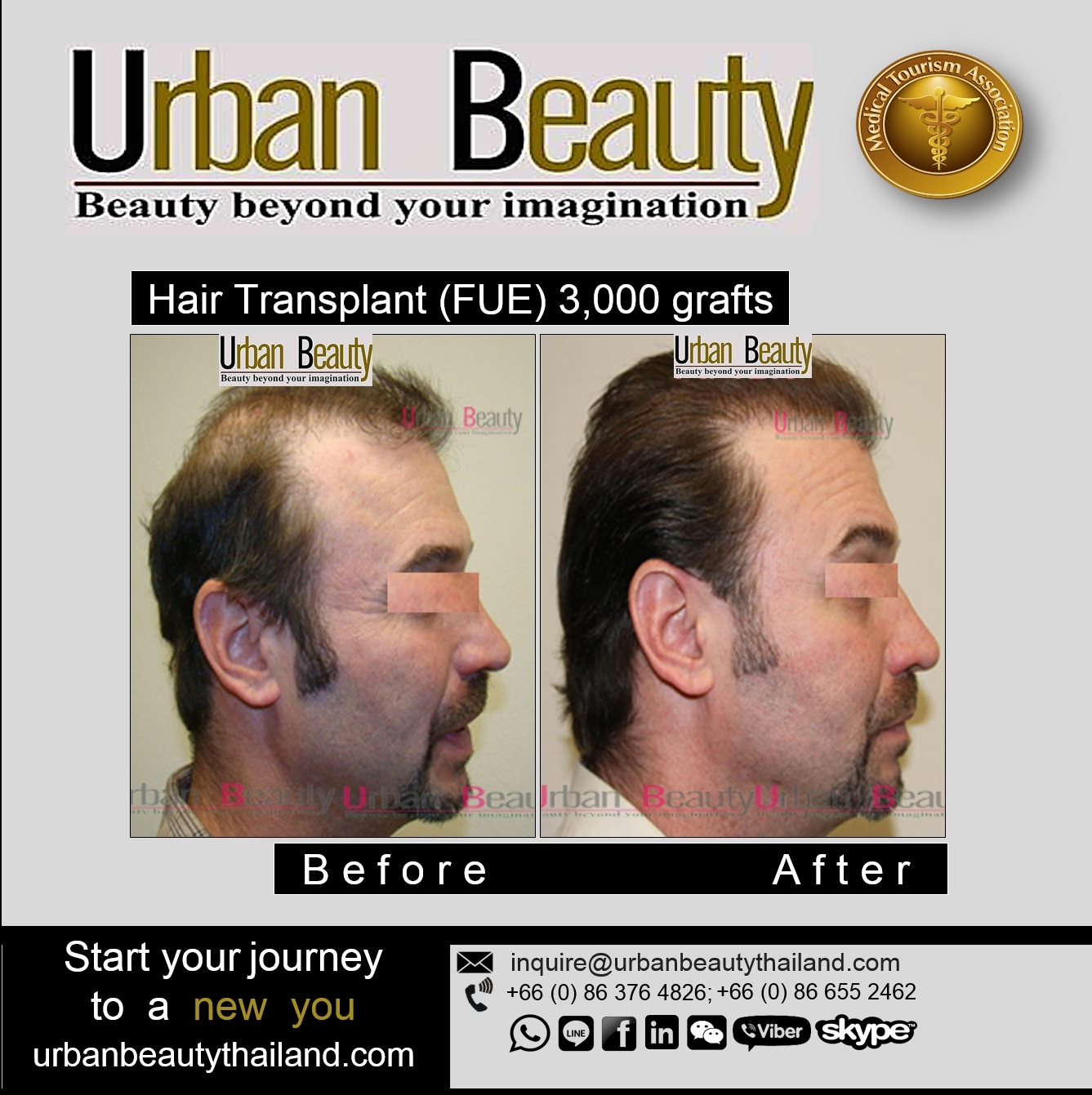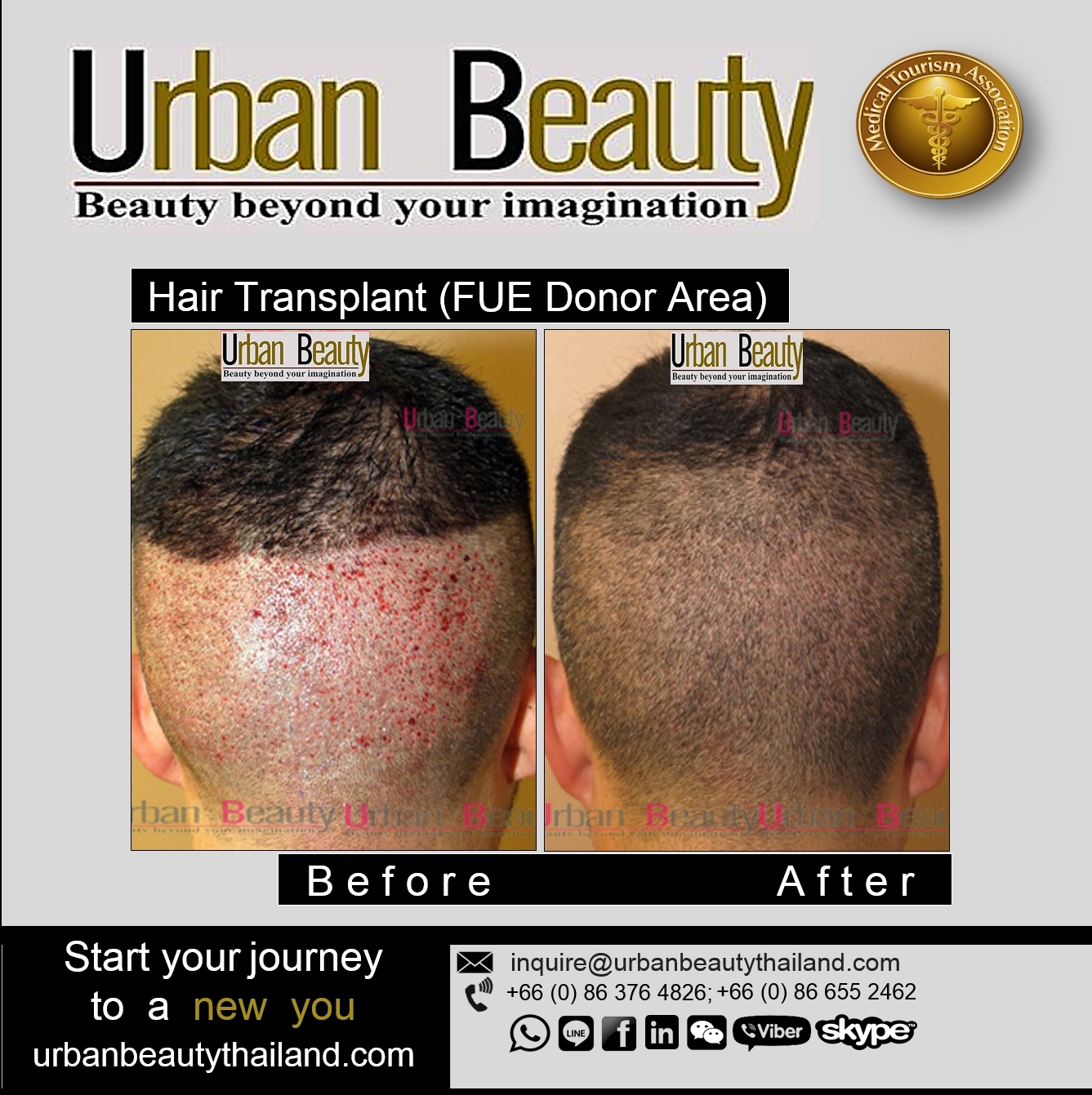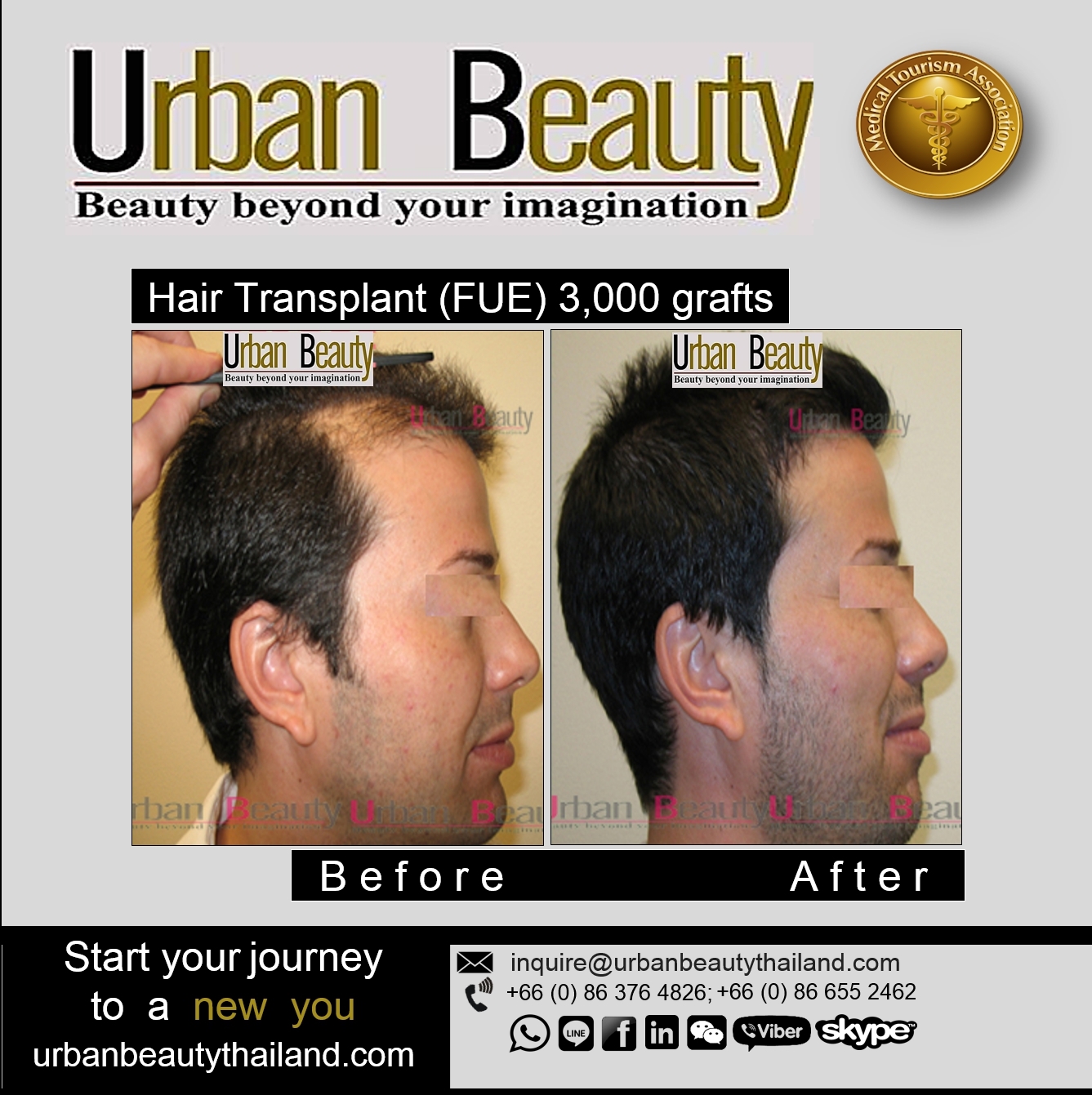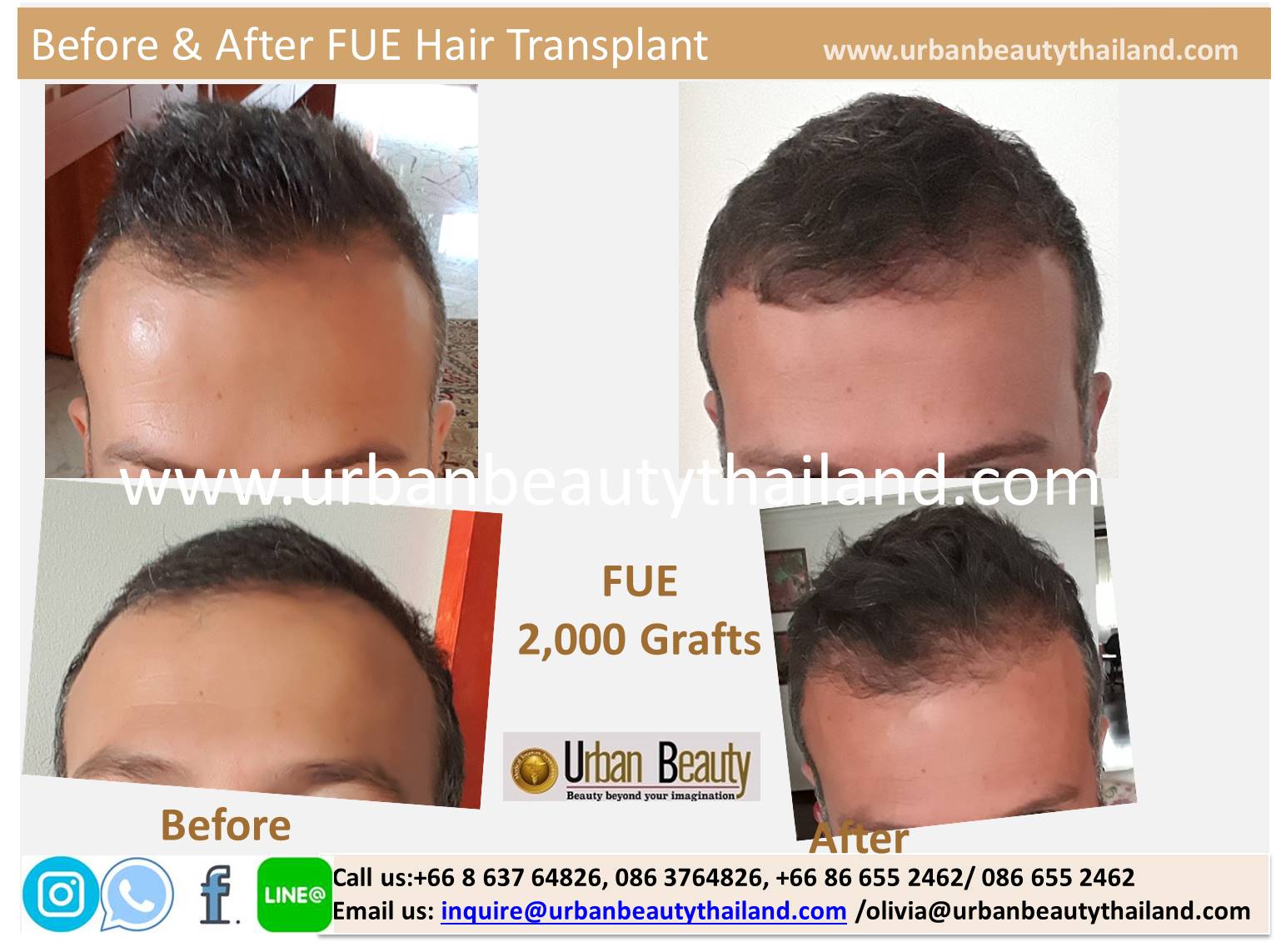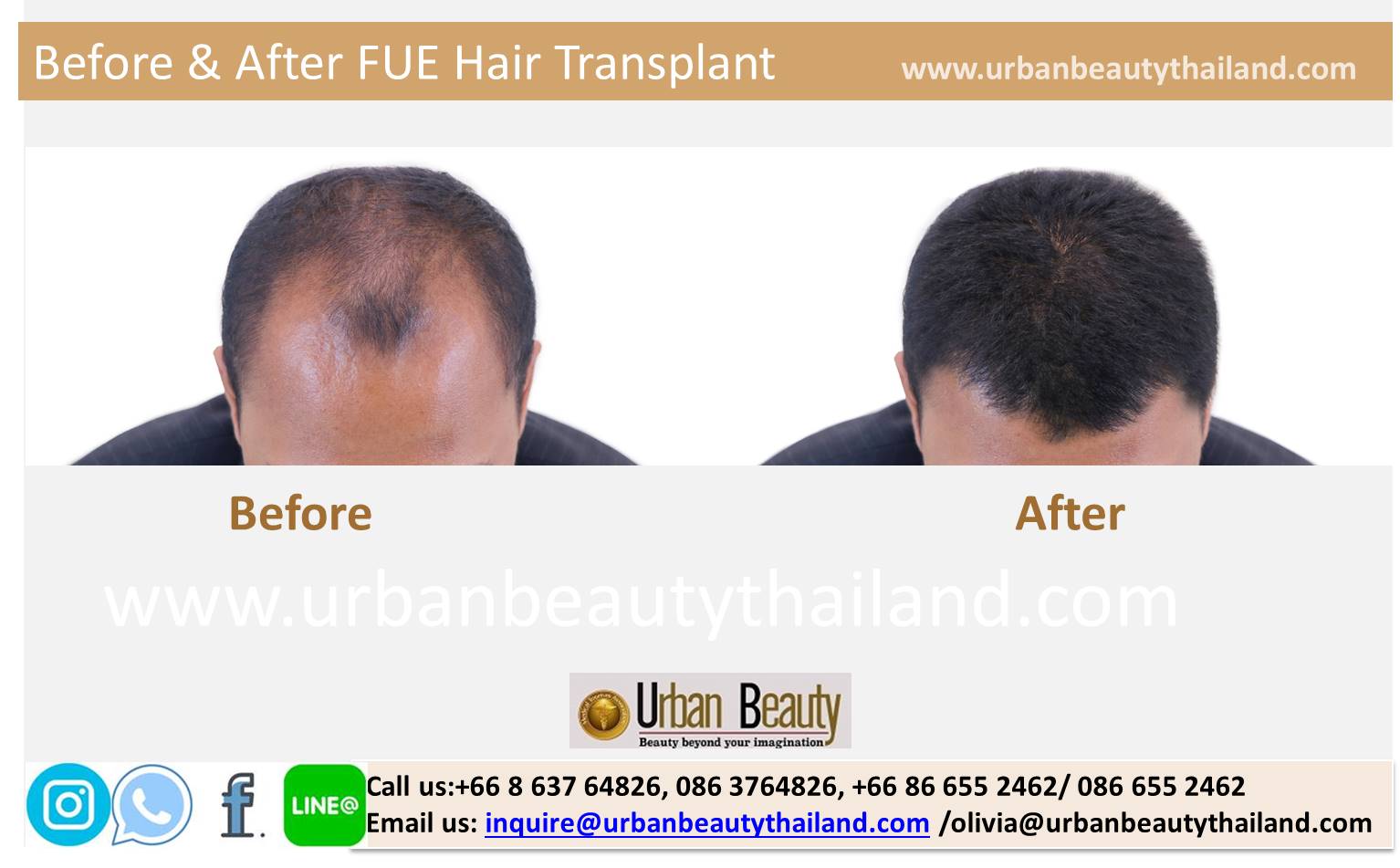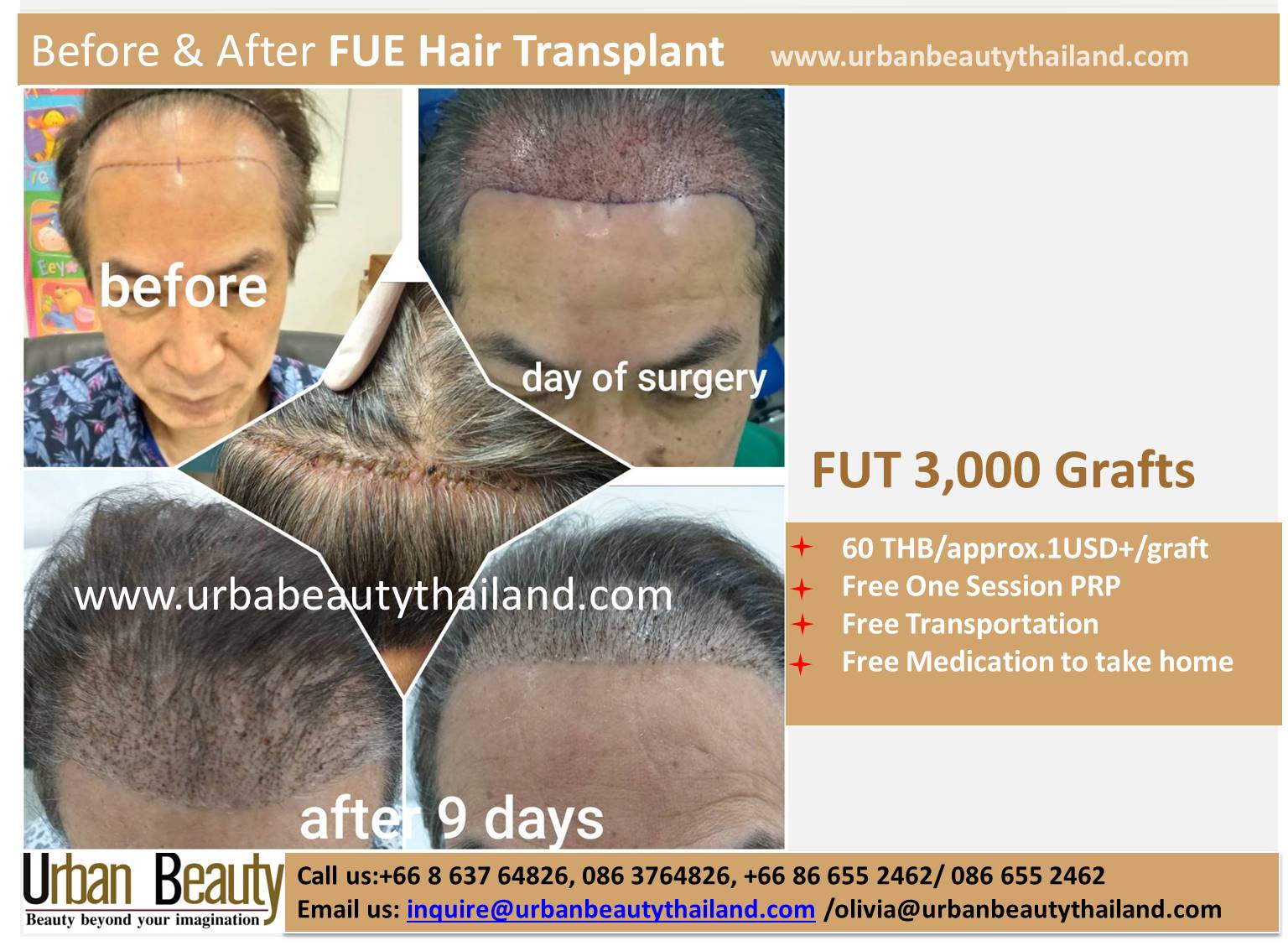 FUE Thailand is suitable for any size of hair transplantation and a treatment solution for patients with scalp tightness who are not suitable for strip harvesting. For men who like to wear their hair short, FUE Thailand is an ideal technique, since no linear scars are visible through crew cuts and shaved hairstyles. In fact, FUE can be used to cover scars too.
Hair transplants Thailand that follow the natural curve of the hair follicles create a natural-looking hairline that is well defined.  Filling in recessive areas gives hair coverage a good shape too.
The success of hair transplantation in Thailand is dependent in part on undamaged hair follicles and suitability is determined with the FOX Test. This measures the ease with which follicles can be removed in good condition and the suitability for the implantation procedure. This is carried out with a simple biopsy at a clinic in Thailand.
Hair Transplant Holidays! Hair-Raising Cosmetic Procedures in Specialist Clinics in Bangkok and Phuket, Thailand. Transform yourself now & enjoy the year looking & feeling fantastic! Contact our Beauty Experts now for a FREE consultation.
Urban Beauty Thailand offer Lowest Price FUE Hair Transplant Thailand as 60 baht per graft or  $1+ USD per graft only,  Save up to 70% less than your countries with Hair Transplant in Bangkok, Thailand.  A BLEND OF NEW TECHNOLOGY AND EXPERTISE! Hair Transplant Thailand More info www.urbanbeautythailand.com or inquire@urbanbeautythailand.com or +66(0)86 376 4826 or 086 655 2462
Urban Beauty Thailand Lowest Price FUE Hair Transplant Thailand $1+ USD per graft only. 70% less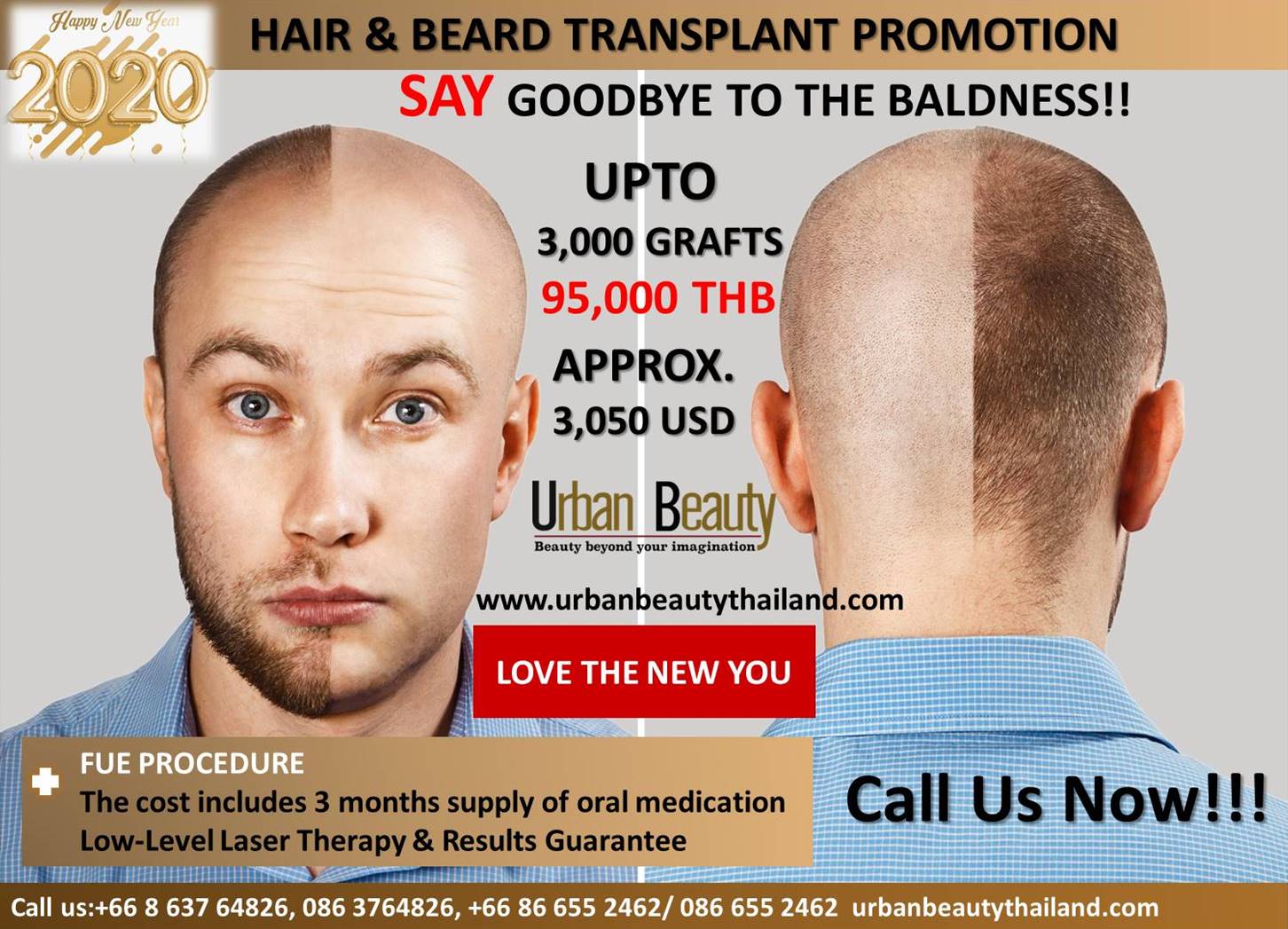 Quote: Hair Transplant Bangkok // Cosmetic Surgery Bangkok Best Price // FUE Hair Transplant Bangkok Best Price Package // Robot Hair Transplant Bangkok Best Price Package // Hair Restoration Bangkok Best Price // Natural Hair Transplant Bangkok Best Price Package to our beauty consultants for the BEST PRICE!