Stem Cell Therapy Thailand:

Ease your Osteoarthritis
Stem Cell Joint Repair Treatment Osteoarthritis Cartilage in Bangkok, Thailand
Stem Cell Joint Repair

Treatment Osteoarthritis Cartilage in Bangkok, Thailand – Osteoarthritis is the most common form of arthritis. It causes pain, swelling and reduced motion in your joints. It can occur in any joint, but usually affects your hands, knee, hips or spine.
Stem Cell Therapy Thailand

: Ease your Osteoarthritis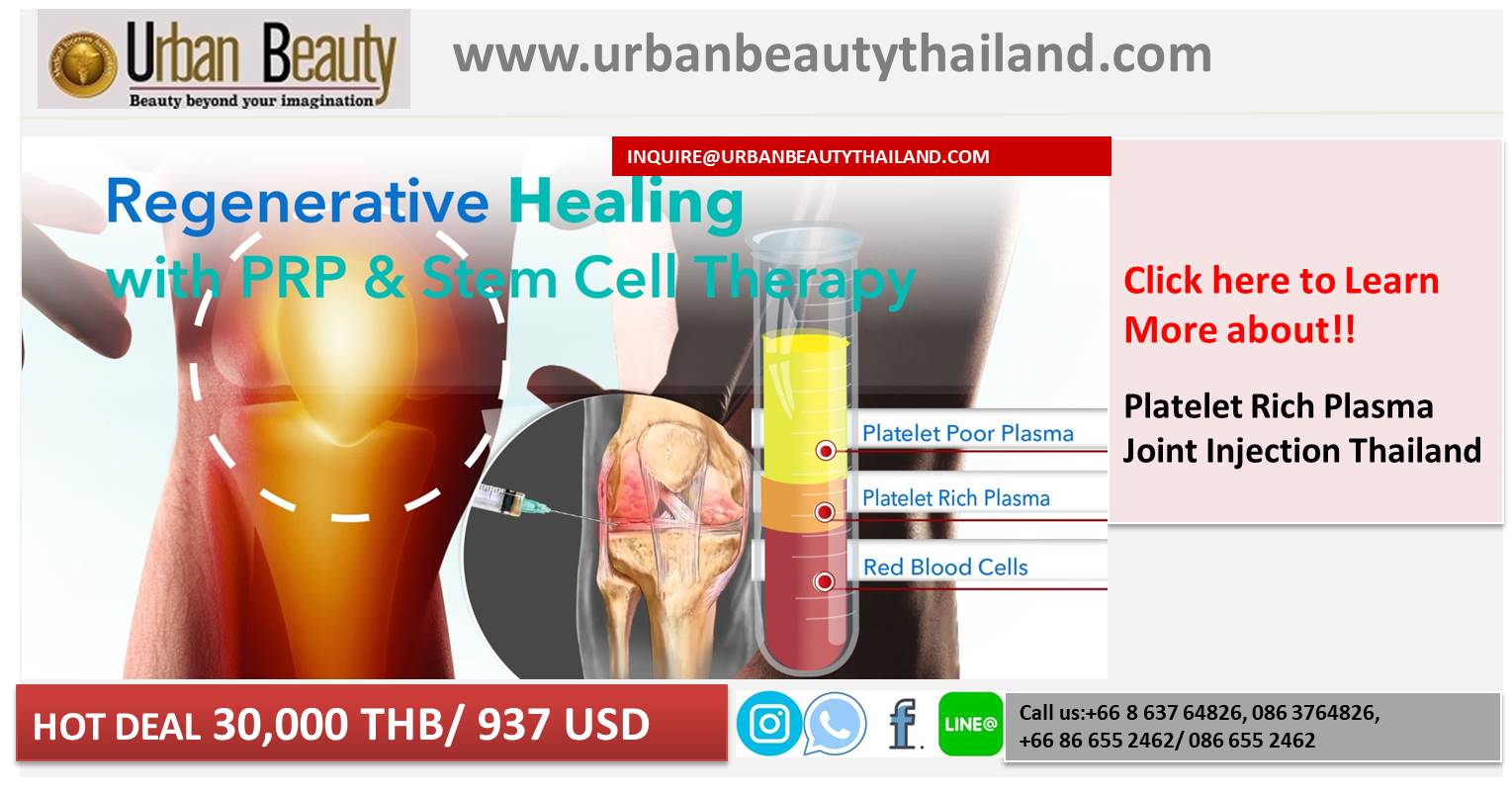 Osteoarthritis Thailand is the most common form of arthritis. It causes pain, swelling and reduced motion in your joints. It can occur in any joint, but usually affects your hands, knee, hips or spine.
Thailand Osteoarthritis breaks down the cartilage in your joints. Cartilage is the slippery tissue that covers the ends of bones in a joint. Healthy cartilage absorbs the shock of movement. When you lose cartilage, your bones rub together.
Over time, this rubbing can permanently damage the joint. Factors that may cause osteoarthritis includes:
Being overweight
Getting older
Injuring a joint
Thailand Osteoarthritis, or OA, is often related to aging, although sometimes the cause is not known. Before the age of 55 it occurs equally in women and men. After that age it is more common in women. By the age of 70 the majority of people will have at least minor Osteoarthritis.
Stem cell treatment Thailand is one of the best options to get rid of osteoarthritis. Like many other procedures osteoarthritis treatment in Thailand uses autologous adult stem cells and Mesenchymal stem cells (MSC). These are harnessed from the patient's own cells so there is very little chance of patient's body rejecting them.
The human body keeps a supply of stem cells available to help repair injured and degenerated tissues at all times, making it fairly simple to retrieve them for therapeutic purposes.
Adipose (fat) tissue extraction tends to be more worthwhile than other methods such as bone marrow extraction. This is because it produces up to ten times more stem cells. Adipose derived stem cells (ASCs) have been shown to be just as effective as other stem cells as they display proliferative efficiency and multipotency in tissue regeneration.
Mesenchymal stem cells (MSCs) are adult stem cells traditionally found in the bone marrow. However, mesenchymal stem cells can also be isolated from other tissues including cord blood, peripheral blood, fallopian tube, and fetal liver and lung.
Stem cell treatment in Bangkok uses new technology in harvesting stem cells and isolating it in the laboratory.  It is done by experienced doctor who specializes with Stem cell therapy aiming to give you a pain free life.
Stem cell therapy Thailand is now been used to treat degenerative conditions such osteoarthritis and rheumatoid arthritis. Research shows that adult stem cells can produce healthy cartilage and this can help to accelerate the body's natural healing process. Stem cell therapy Thailand could reduce the number of knee replacement surgeries. The treatment is safer and comes with fewer complications.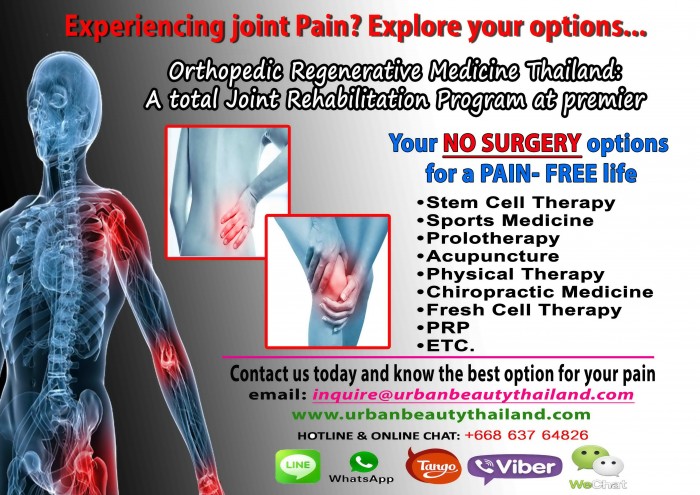 At Urban Beauty Thailand, we have experienced tremendous improvements in patients with cases of osteoarthritis, rheumatoid arthritis, knee joint pain, back pain, and rotator cuff syndrome. Treatment through stem cell therapy has helped relieve patients' symptoms of chronic pain and therefore resulting in a better quality of life. It gives us great pleasure to achieve success through stem cell treatment, as we want to eliminate your pain and discomfort as much as you do.
At Urban Beauty Thailand, we are committed in providing exceptional value for our patients. This means not only attractive and affordable pricing, but also a dedication to excellent results for our patients. Our doctors are highly-trained, board-certified plastic surgeons by the American Board of Plastic Surgery who have decades of combined experience performing Osteoarthritis Stem Cell Treatment and many other Stem Cell Treatment procedure in Thailand such as cosmetic Stem cell treatment for face and body contouring. Available in Bangkok providing you with the best services that would meet your expectation and satisfaction.
Urban Beauty Thailand offer anti-aging treatment, holistic and health & wellness centre in Bangkok, Phuket Thailand. We are offer latest affordable anti-aging and regenerative medicine.  Thailand Anti-aging medicine including chiropractic, acupressure, chelation, stem cell therapy, fat transfer, stem cell anti-aging, cell therapy for anti-aging, osteoarthritis, hair growth, diabetes, liver disease, weight loss, hormone therapy HGH and anti aging hormone treatment, platelet-rich photo activation PRP, stem cell joint repair treatment osteoarthritis cartilage and Oxygen & Ozone therapy. For more info. contact us at inquire@urbanbeautythailand.com or call us/WhatsApp at +66863764826/086 655 2462 to schedule a consultation.