Thailand's Affordable Anti-Aging Regeneration Revolution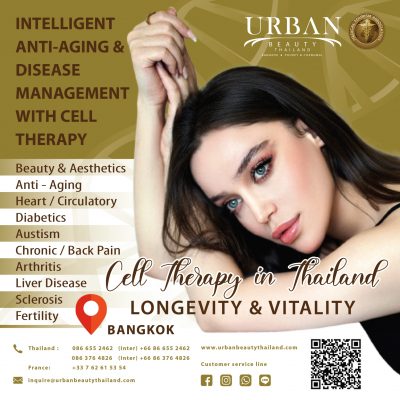 Anti-Aging Thailand is undergoing a revolution that looks to turn back time on aging in the future. Scientific progress and cutting-edge biotechnology techniques are changing the face of treatments, aimed at combating not just the signs of aging but slowing down the process. Leading the way in the latest innovative programs is Thailand, a global medical hub that attracts international experts and professionals in the fast-developing field of evolving anti-aging regeneration.
Anti-aging as you know it…
Once upon a time, anti-aging used to be about getting rid of a few wrinkles and smoothing out your crow's feet? If you were healthy on the inside then this would also benefit the skin, after all, your skin is your body's largest organ. Then new treatments emerged; minimally invasive cosmetic procedures such as ulthera laser treatments, gold thread facelifts, injections and fillers, thread facelifts and even the vampire facelift.  These specialist procedures are still creating amazing results, of course. The difference is that regeneration is about slowing down aging on a physiological level.
The anti-aging regeneration revolution has begun…
Taking a holistic, personalized approach, regenerative anti-aging programs are appealing to a growing number of health-conscious medical tourists. Many are looking for treatments that go beyond simple aesthetics and focus on the aging process within. The revolutionary approach to aging involves:
Analysis: A comprehensive range of non-invasive tests and screenings carried out to detect issues that are creating stress on the body and accelerating internal aging. This involves investigating lifestyle effects, nutrition and the body's composition amongst other factors. This creates a full-body picture of what aging indicators are present and require anti-aging treatment intervention.
Live Blood Analysis
• Oxidative Stress Testing
• Biofeedback Screening
• Electro Interstitial Scanning
• Blood and Urine Analysis
• Body Composition Analysis
Detoxification: Prior to regenerative treatments, your body is cleared of toxin build-up and prepared as best as possible to respond favorably to anti-aging procedures. This cleansing stage is vital to achieving the optimal results possible.
Intravenous Chelation Therapy
• Intravenous Liver Detoxification
• Colon Hydrotherapy
Optimization: Regeneration treatments target the body on a cellular and biochemical level. These act as catalysts slowing down the aging of cells and in effect the organs within the body, including the skin. Tailor-made therapies respond to individual physical stresses and weaknesses to boost cellular function and longevity; the ultimate anti-aging aim!
I.V. Micronutrient Therapies
• Intravenous Ozone Therapy
• Hyperthermia
• Laser Blood Irradiation
• Microcurrent Therapy
• Physiotherapy
Revitalization & Maintenance: Regeneration is aimed at treatments that create self-healing; revitalization therapies and ongoing analysis allows programs to be amended to fit individual needs. This allows cells to heal, renew and regenerate to inspire a youthful inner feeling throughout your whole body and produce greater cell energy.
Urban Beauty Thailand is a leader in offering customers regenerative anti-aging treatments in Bangkok, with international specialists promising a personalized service, generating optimal health and cell rejuvenation. Our range of anti-aging programs are designed to fit with your requirements too and are non-invasive and non-surgical; utilizing the most advanced biotechnology available today.
For more info. you may visit us www.urbanbeautythailand.com or inquire@urbanbeautythailand.com or +66 86 376 4826/0863764826/0866552462.