Breast reduction Thailand

is not always something that springs to mind when people say they want to come to Thailand for cosmetic surgery.
At Urban Beauty Thailand, we know the trials and tribulations that come with having excessively large breasts. Women with smaller breasts look at their well-endowed peers with envy, not realizing that all is not rosy in the garden.
It's assumed that breast reduction is the last thing a woman would ever want to do because of the supposed power it gives them over men. In fact, breasts that are too large can cause a range of health problems:
Bad Back: They say a woman's work is never done and this certainly seems to be the case. We are always picking up after others and this alone causes back problems. Add in the extra weight of large breasts and you have a chiropractor's dream. Women with large breasts often try and make their chests look smaller by slouching. This only serves to exacerbate the problem.
Sore Shoulders: This poor posture also causes severe shoulder issues. The weight of the breasts even pulls the straps of a bra into the shoulders which is very painful.
Injured Neck: These bra straps also dig into the trapezius muscle which causes tension that spreads to the neck muscles.
Headaches: Large breasted women find it hard to find bras that fit. They purchase bras that don't support the breasts properly, which causes shoulder grooves, neck pain and eventually headaches.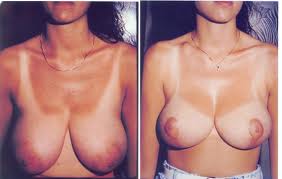 Hopefully, you'll now understand why breast reduction is such an important step! Once you book an appointment to come to Urban Beauty Thailand, we'll treat you like a queen and ensure your stay is as comfortable as possible. We also issue recommendations to women who are having breast reduction surgery. For example:
Do not drink alcohol for two weeks before and another two weeks after

breast reduction surgery

Do not smoke for a fortnight before and another fortnight after breast reduction surgery
Cease the consumption of certain supplements and medications prior to procedure
Do not proceed with breast reduction surgery if you are ill or have medical issues with your breasts
The safety of every patient that sets foot in the door of Urban Beauty Thailand is of paramount importance. Under no circumstances will be allow a patient to undergo breast reduction surgery if they do not follow our rules and regulations.
Breast reduction essentially involves the removal of excess glandular tissue, fat and skin from your breasts.
Our surgeons will place you under general anesthetic so you'll be asleep during the entire procedure.
The typical procedure includes an incision around the areola with a second cut made under your breasts. Occasionally, the areola and nipple will need to be repositioned on patients who have exceptionally large and hanging breasts.
Our team will also attach tubes to your breasts to ensure that all excess fluid is drained after the procedure.
Breast reduction Thailand lasts for 2-4 hours depending on the patient and generally, two nights in hospital is more than enough recovery time.
There will be barely visible scarring with most women returning to their normal way of life within 2 weeks. We recommend that you avoid exposing the breasts to heavy contact for around 6 weeks.
The breast reduction Thailand can cost anywhere between 150,000-200,000 baht which appx $5,000-$6,400.
When you consider that many women with large breasts spend a similar amount on painkillers, surgeon's appointments, sessions with chiropractors and even back surgery without ever feeling relief, this seems like a bargain.
In fact, breast reduction surgery should be seen as an investment in your health.
You will quite literally feel as if a great weight has been lifted from your shoulders!
Imagine

being able to bend down and pick things up without feeling serious pain in your back.
Wouldn't it be wonderful to have a full night's sleep without being kept awake by searing aches?
You can finally walk down the street without being subjected to lecherous stares.
When you book an appointment for breast reduction surgery at Urban Beauty Thailand, you are giving yourself a new lease on life. Act now to set the wheels in motion.