Scar Free

Breast Reduction Thailand

: Is A Life Free From Pain Worth $

1.50

A Week?

Every woman dreams of scar free breast reduction. Although it is impossible to perform the procedure without leaving some form of scarring, Urban Beauty Thailand's surgeons have discovered new techniques which can remove the excess fat from your breasts while leaving scars that are so small, they might as well be invisible!
    Cannot function properly because your back is causing you so much pain
    Can't get enough sleep because sharp shoulder pains keep you awake in agony all night
    Have difficulty concentrating because of the pains in your neck
    Are unable to go more than a day without having to take a painkiller
Only women with the problem of large breasts can understand the issues they cause. Physical activity is limited because of all the pain caused by a huge chest not to mention the awkwardness factor. Mentally, women with large breasts see a reduction in their productivity which may eventually threaten their career. Emotionally, women with large breasts are sick of being stared at and find that their existing relationship is under strain because of their constant problems.
The trouble is, the procedure is so rare that clinics in the West charge more than $10,000 as a minimum. This is far beyond the budget of most women. This is why they flock to Thailand for the opportunity to enjoy the holiday of a lifetime and scar free breast reduction performed by an expert in the field.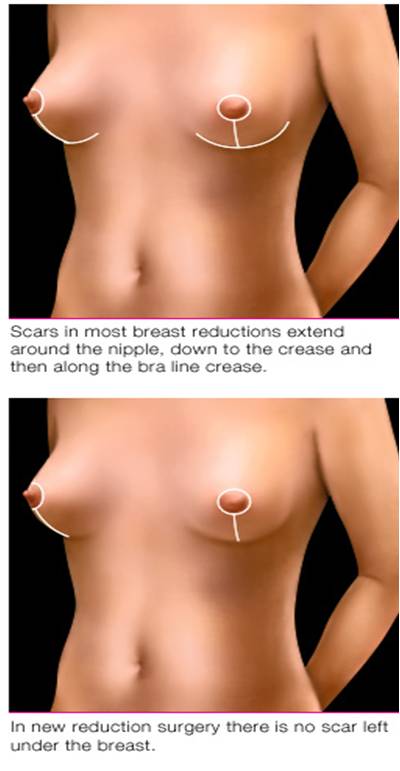 Normal breast reduction surgery is excellent but there is the possibility that some scarring remains.
These may be visible which makes the patient uncomfortable.
They are unable to wear a swimsuit because they are paranoid that others are watching and can spot the scars.
The typical incision takes place around the nipple which extends down to the base of the chest. The surgeons at Urban Beauty Thailand have researched other methods and have come up with three different types of incisions that ensure scar free breast reduction surgery:
 Periareolar Incision: A cut around the nipple only
 Short Scar Incision: A cut that is vertical from the base of the breasts and has extensions on the side
 Inverted T-Cut: A cut that begins from the base of the breast which goes up towards the center of the nipple
These special incisions are the difference between a normal degree of scarring and a breast reduction surgery that appears to be absolutely scar free. As we already mentioned, there are actually scars but they will not be visible to the naked eye.
Enjoy Your Freedom!
Best of all, you will finally have the mental, physical and emotional freedom that has eluded you all your adult life. It's no exaggeration to suggest that our patients have felt like new women once the surgery was completed. Indeed, Urban Beauty Thailand likes to stay in touch with old patients as a means of finding out how they are doing.
Once a member of the Urban Beauty Thailand team picks you up at the airport, you can start focusing on your scar free breast reduction surgery. Relax for as long as you want before the procedure though we recommend that you deal with the matter at hand first. Once you are finished, you can parade your new figure on the beaches of Thailand.
Don't allow excessively large breasts to hold you back and keep you from achieving all your goals in life.
They are not an affliction that will haunt you forever. Book an appointment with Urban Beauty Thailand today and start dreaming of a better tomorrow.
It's possible to enjoy scar free breast reduction surgery from at little as $3,200 (100,000 baht). If you enjoy 50 years of a life free from the chains of painfully large breasts, that's little less than $1.50 a week.
Are you willing to pay $1.50 a week for a better life?
When you contact Urban Beauty Thailand, we will not only set you up with our best surgeon team, we will also assist you in any way we can when it comes to finding accommodation. Thanks to our contacts in various Thai cities, we can secure discounted prices for you in luxury accommodation. And unlike other companies in the region, all our prices are upfront. When you book with us, there are no hidden fees or charges as you pay direct to hospital, what you see is what you get!