Bridal Beauty Makeover Package Thailand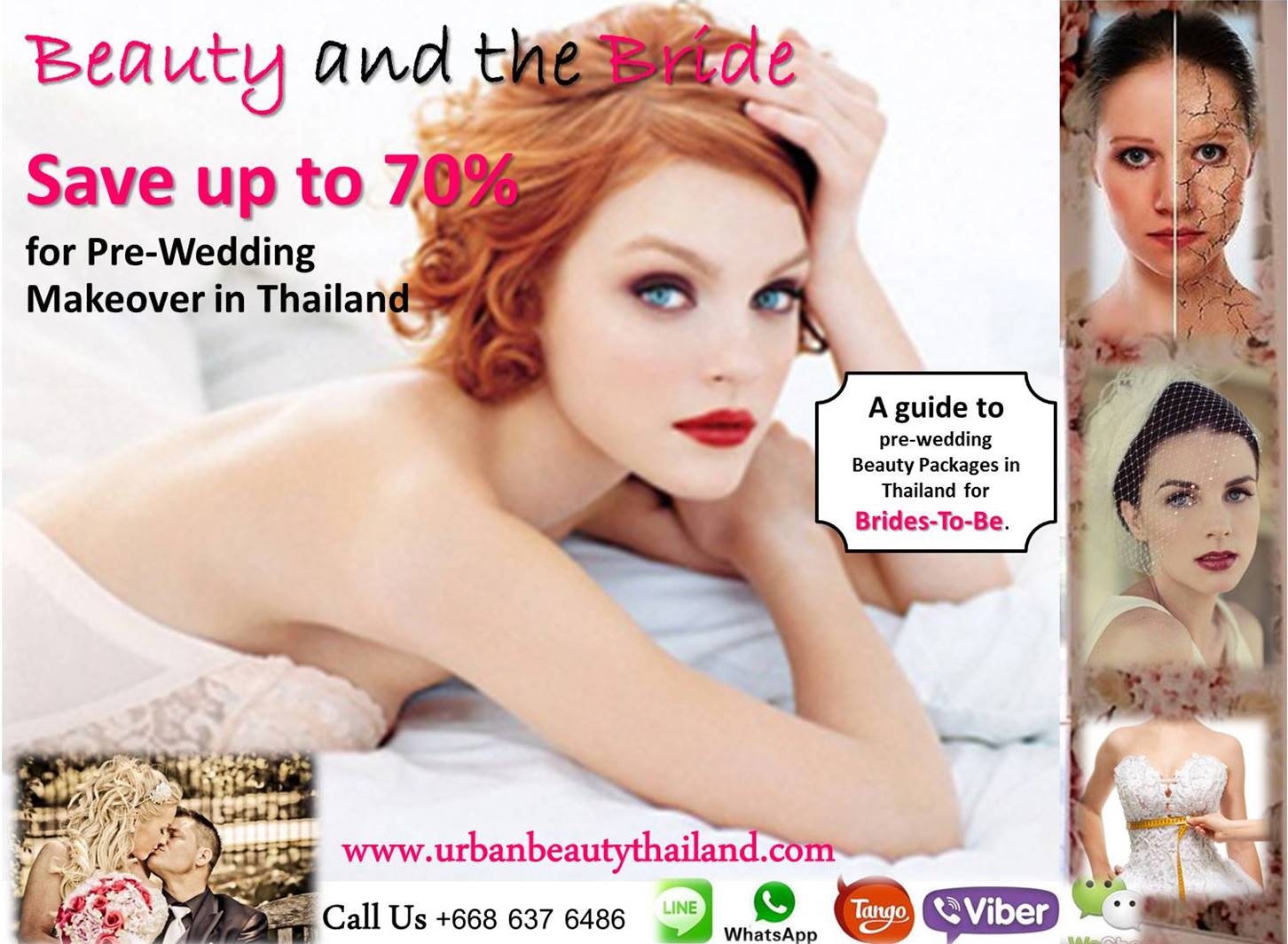 Save up to 70% Bridal Beauty Makeover
Package in Thailand

 
Beauty and the Bride Packages
A guide to pre-wedding beauty makeover packages in Thailand for brides-to-be
Something old, something new….so goes the classic refrain of the bride-to-be's traditional must-haves for her wedding day. However, many modern-day brides also want something a little more transformational shall we say for their Big Day; something lasered, something lifted, something tightened, something shifted. Welcome to the increasingly popular world of beauty and the bride, where wives-to-be are saying, "I do!", to a wonderland of cosmetic procedures designed to enhance their natural beauty. And what better destination than the celebrated cosmetic surgery capital of Thailand, from dynamic Bangkok to beach holidays in Phuket.
Your wedding wish-list
If you are getting married anytime soon, how prepared are you? Wedding venue? Check? Dress? Check? Guest list? Check? Photographer? Check? Pre-wedding beauty package? Check? Hair, make-up and a mani-pedi can make you feel like a million dollars but many brides are spending far less in Thailand for longer-lasting results. For many brides-to-be, a bridal beauty package in Thailand is definitely on their wedding wish-list; the perfect pre-wedding boost before you begin an exciting new chapter in your life!
Look your amazing best on your wedding day!
It is no big surprise that you want to shine on your Big Day. Your wedding video and photos will record the special occasion, to be treasured for years to come; your family and friends will come together for a one-of-a-kind celebration, with all eyes on you at the center of attention; and you will be looking deep into the eyes of the person you are vowing to spend the rest of your life with, and vice versa of course! While you might be blooming with happiness on what is one of the most important days of your life, you want to look your amazing best and feel incredible and confident too.
A pre-wedding beauty buffet!
What better way to celebrate your marriage to the one you love than by treating yourself to a pre-wedding cosmetic makeover? Brides are choosing from a range of beauty boosts, available in Thailand's state-of-the-art clinics and hospitals, to create an all-in-one bridal package from head to toe; for the face and body; and from non-invasive and minimally-invasive treatments in specialist clinics to full-body cosmetic surgeries. Brides-to-be have an appealing beauty buffet of procedures to choose from, with affordable cosmetic surgery in Thailand, which they can mix and match to suit their individual ideas; an investment in how they look for their future married life.
The perfect body for the perfect dress!
Imagine slipping into your wedding dress looking svelte, feeling super alluring and looking in the mirror at the figure you always wanted or perhaps have not seen for a while. While a pre-wedding health and fitness regime is a great way to get in shape, it is not always easy to shift stubborn belly fat and flabby thighs or slim down love handles and chubby arms.  Many brides want the dream body to match their dream day and incredible skin too. Thailand is a dream destination too when it comes to budget-friendly cosmetic treatments utilizing the latest technology.
From fillers to fat reductions!
From creating a more youthful complexion, with firmer, tighter and brighter skin, to a little tightening up in a problem area, or a full-body makeover, cosmetic bridal packages are customized especially for you. Choose to combine facial procedures, including botox injection thailand, fillers, and ultherapy, thermage, threadlift, non-invasive facelifts and skin tightening, with non-surgical body contouring, coolscultping thailand by zeltiq and fat reduction treatments. There are also highly transformative procedures which are ever popular, using state-of-the-art technology, such as VASER liposuction or Bodysculpting which sculpts the body by breaking down fat with sound waves, or BodyTite, a revolutionary radio frequency treatment to remove fat and tighten your skin.
Look great on your honeymoon too!
Busy brides do not want to just look stunning on their wedding day but also on their honeymoon too. Do you want to relax feeling utterly gorgeous with a bikini body and glowing skin on your honeymoon while you enjoy lazy days by the pool or lounging on white sands, as well as romantic honeymoon nights once the sun goes down? Look fantastic on your honeymoon snaps too by adding an Urban Beauty Thailand's bridal beauty makeover package to your must-do wedding list!
Mix & Match

to Create Your Own Bridal Beauty Package with Urban Beauty Thailand
Injections, Filling, Lipo Filling

Botox 250 baht/approx $8.30USD/ per unit
Filler 15,000 baht/approx. $500USD per CC
PRP 15,000 baht/approx. $500USD per session
Lip Fat Filling is 50,000 baht/approx. $1,666 USD
Hallow Face Fat Transfer 120,000 baht/approx. $4,000USD
Hallow Cheek Fat Transfer 80,000 baht/approx. $2,666USD
Breast Fat Transfer  150,000 baht/approx. $5,000USD
Butt Fat Transfer 180,000 baht/approx. $6,000USD
Breast filler thailand 90,000 baht/approx. $3,000USD
Non-invasive facelift & skin tightening
Ultherapy facelift 55,000 baht/approx. $1,833USD whole face
Threadlift facelift 60,000 baht/approx. $2,000USD  whole face
Thermage facelift 50,000 baht/approx. $1,666USD  whole face
Non surgical body contouring and fat-reduction treatments
Thermage cellulite removal & skin tightening
90,000 baht/approx. $3,000USD thighs & arm
Coolsculpting by zelitq 15,000 baht/approx. $500USD/area
Body contouring and fat-reducing treatments
Liposuction Abdomen; Upper & Lower Abs from 80,000 baht/approx. $ 2,666USD
Liposuction Abdomen & Waist from 100,000 baht/approx. $3,333USD
Liposuction Abdomen & Waist and Flank from 120,000 baht/approx. $4,000USD
Arm liposuction from 80,000 baht/approx. $2,666USD
Thighs liposuction from 80,000 baht/approx. $2,666USD
Save up to 70% Bridal Beauty Makeover Package in Thailand, Mix & Match to Create Your Own Bridal Beauty Package with Urban Beauty Thailand. For more information you may visit us www.urbanbeautythailand.com or inquire@urban.nginnu.com or +66 86 376 4826/0863764826. At Ambassador Hotel Bangkok, 171 Soi Sukhumvit 11, Khlong Toei Nuae, Bangkok Thailand 10110