Brazilian Butt Lift Thailand – Cosmetic Surgery Thailand
New Year Great

Saving Deals: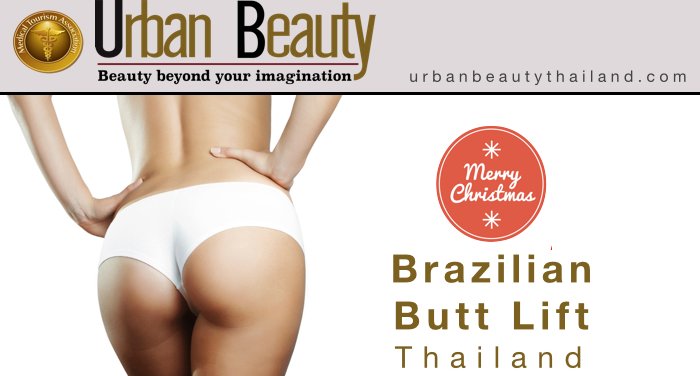 The buttocks are a part of the body that has had a lot of attention lately. Whether it is a photograph in a magazine or a shapely actress or entertainer, the buttocks are a part of the body where a great shape. However, the buttocks are not easily enlarged by weight training or diet. Individuals who wish to enlarge, lift, and shape the buttock mounds have two main procedures available to them – Brazilian butt lift Thailand or Butt Augmentation by implants Thailand.

These procedures have been steadily increasing in popularity. Today, many women are seeking the various forms of butt augmentation and butt lift surgeries to improve their figure. These procedures are becoming all the more important as celebrities like J-Lo and Beyoncé lead the latest trend in attractiveness – shapely, full buttocks and hour glass body shape.
Butt Augmentation Thailand has a lot to offer to achieve the best body shape you are looking for. There are many different procedures that can be performed to enhance the gluteal area all of which aim to achieve a better contour and nicer shape. In general, there are two major procedures for reshaping the gluteal area:
Buttock Fat transfer Thailand (Brazilian butt lift Thailand)
Butt implants Thailand

Brazilian butt lift Thailand
Most women would like to have a nicer behind. A nicer buttock makes the female figure look sexier and more attractive.
The Brazilian butt lift Thailand is equivalent to butt shaping with fat transfer.
In this procedure, areas with excess fat like the abdomen, flanks, thighs, arms, lower and upper back are sculpted.
The fat that is removed is processed and re-injected or grafted into the buttock area.
This procedure is a total body sculpting procedure through which, not only the shape of the buttock is made nicer, but the actual proportion of the hip to waist ratio is improved.
This transformation creates, not only a nicer looking butt, but also a sexier figure.
Not everybody is a good candidate for this procedure though. There are many factors that are taken into consideration before doing a Brazilian butt lift Thailand and age is not one of them. It is well known that age by itself is not a contraindication for cosmetic surgery. The following is part of the criteria that use to determine if a patient is a good candidate for butt sculpting: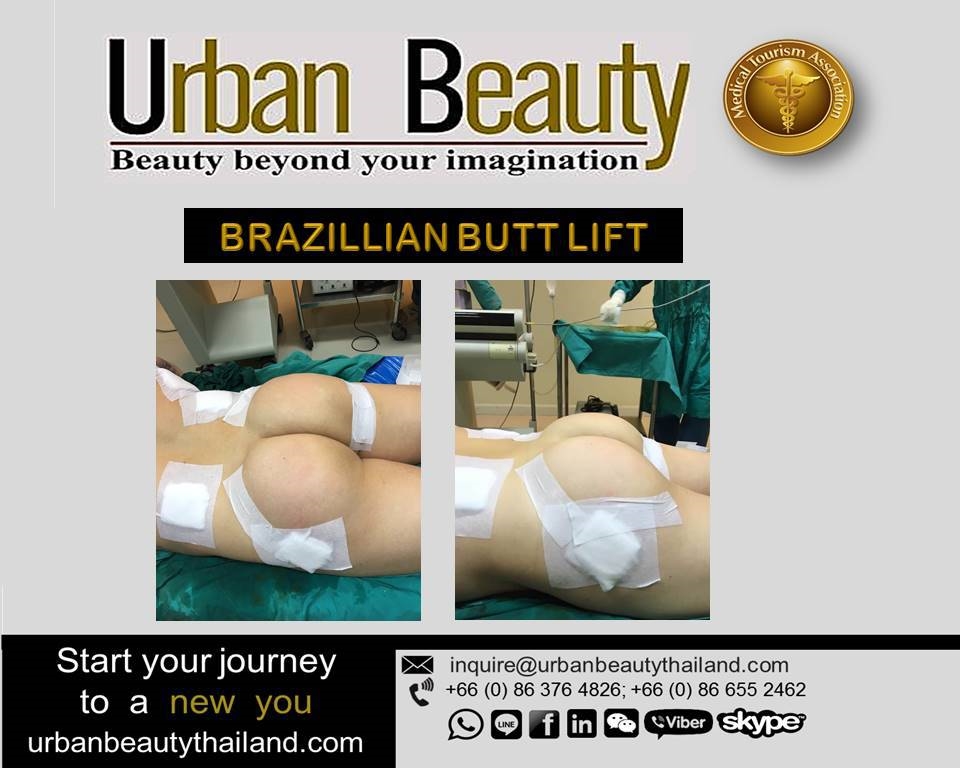 Good candidate for Brazilian butt lift Thailand
Amount of fat: You need to be at least 20–30 lbs above your ideal weight. We need fat and the bigger the desired butt, the more fat you will need. If you would also like to have relatively larger hips, then, you need to have more fat.
Location of the fat: The fat needs to be accessible.
Health: You cannot have any significant medical problems.
Quality of your skin: If your buttock skin is very saggy, then, you will not be a good candidate for just butt augmentation Thailand. You might need to have excision of the excess skin, which is a more traditional butt lift.
Realistic expectations: This procedure can do wonders to your body and can even transform your life, but you will need to be realistic on what to expect in terms of your goals and what the surgeon can provide. The results depend on a combination of multiple factors: your skin tone, shape of your body before surgery, and the surgeon's experience.
Overall, the main factor that determines if you are going to be a good candidate for the Brazilian butt lift Thailand will be your weight and the location of the fat in your body. While some of the fat can be resorbed, much of the fat can remain and develop a blood supply. Once the injected fat develops a blood supply, a long lasting result can be seen.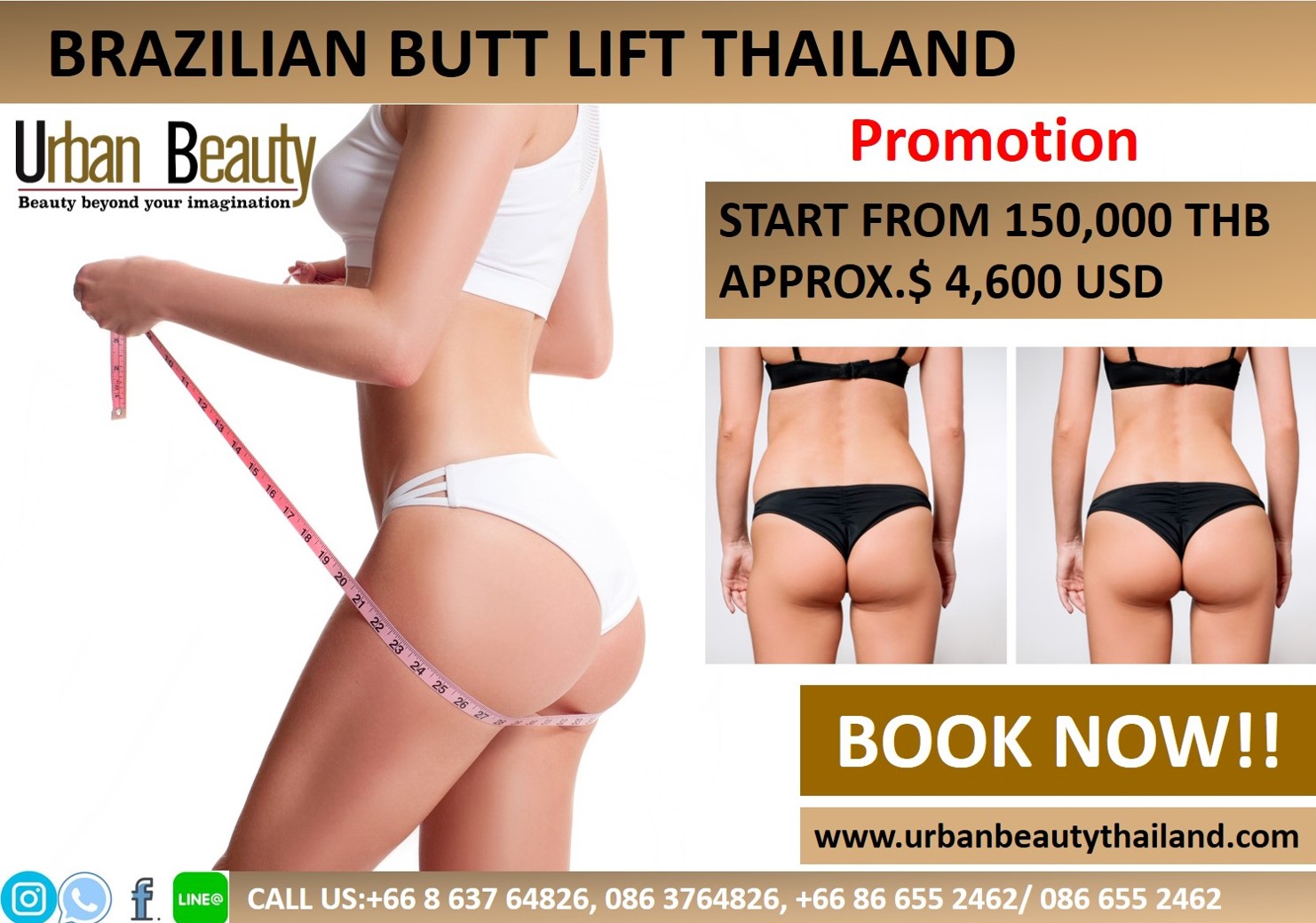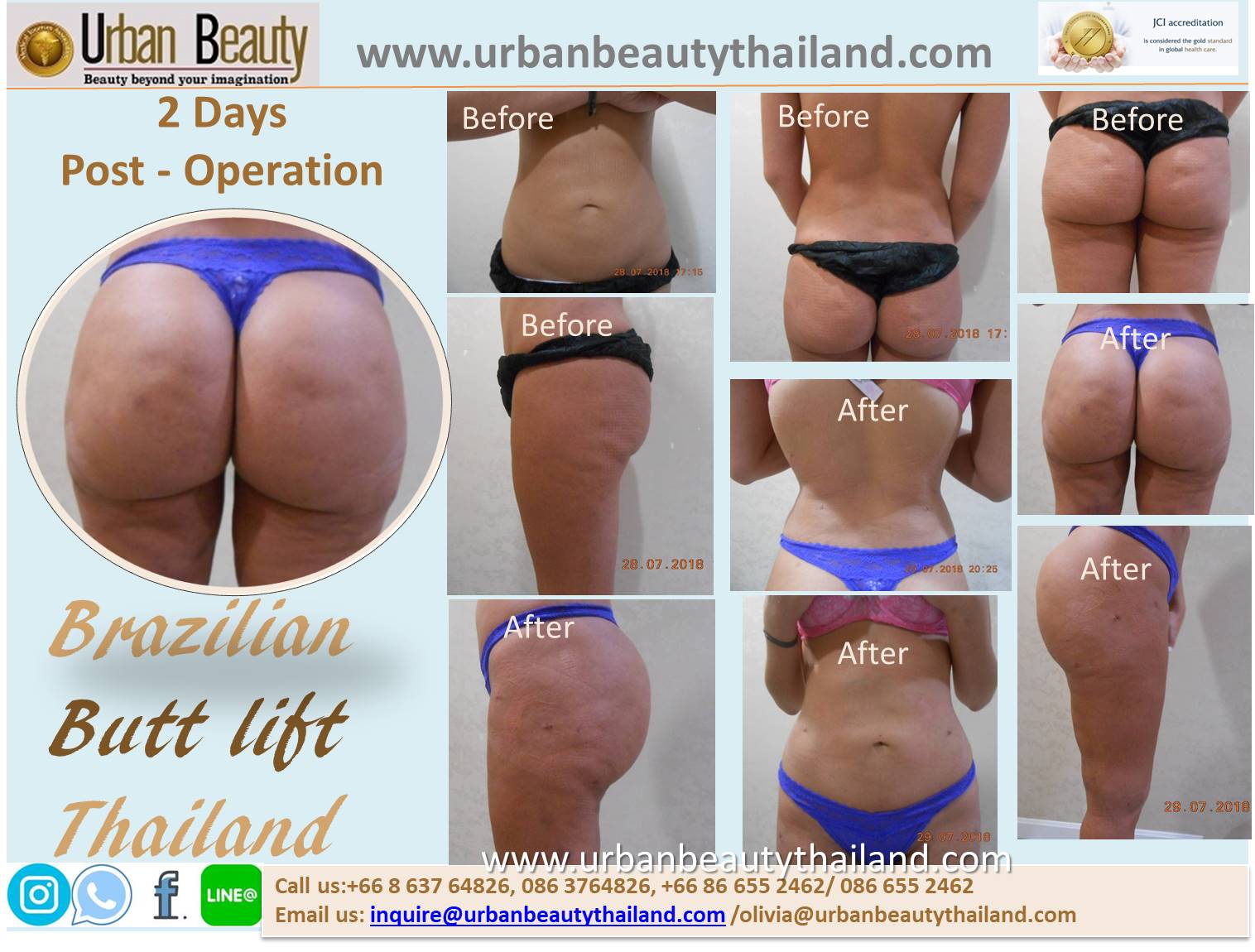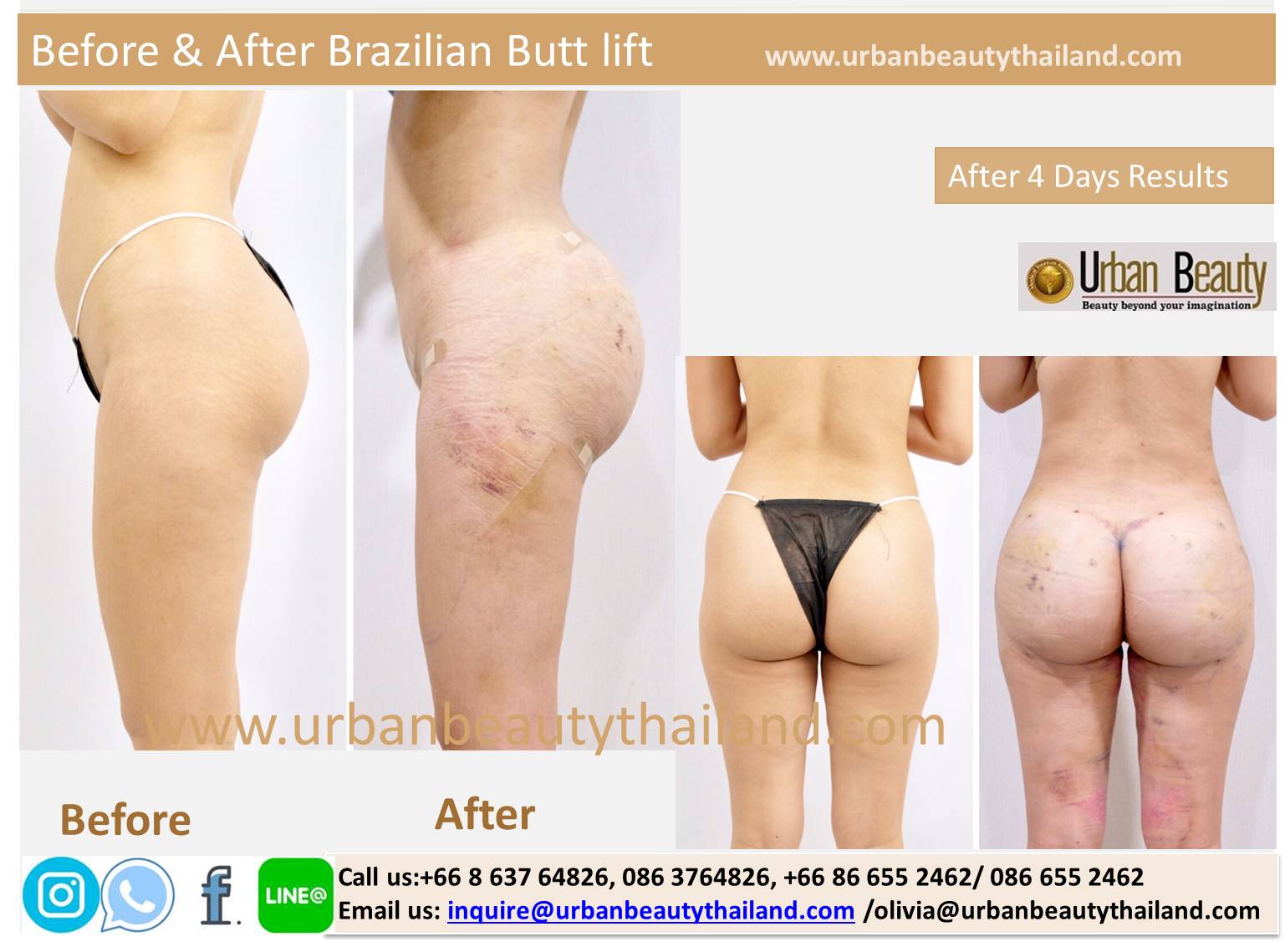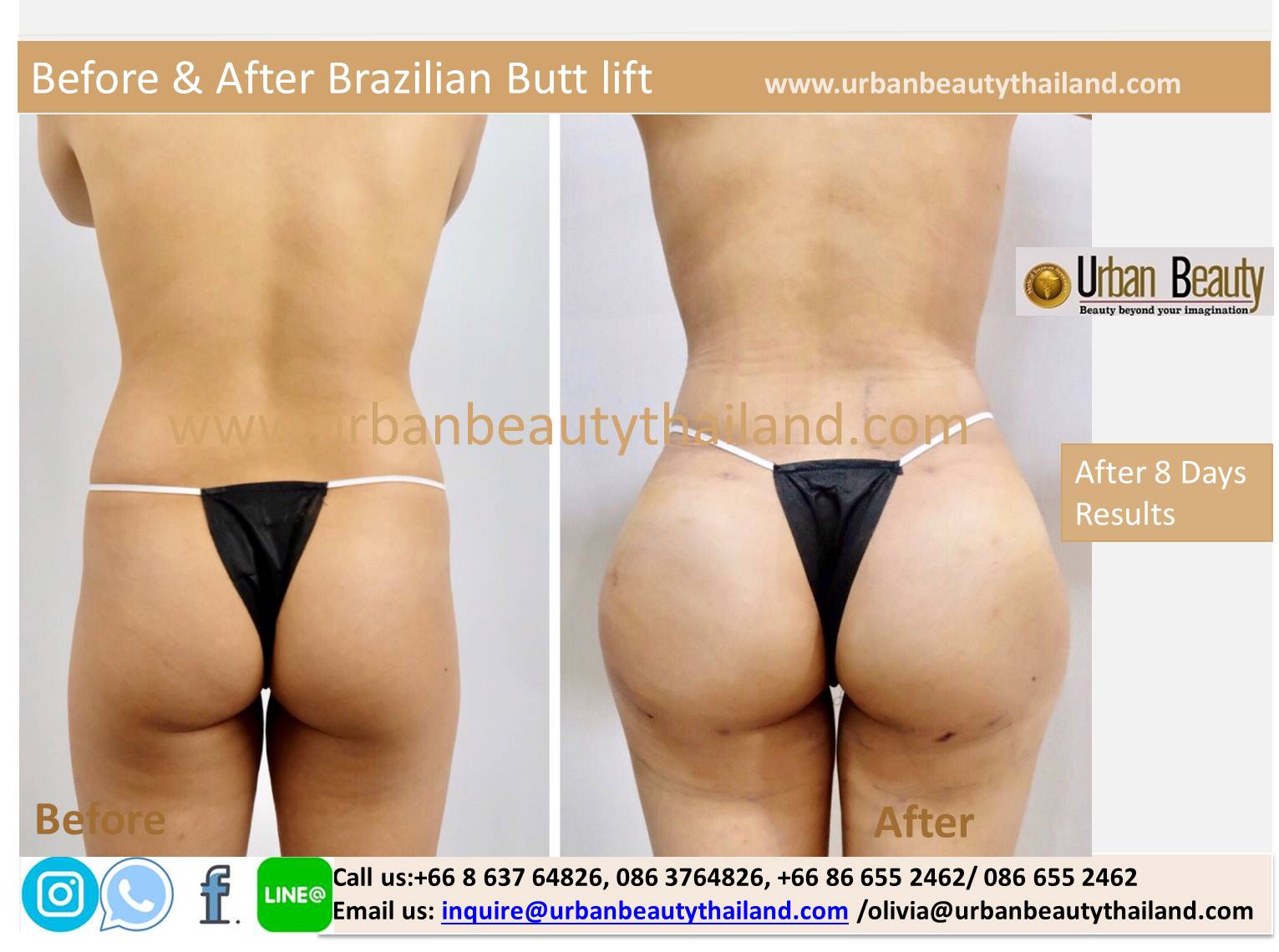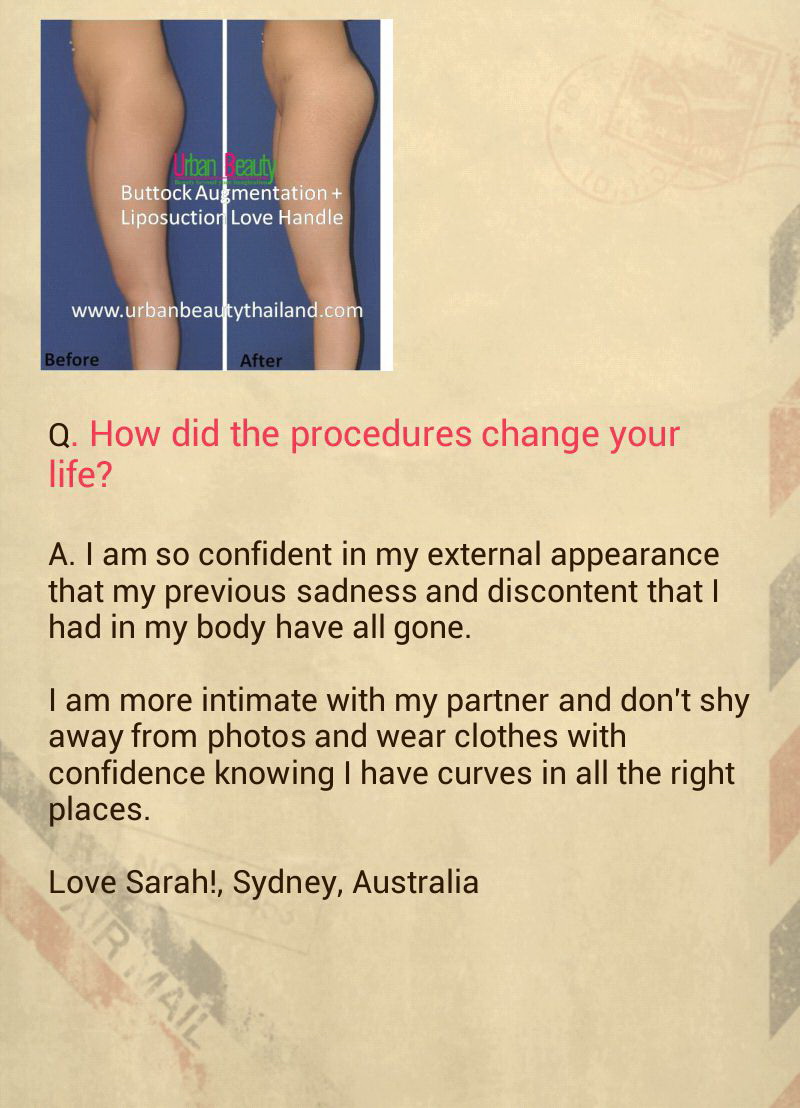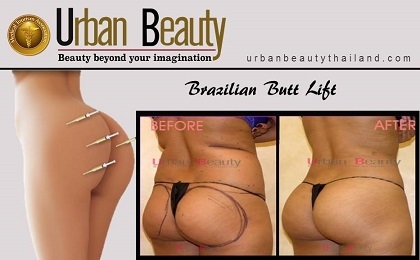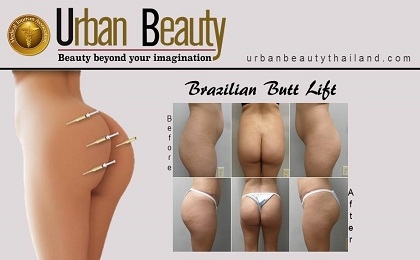 Brazilian Butt Lift Thailand Procedure
The Brazilian butt lift Thailand is done by a process called fat grafting. The use of fat grafting has revolutionized buttock augmentation.
Compared to buttock implants Thailand
It is safer and requires less operative time (just 90 minutes). It has less pain and discomfort post-operatively, and requires minimal recuperation. An additional benefit is that in removing fat from the donor site(s) to be used for the grafting, such as the abdomen, the patient also benefits from a liposuction to the donor site.
Our plastic surgeon uses gentle liposuction to remove fat cells from a donor site–often the thighs, abdomen, back, or hips–and injects those cells into the buttocks. The fat suctioned from these areas is carefully processed and purified. The fat is placed or transferred to the buttocks with special cannulas.
Post-Operative
Following surgery, patients wear a special surgical garment for one to two weeks for comfort and to minimize swelling.
Most people can return to work in two weeks, provided you do only a minimum amount of sitting.
You can resume progressive exercise after two weeks, gradually getting back to the preoperative level after about six weeks. However, you should be able to resume all normal activities at four weeks post op.

Buttock Implants Thailand
Buttock Implant surgery in Thailand is a little more involved but patients like the significant and permanent results that can be achieved. The pre-opt consultation is vitally important because our surgeons must examine and discuss both the position and size of the implants with the patient. That way the result can be both optimal for the patient's desires and natural at the same time.
Procedure
During the procedure, a 2-3 inch incision is made between the buttocks in the midline.
The buttock muscle is lifted and a pocket is made just large enough for the implant.
The implant is then inserted and the other side is completed.
After inspecting for symmetry, the incisions are closed with fine, dissolving sutures followed by taping for further support.
Post-Operative
After surgery, the dressing needs to stay dry for two weeks and pressure should not be placed on the butt for two weeks.
Strenuous activity should be avoided for one month.
The incisions will be somewhat firm and pink for a few weeks, but will fade over the next several months.
Buttocks implants Thailand doesn't just require implantation of the silicone implants, it also requires the skills of the surgeon to achieve the best hour glass body.
In some cases, butt augmentation by implants is associated by a liposuction on waist, abdomen and flanks to get the curves perfectly. This will depend on the patient's expectations and it is best to know their realistic expectations to achieve the best results.
Expectation
The benefit is that once the implants are well healed in place, the results are permanent.
It is very important to have realistic expectations with either Brazilian butt lift Thailand or buttock implants Thailand.
All patients are very happy after their butt enhancement plastic surgery in Thailand and find they gain a feeling of increased self-confidence, especially when wearing more revealing or tighter clothes.
Our goal will always be to have a completely natural appearing result that complements your figure, without looking like you had plastic surgery.
How do I prepare for a buttock augmentation procedure?
Our surgeon will provide you with preoperative instructions, answer any questions you may have, take a detailed medical history, and perform a physical exam to determine your fitness for surgery.
In advance of your procedure, our surgeon will ask you to:
Stop smoking at least six weeks before undergoing surgery to promote better healing.
Avoid taking aspirin, certain anti-inflammatory drugs, and some herbal medications that can cause increased bleeding.
Regardless of the type of surgery to be performed, hydration is very important before and after surgery for safe recovery.
Aftercare for Buttock Augmentation Thailand
After your buttock enhancement surgery, you will need to avoid exercise and increased activity for about three weeks, possibly longer with a butt implant.
You will wear a compression garment, which aids in healing and ensures proper contour. If you experience swelling and pain, these are common and may be managed with medication.
In summary, buttock enhancement is one of the popularized surgeries nowadays. However, Brazilian Butt lift Thailand is suitable for those ladies who have enough fat deposits to achieve the best results. And if you're a petite in size,
Butt Implants is the best option for you to achieve the hour glass body shape you've always wanted.
At Urban Beauty Thailand, we believe that patients, their desires, and anatomy are all unique. Therefore, we offer these procedures at its best discounted price for all who would like to have the best shape they always wanted.
Butt Implants Thailand costs start from 150,000 THB/ approx. 4,600 USD. If you opt for Brazilian Butt Lift Thailand, price starts from 150,000 THB/ approx. 4,600 USD 

Our surgeons evaluate each patient and create a customized surgical plan for all of their patients to meet their expectations. Our surgeons use the latest techniques to create a natural, younger appearing you.
We are proud to offer a variety of buttock enhancement surgeries with our surgeon's team with decades of expertise in the field of cosmetic surgery in Thailand. If you are ready to experience buttock augmentation Thailand with a leading surgeon, we encourage you to contact us to schedule a consultation and learn more about buttock augmentation Thailand, as well as other body contouring options we provide in the Kingdom of Thailand.
For more information you may visit us www.urbanbeautythailand.com or inquire@urban.nginnu.com or +66 86 376 4826/086 376 4826/086 655 2462. At Ambassador Hotel Bangkok, 171 Soi Sukhumvit 11, Khlong Toei Nuae, Bangkok Thailand 10110