Rhinoplasty Correction, Nose Reshaping, Nose Job in Thailand at Cost Effective – Cosmetic Surgery Thailand
Rhinoplasty Correction

,

Nose Reshaping

, Nose Job in Thailand at Cost Effective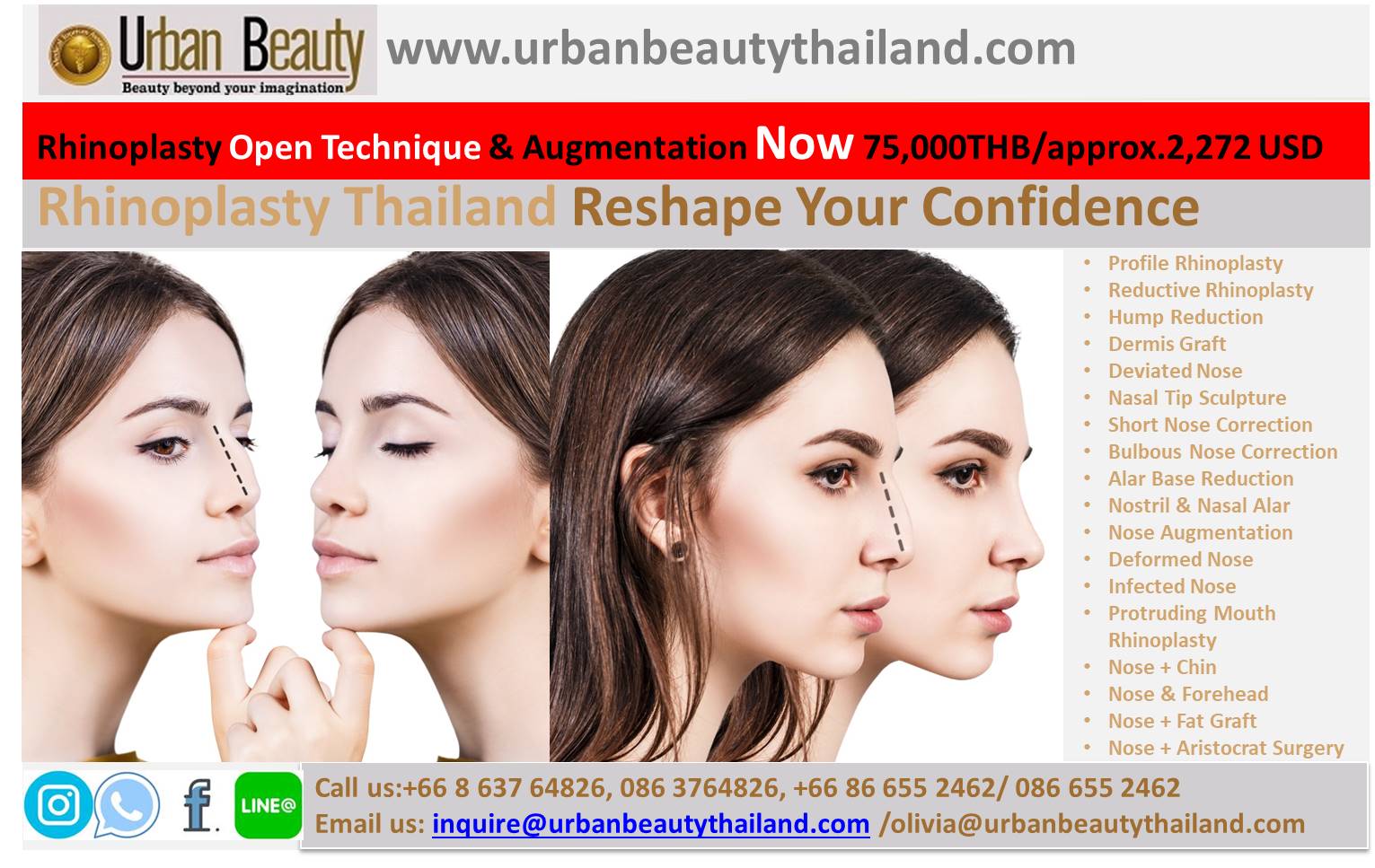 Thailand Rhinoplasty or commonly known as nose job or nose reshaping, improve the appearance and proportion of your nose, enhancing facial harmony and self confidence. Surgery of the nose in Thailand may also correct impaired breathing caused by structural abnormalities in the nose.
The nose is central of facial features, therefore any deformity or imbalance can have a major impact on the psychological well being of the person.
A person with a nose deformity can suffer low self-esteem and become withdrawn, avoiding social contacts or situations such as photographs.
That's why a Thailand rhinoplasty or a nose job in Thailand can restore appearance and confidence on you by correcting or reshaping your nose.
Rhinoplasty Thailand can change your life in the way you want it to be.
Rhinoplasty surgery in Thailand can change the nose size, width, profile, nasal tip nostrils (wide, large, upturned), nasal asymmetry and deviation which is related to your facial structure and features.
Rhinoplasty Thailand aims to correct and bring back your confidence at cost effective.
Plastic surgery  cost is one of the key factors in a person's decision to undergo a procedure. Just like planning to undergo nose job/ correction/ reshaping.
It is essential to consider that quality is usually a function of the rhinoplasty costs. Lower priced surgeons may be less experienced and provide inferior services.
However, there are also times when experienced plastic surgeons are willing to offer their clients a discount depending on their schedules.  Rhinoplasty; nose reshaping / correcting Thailand usually done on an outpatient basis. The procedure will last up to 3-5 hours and you'll be given a specific recovery instruction by the surgeon.
Finally, the surgeon you choose will greatly affect the Rhinoplasty Thailand cost, as well as the outcome of your procedure. Highly qualified, board-certified plastic surgeons in Thailand are able to command higher fees, though most patients who choose these surgeons find the additional expense to be well worth it. Experienced doctors can choose the most appropriate techniques and ensure a positive outcome with a reduced risk of complications. The surgeon should be able to discuss each component of the nose job with you in detail and show you the many different changes that can occur. Also very important to discuss are the limitations, because all of the changes you are requesting may not be possible.
In other terms, you should be aware of the nose and chin relationship.
As the chin gets larger the nose looks smaller and vise versa. A chin implant may or may not enhance your nasal appearance and this should be discussed during your nasal consult.
You probably don't need to be reminded of the dangers of "cheap" Rhinoplasty in Thailand from cosmetic surgeons offering prices that seem to be too good to be true.
The fact is that, like everything else, you get what you pay for when it comes to cosmetic surgery. And when it's your body, you should demand nothing but the best.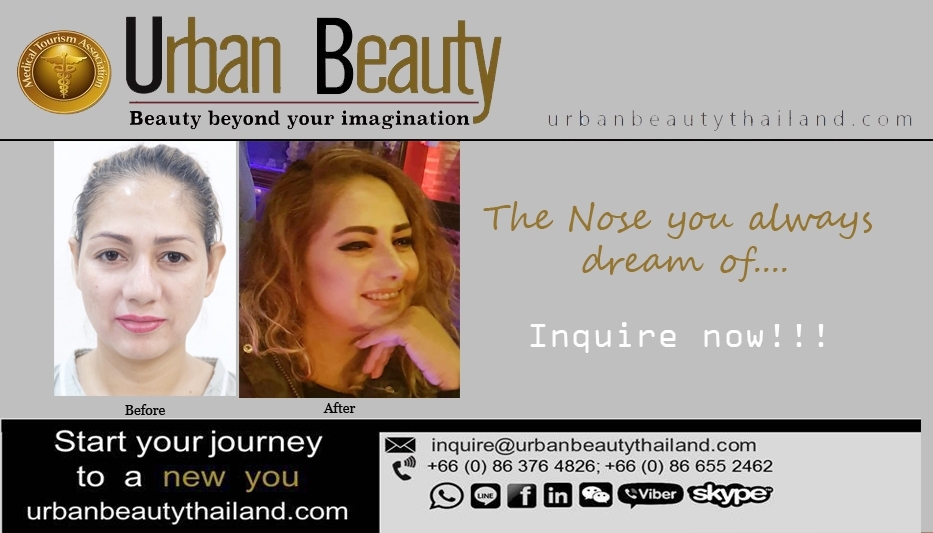 At Urban Beauty Thailand, we are committed in providing exceptional value for our patients. This means not only attractive and affordable pricing in Thailand, but also a dedication to excellent results for our patients. Our doctors are highly-trained, board-certified plastic surgeons by the American Board of Plastic Surgery who have decades of combined experience performing rhinoplasty surgery or nose job and many other cosmetic surgery procedures such as Chin Augmentation, face lifting and tightening, liposuction and body contouring. The Urban Beauty Thailand doctor's team is highly-trained for several years not counting the doctor's experience for more than 20 years.
The

Urban Beauty Thailand

offers the most cost effective Rhinoplasty / Nose Job / Nose Correction/ Nose Reshaping in Thailand
Available in Phuket, Pattaya and Bangkok, providing you with the best services that would meet your expectation and satisfaction.
The Urban Beauty Thailand will help you achieve your goals in life through providing the best surgeons.
The prices of the Urban Beauty Thailand are upfront and have a 100% satisfaction rate which means that they are professionals and experts giving world class services.
For more info. you may visit us www.urbanbeautythailand.com or inquire@urbanbeautythailand.com or +66 86 376 4826/086 376 4826/086 65552462.