Facelift in Thailand Rhytidectomy – Cosmetic Surgery Thailand
Facelift in Thailand Rhytidectomy Bangkok

, Phuket, Pattaya 
Most women desire to always have a beautiful and younger looking skin. However, this is impossible since aging is a normal biological process. There are also some factors that speed up the aging process and cause premature aging.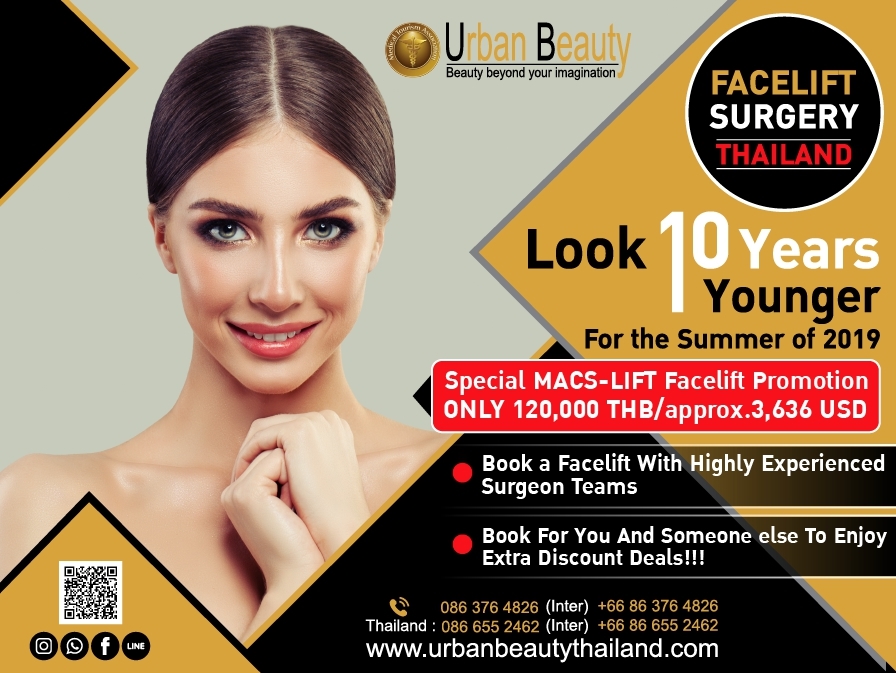 These factors include excessive exposure to sunlight, not getting adequate sleep, smoking, skin dehydration and pollution. This encourages all women to spend lots of money to purchase expensive cosmetic products in order to make their skin glow and reduce the appearance of fine lines and wrinkles.
However, there are some cases that cosmetic products do not work anymore, especially in older women. That is why they opt to undergo cosmetic surgery such as facelift as their last option.
Thailand is one of the top destinations in South East Asia for cosmetic procedures. The cost of the procedures

are

lesser compared to Australia, New Zealand and United States of America. They offer 70% discount and let the clients save up to $7,000. Aside from that, if you decide to undergo Thailand plastic surgery, you can also have a vacation and enjoy the beautiful sceneries that are being offered in the country.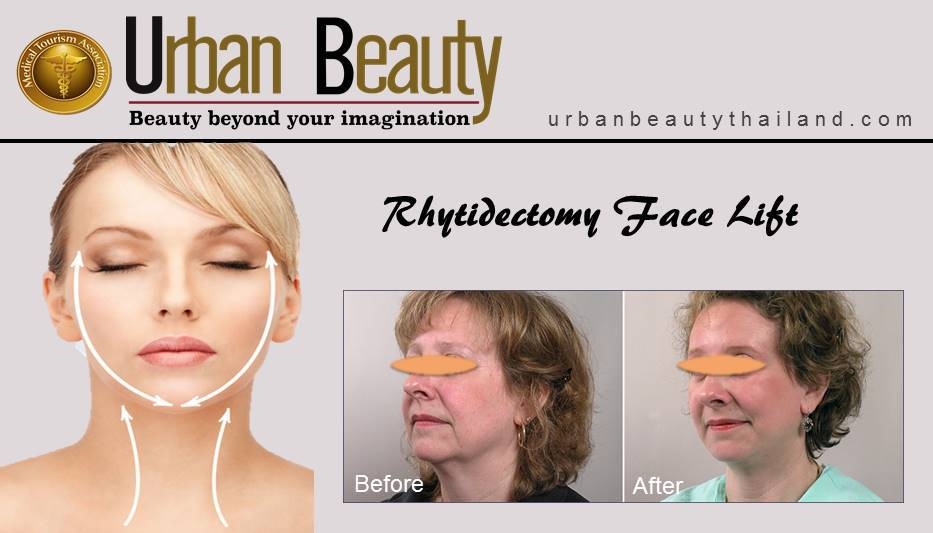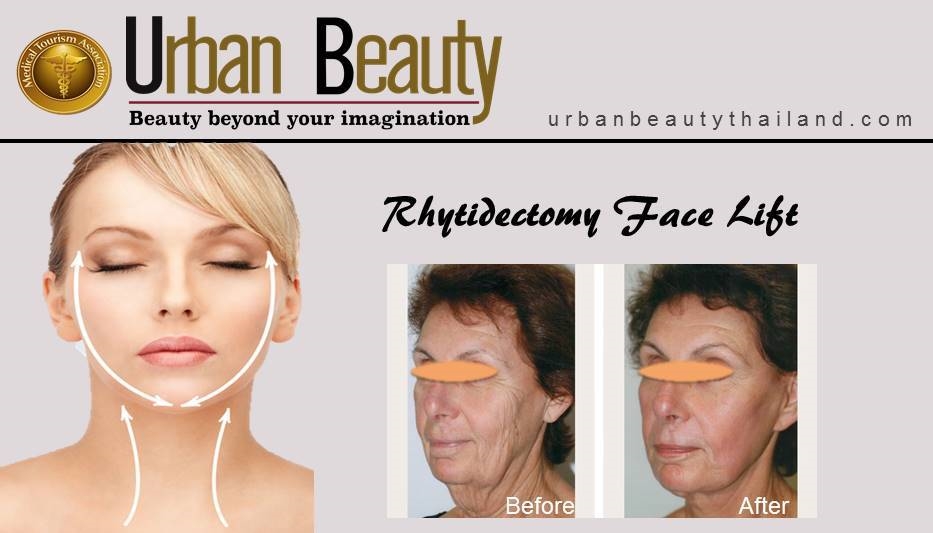 Why you should choose cosmetic surgery in Thailand?
Facelift in Thailand Rhytidectomy
Facelift is also called

rhytidectomy

and one of the common procedures in cosmetic surgery. The primary purpose of this procedure is to provide a younger looking appearance.
Thailand plastic surgery is done by removing the excess skin of the face and pulling the patient's skin on the neck and face to tighten.
It also removes deep creases around the mouth and nose, which are common to aging people. The final result is a fresher, younger looking face and tighter skin that will last for 5-10 years.
With full face lift in Thailand, they use endoscopic method to minimize the scarring caused by the procedure. The procedure uses small lens of camera with instrument to view the small fat tissues and muscles on the video monitor.
It is inserted through the small incisions made along the scalp and brow hairline. The surgeon can also correct carefully the subcutaneous tissue on the face.
Full face lift in Thailand is usually combined with other Thailand plastic surgery such as stomach corrections or breast surgery since combined procedures

is

less expensive.
Since cosmetic surgery Thailand is a surgical procedure, clients should be sedated. They use intravenous sedation, which is a more effective painkiller and sufficient enough instead of having general anesthesia. A tube is placed on the throat and attached to a breathing apparatus, thus letting you breath by yourself.
Facelift in Thailand Rhytidectomy – During the procedure in Thailand
You actually breathe independently and no pain will be felt. After the Thailand plastic surgery, you feel better since there are no side effects compared to general anesthesia.
Additionally, since intravenous sedation was used, it reduces the swelling of the face, thus making the post-operative recovery faster. In general, surgeries that use intravenous sedation are safer.
Full face lift in Thailand is generally affordable, safe and readily available with their 100% service. Trained and professional employees will guide you in every step of the procedure starting from

free consultation

up to post-procedure.
How to get a quote: Photographs & Medical history necessary to undergo a surgery
To request the right quote and provide all necessary details and "Make arrangements" for a surgery by following these easy step photographs required for Thailand Facelift Surgery: Please send 5 pictures of your face:1 frontal photograph, 1 profile photograph of each side and 1 3/4 profile photograph of each side. It is important that pictures show the head and neck completely.
Details: Age, Weight and Height
Hospitalization: 1- 2 day hospitalization at the hospital is required.
Requirements: Put off smoking 1 or 2 months in advance, since smokers have an increased risk of a delayed healing of scars. Smoking inhibits blood flow to the skin, which may interfere with the healing of incision areas, thus producing small holes in the skin (ulcers).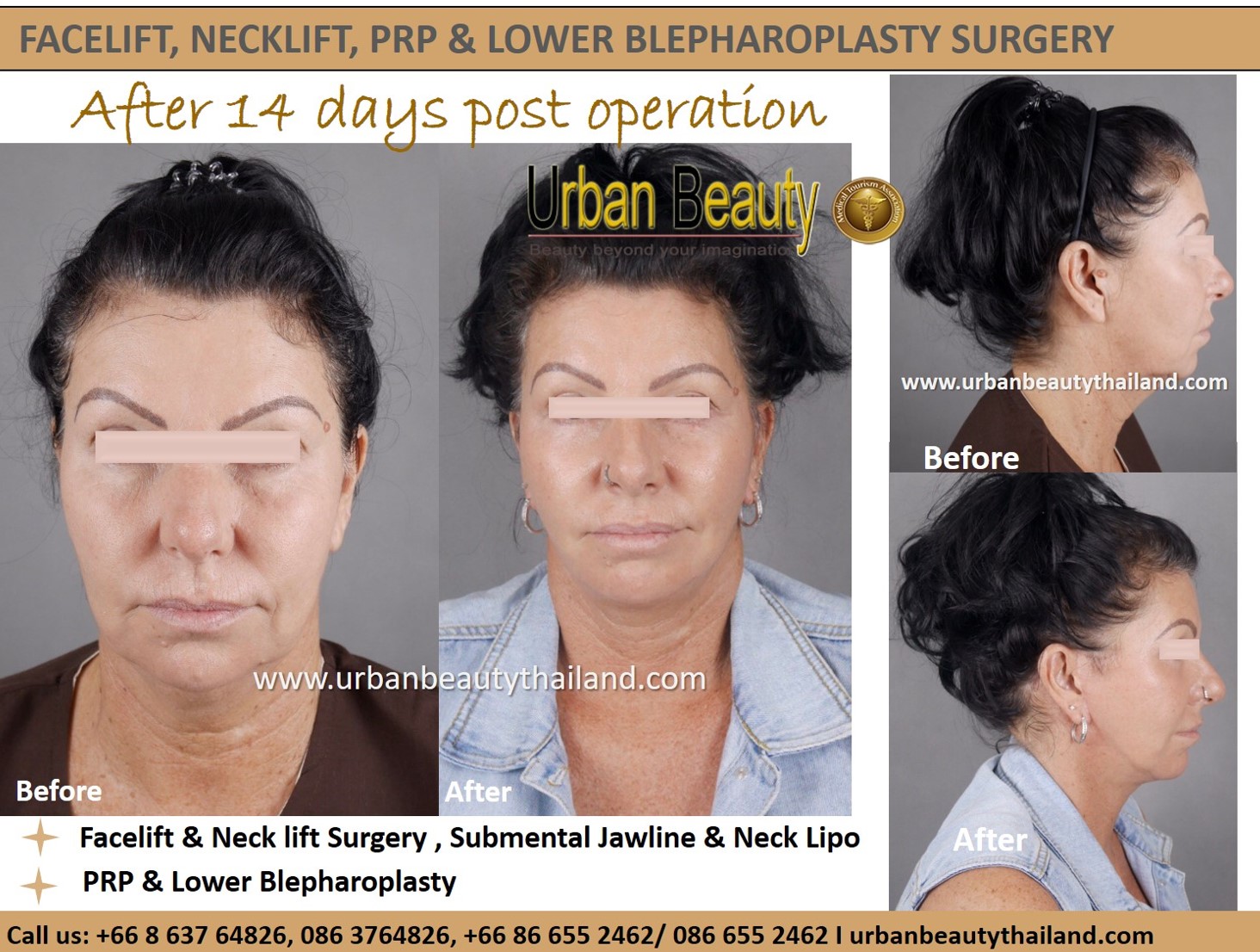 MORE INFORMATION ON OUR FACE LIFTING PROCEDURE:
Your Face Lift Bangkok and Phuket Thailand Cosmetic Surgery. Gives You a Glowing, Youthful Face. Thai's Most Experienced & Trusted Surgeons affordable Word Class Plastic Surgery By Decade Expertise! Save up to 70% on surgery in Thailand! Free Consultation. For more information you may visit us www.urbanbeautythailand.com or inquire@urbanbeautythailand.com or +66 86 376 4826/0863764826/086 655 2462.