Facelift and Necklift Surgery Thailand – Cosmetic Surgery Thailand
Facelift and Necklift

Surgery Thailand. Cosmetic Surgery in Thailand cost and review

Thailand Face Lift and Necklift 70% less in Bangkok & Phuket Recommend upto 10 days for facelift & necklift in Thailand vacation – For proper healing and care & check-ups throughout your Thailand holiday. Beauty for life at Urban Beauty Thailand
Redefine your
face

and

neckline

At Urban Beauty Thailand, what you see is what you get!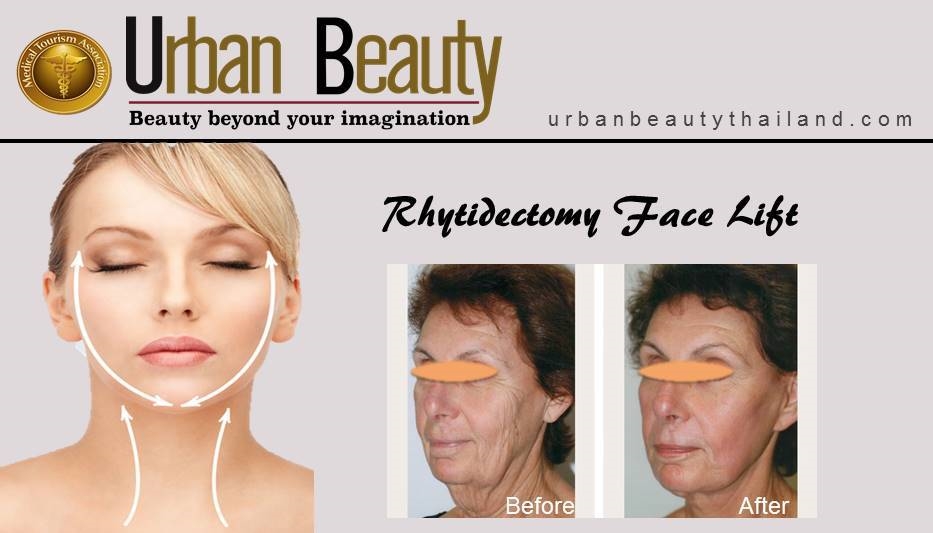 At Urban Beauty Thailand; we offer a surgical procedure designed to smooth the loose skin on the facial skin, jowls, and neck in both men and women.
Candidates for a

Thailand facelift

include those:
With deep lines or folds (nasolabial folds) running from the corner of the nose to the corner of the mouth,
Loss of a well-defined jawline,
Deep wrinkles in the cheeks, and loose skin, wrinkles, and "cords" or excess fat in the neck.
In this procedure, underlying tissues are tightened, excess fat is removed, and the skin is gracefully re-draped for a natural and more youthful appearance. Thailand facelift (technically known as rhytidectomy) can't stop the aging process
What it can do is "
set back the clock

"
Improve the most visible signs of aging by removing excess fat, tightening underlying muscles, and recapping the skin of your face and neck.
Thailand facelift can be done alone, or in conjunction with other procedures such as a forehead lift, eyelid surgery, or nose reshaping.
Thailand SMAS Facelift is often combined with Thailand SMAS Neck
THE FACE
Thailand Facelift does not only correct the SKIN, but also the MUSCLES, subcutaneous FAT and CONNECTIVE TISSUES are put back in place.
The SKIN is partially released. Excessive skin is removed. During a SMAS – or SUB- SMAS LIFT the underlying muscles are being lifted and stitched.
THE NECK
When your neck needs work, our surgeon makes a small incision underneath the chin, to correct the underlying muscle and redefine the neckline.
The skin lift is then accomplished with a small incision under the chin and behind or underneath the ear, if necessary extending into the hairline Thailand PLATYSMA necklift corrects only the lower section of fat and muscle
Sagging cheeks,
Sagging jaws – jowls.
Platysma or neck banding; a turkey waddle

The position of subcutaneous fat and the position of the skin

The SMAS of the firmness of the underlying muscles of the face and the neck
Excess fat tissue under the chin 2/3 face and neck lift.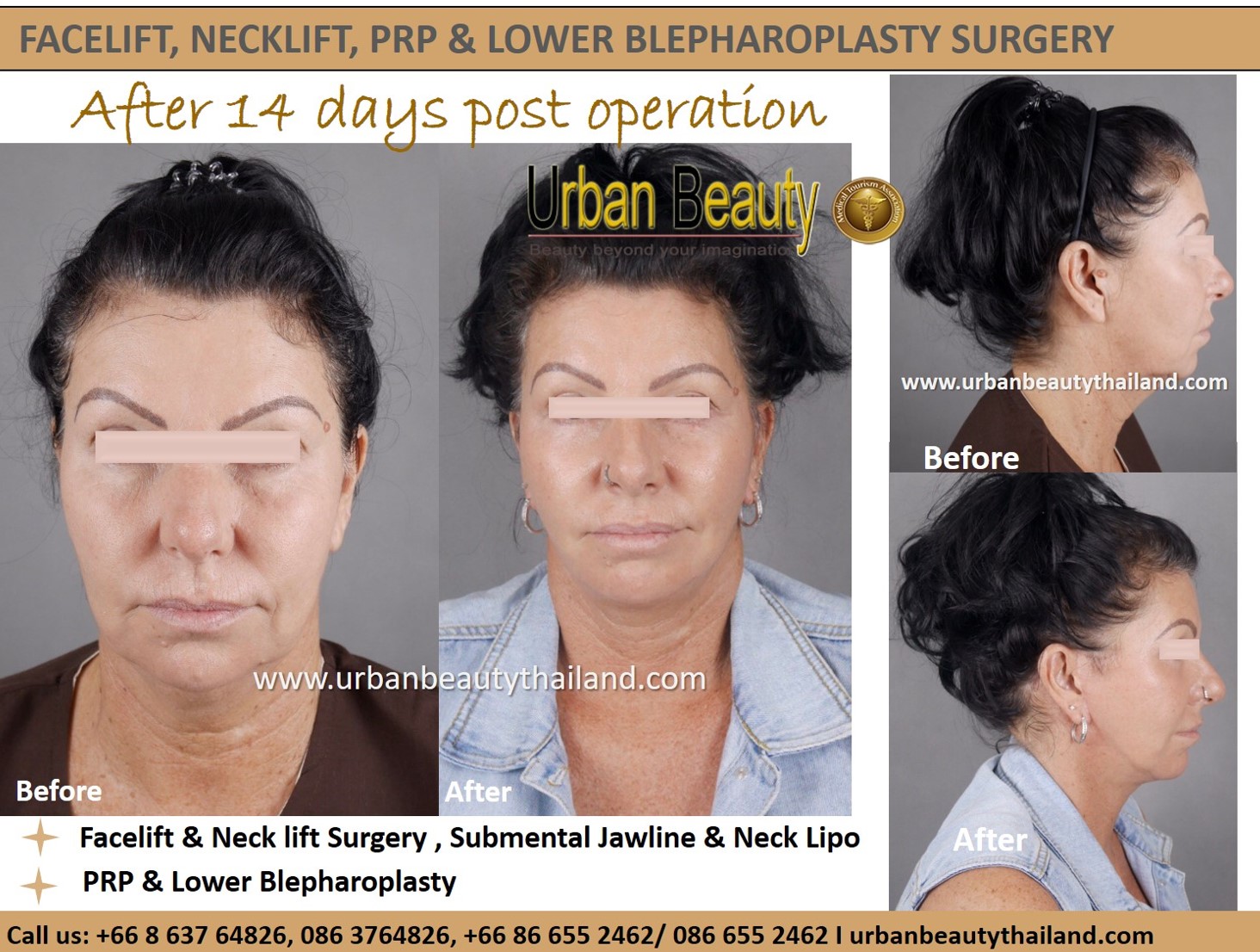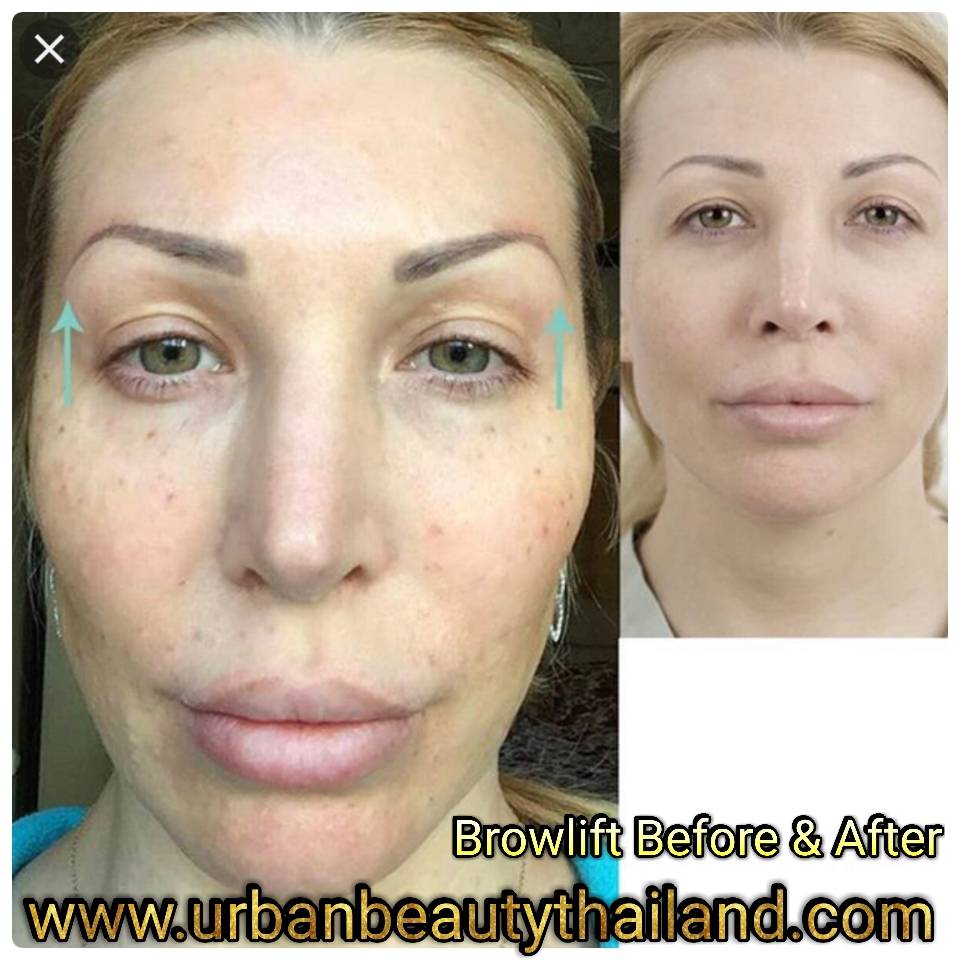 Dissolvable THREADS provide extra support to the jaw- and cheek contour.
During a facelift, other names are SMAS lift, sub- SMAS, subcutaneous lift or Deep plane lift, the skin of the face is separated from the fat and muscle below.
Surgeon makes multiple incisions, often also behind the ear and under the chin. Underlying tissues are tugged in place, the skin is pulled back and the excess is removed.
Underlying SMAS tissues (SMAS: Superficial Muscular Aponeurotic System) weight more than the skin. Lifting and firming the SMAS tissues will lead to a more firm appearance of the skin.
Excessive skin is removed only after the underlying muscles and membranes are being tightened.
The slow dissolvable threads are strongly attached underneath the skin
The special elastic, anti-biotic threads are slowly dissolvable
They disappear automatically after natural collagen synthesis has taken place.This prevents any possible rejection of the threads Subcutaneous threads can provide extra support.
This procedure is called the feather – Thailand Facelift or suspension Facelift
Urban Beauty Thailand where procedures like a facelift cost
less than 70%

of what they would cost in exclusive places in the West. And just how exclusive are these resorts?
Do they pick you up from the airport and bring you back if you're flying in from out of town?
Do they use top of the line equipment or are they starting to suffer from budget cuts like many Western economies?
Are the surgeons performing procedure actually experts or are they being drafted in from another area, perhaps breast enhancement?
Do they help you find suitable accommodation and provide affordable luxury for the ordinary person who wants to look younger?
Some of the exclusive resorts will say 'yes' to the first three questions but will be unable to do so for the fourth. Urban Beauty Thailand on the other hand, ticks all of these boxes and more.
We understand that the aging process and day-to-day activities can take their toll.
Skin starts to sag and a person's face can seemingly grow old overnight.

Take a few moments to review your desired outcome to make sure that you and our plastic surgeon are on the same page. Surgeon will give instruction about surgery before operation.

Recovery in Thailand
Thailand Facelift and Necklift – You will have bandages and sutures on your face which will be removed after a few days. Bruising, swelling and numbness will all affect the face for a few days.
Thailand Facelift and Necklift – Our team will continually check on you during your stay and you will be asked to sleep in an upright position to aid recovery.
Thailand Facelift and Necklift – Please refrain from sneezing and coughing because this could cause minor bleeding on the face.
Thailand Facelift and Necklift – Once you are discharged from the hospital, spend a week exploring the wonders of Thailand because no strenuous activity must be attempted.
Thailand Facelift and Necklift – There will be scars but these are hidden from plain view and eventually fade away. Do not smoke or drink alcohol while you are recovering from the facelift.
Thailand Facelift and Necklift – Go home after you've relaxed and mystify family and friends by appearing at least a full decade younger.
MORE INFORMATION ON OUR
FACE LIFTING PROCEDURE

:

How to get a quote: Photographs & Medical history necessary to undergo a surgery, Stay, Requirements To request the right quote and provide all necessary details and "Make arrangements for a surgery by following these easy steps".
Photographs required for Thailand Facelift and Neck lift: Please send 5 pictures of your face:
1 frontal photograph, 1 profile photograph of each side and 1 3/4 profile photograph of each side.
It is important that pictures show the head and neck completely.
Details: Age, Weight and Height We know the most important thing on your mind is probably, "What are the hospitals like?" and "Who are these surgeons? Do they speak English?" That's why we've prepared a number of Hospitals and Plastic Surgeons's profile and please do not worry as all of them do speak English.
When you contact Urban Beauty Thailand, we will not only set you up with our best surgeons team, we will also assist you in any way we can when it comes to finding accommodation. Thanks to our contacts in various Thai cities, we can secure discounted prices for you in luxury accommodation. And unlike other companies in the region, all our prices are upfront. When you book with us, there are no hidden fees or extra charges as you will pay directly to hospital, what you see is what you get!
Let's Us Help You With
Thailand Facelift & Necklift