PRP Thailand -Platelet Rich Plasma Therapy, Stem Cell Therapy in Bangkok, Thailand
PRP Thailand -Platelet Rich Plasma Therapy, Stem Cell Therapy Thailand
Photo activation PRP

: Decreases Pain and Accelerates Healing of Musculoskeletal
 
Problems and a New Beauty Rejuvenation Solution
Muscle and tendon injuries are common in most active individuals, from the professional athlete to the weekend warrior. According to the World Health Organization, musculoskeletal problems are the most common cause of severe long-term pain and physical disability, and affect hundreds of millions of people around the world. Musculoskeletal is a general term which is defined as relating to muscles and the skeleton. The Musculoskeletal involves the bones, muscles, joints, bursa, ligaments, and tendons. The presence of the high concentration of platelets starts and accelerates the healing process and reduces pain in the affected area of the body most especially in the musculoskeletal part.
Platelet-rich plasma (PRP) is a concentrate extract of platelets from autologous blood, and represents a possible treatment option for the stimulation and acceleration of soft-tissue healing and regeneration in orthopedics.
PRP treatment in Thailand is a process of using a patient's own blood products, so there is no risk of disease transmission or allergic reaction to facilitate healing.
A small amount of the patient's whole blood is drawn into a syringe and is then centrifuged to separate the blood into various components – the bottom layer consists the red blood cell, the middle are the white blood cells and platelets and the top is the Platelet Rich plasma (PRP) .
When the PRP (platelet rich plasma) is separated with the red blood cells, it is then photo-activated using the new technology – Adi-Light Technology and has been found to significantly reduce inflammation and accelerate healing.
Using these techniques, it is possible to achieve platelet concentrations up to eight times higher than normal, which can then be injected into injured tissue or area.
PRP patients have a lot of benefits from the Photo Activated PRP. These include the reduction of the intensity and duration of pain and the acceleration of healing in the affected area.
PRP doesn't just treats Osteoarthritis, degenerative knees, muscle tears, tendon injuries, ligament injuries and joint pain; it is also used for beauty rejuvenation.
PRP is a completely natural and safe treatment becoming very popular with women and men wanting a youthful look. The areas that can be treated include all facial areas, neck, décolletage and back of the hands, not only this treatment improve skin tone and texture but it can also promotes healthy skin growth.
Aging of the skin, dermal components and cells, means that the skin texture and appearance deteriorate. Aging affects the hands and soft tissue of the face and PRP is one of the solutions to bring back the youthful glow of your skin and face.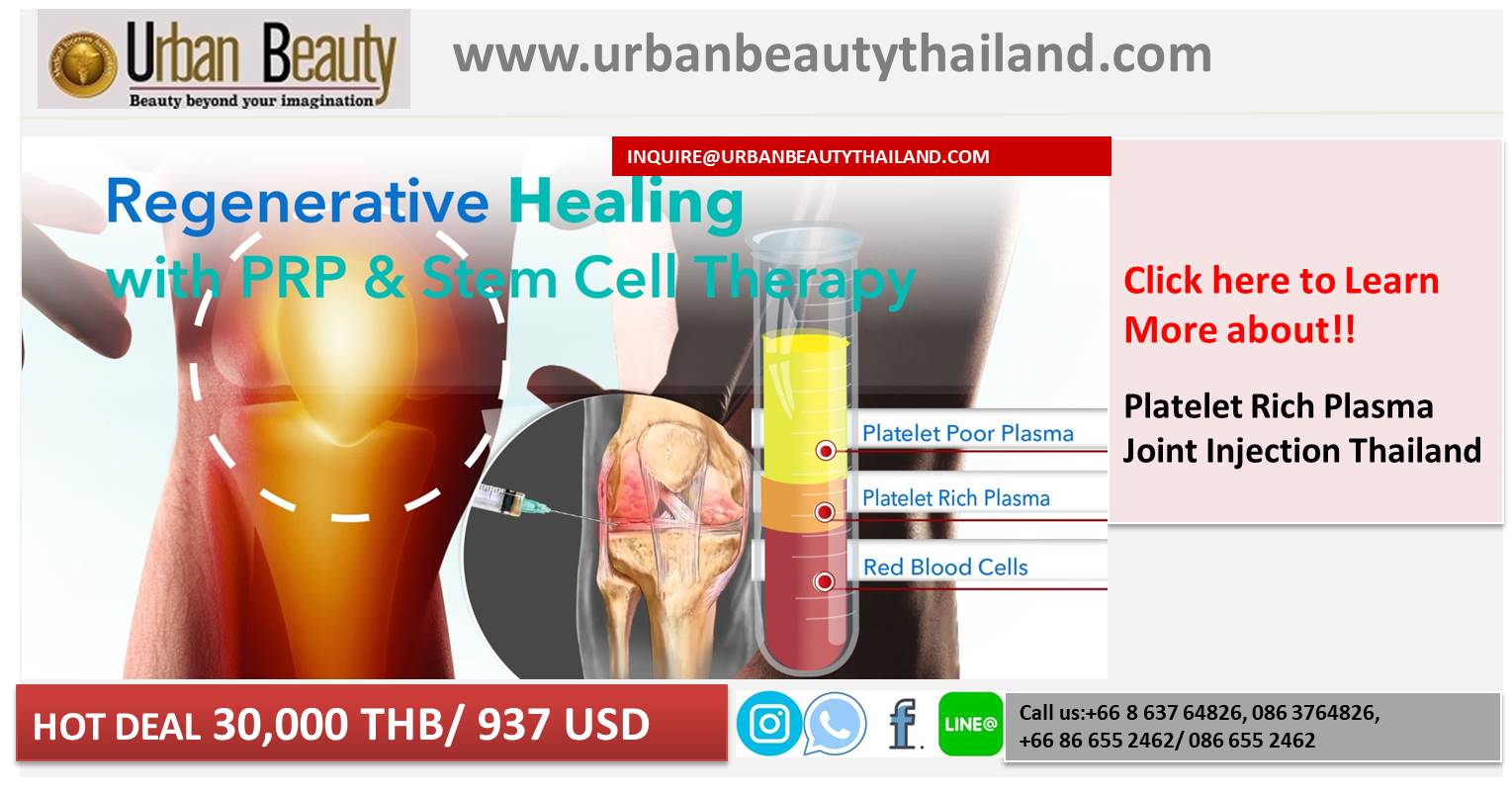 PRP treatment in Thailand uses new technology known as Adistem Technology.  Photo activation Technology is being used increasingly in Platelet Rich Plasma (PRP) preparations for Osteoarthritis, Degenerative knees, Muscle Tears, Tendon Injuries, Joint Pains and ligament injuries and has been used for activating adipose derived stem cells (ASCs) for therapeutic and regenerative application since 2008. This technology uses low intensity of light at specific frequencies to increase various anti-inflammatory and healing agents from PRP. The procedure of Urban Beauty Thailand Photo activation of PRP came from US and practiced by the top surgeon in Thailand who is  serving various celebrities and expats not just in Bangkok but all over the world.
Cost of PRP is an important factor when considering PRP treatment/ therapy. However the quality of PRP is more important than the PRP cost. If the ultimate goal of Photo activated PRP Procedure is to have a happy patient, then the surgeon's expertise and experience are probably more important than the Photo activated PRP Treatment price. That's why the Urban Beauty Thailand is offering PRP treatment for Musculoskeletal Problems that starts from 35,000 baht/approx.$1,000 USD  per session ( 3 sessions are required for Musculoskeletal problem) and PRP facial rejuvenation is approx. 15,000 baht/approx. $450USD which services of our top surgeons team.
At Urban Beauty Thailand, we are committed in providing exceptional value for our patients. This means not only attractive and affordable pricing, but also a dedication to excellent results for our patients. Our doctors are highly-trained, board-certified plastic surgeons by the American Board of Plastic Surgery who have decades of combined experience performing PRP treatments and other Cosmetic Treatment and Procedures such as cosmetic Stem cell treatment for face and body contouring. Available in Bangkok providing you with the best services that would meet your expectation and satisfaction.
For more information about Urban Beauty Thailand; PRP Enriched Plasma Rich Injection Therapy, Photo activation of PRP Treatment, Stem Cell Treatment, you may visit us www.urbanbeautythailand.com or inquire@urbanbeautythailand.com or +66 86 376 4826/086 376 4826/086 655 2462