Stem Cell

Vaginal Rejuvenation Thailand

, Restoring Stimulation into Your Sex Life in Thailand

At Urban Beauty Thailand – You don't feel tight like before? Sex feels less exciting after kids? Scared or embarrassed to talk about it?  Good news is you are not alone.  Better news is you can do something about it.

Board Certified Plastic Surgeons team has performed hundreds of Stem cell Vaginal Rejuvenation procedures in Bangkok, Thailand surgical facilities and reports that the results are immediate and long lasting with almost 100% patient satisfaction.
Stem cells Thailand from your own fat have opened an exciting new era in medicine.
The stem cell revolution is allowing us to revolutionize medicine.
Costly, risky, painful, and difficult operations have been transformed to safe, natural and affordable procedures.
Urban Beauty Thailand's innovative technique for scar free facelift and face sculpting (Stem Cell Lift TM) using your own stem cells will rejuvenate your looks.
Same stem cells to rejuvenate your sex life – As one of my patients said, "This procedure should be mandatory after having children, it will save many marriages."
As with any part of the body, the vaginal area goes through changes with age and childbearing.
The tissues lose their toxicity and volume making the area feel loose, therefore the sexual experience is less gratifying, even painful at times, for one or both partners.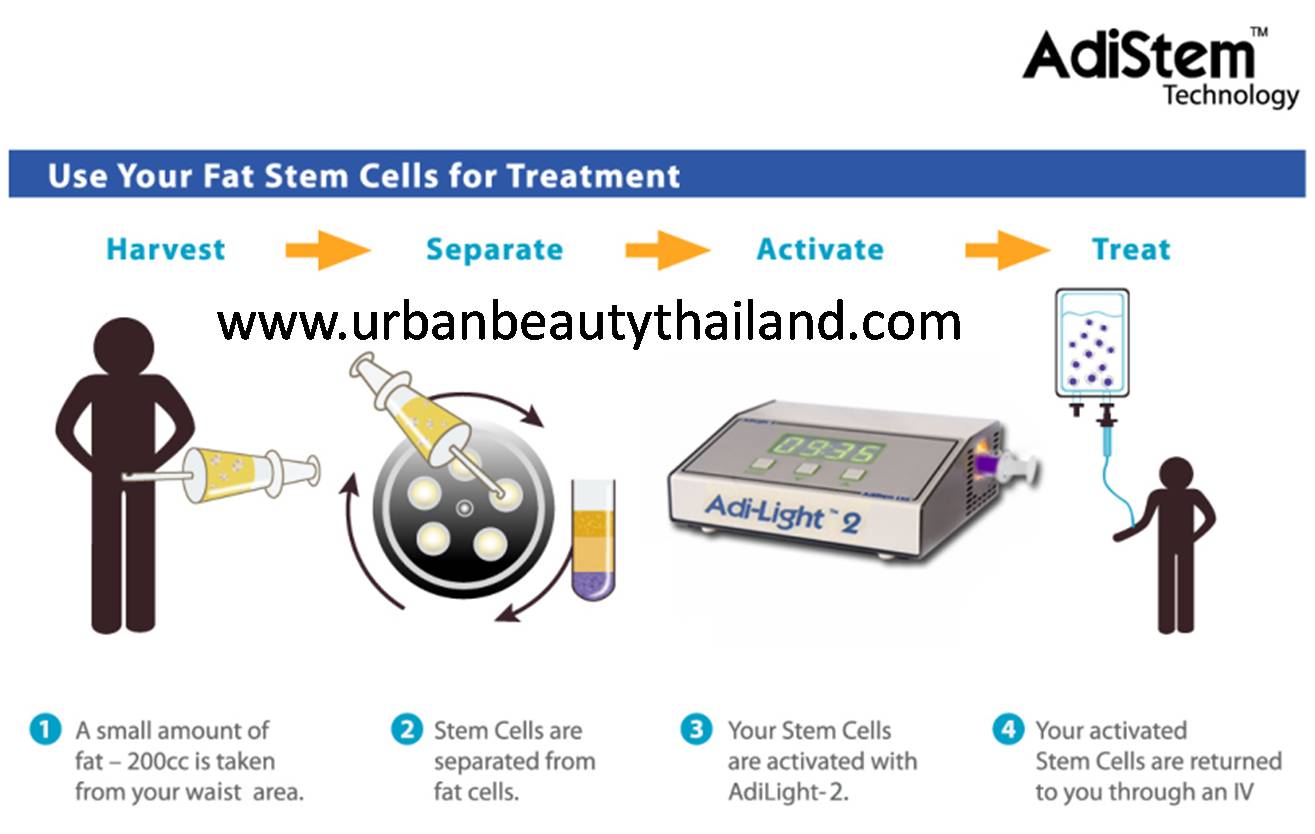 Stem cell Innovation Procedure: Old
vs.

New
Until today vaginal rejuvenation surgery used a scalpel or a laser to cut and sew the anterior and posterior area of the vagina, also known as an anterior/posterior repair.  This procedure was fraught with complications and did not address the entire vaginal area circumferentially.
Therefore, there is a drop-off or a step-off area that is palpable where the stitches end.  In addition to the risk and complications there is a long recovery time of 6 to 8 weeks associated with this procedure, during which you are to abstain from sexual intercourse.
In the Stem Cell Vaginal Rejuvenation Thailand, the stem cells from your own fat are injected into the outer labia (labia majora) and into the vaginal walls with specially designed instruments.  There are no scalpels used, no incisions, no stitches, no burning of tissues, no scars, no risk of general anesthesia, and a much shorter recovery time of about 2 to 3 weeks.
Comparison of  Vaginal Rejuvenation and

Labiaplasty

:
Method                                                       Older Method          Stem Cell
Bleeding                                                   Yes                           Minimal
Cost                                                      Expensive               Cost Effective
General Anesthesia                               Yes                             No
Pain                                                          Yes                            Minimal
Recovery Time                                     6 to 8 Weeks           2 to 3 Weeks
Scars                                                        Yes                              No
Sculpts the External Genital Area     No                               Yes
Stitches                                                   Yes                              No
Tightens The Entire Vaginal Canal   No                              Yes
Time to Resume Daily Activities        5 to 10 Days            1 to 2 Days
Advantages of the Stem Cell Vaginal Rejuvenation Thailand:
A major difference is that there are no scars and it looks and feels natural.
The fat and stem cells are injected on all sides, and for the entire length, so there is no  step-off effect and   therefore provides for a better sexual experience.
It helps to restore the volume, the muscle tone and improve the blood flow in the area to tighten the vaginal canal and may make the "G-Spot" more prominent and responsive to stimuli.
The combination of this makes the sexual experience much more exciting and pleasurable for both partners.
It is used to sculpt the shape of the external vaginal area, including the labia and the mons pubis to provide proportioned and attractive genitalia.
The stem cells and the fat can be taken from any part of the body which contains an undesirable amount of fat, including the mons pubis.
It does not require general anesthesia, making it safer and much more cost-effective.
Combination Treatments:
From the Face Down

:
The stem cells and the fat taken for the vaginal rejuvenation can also be used on the same day to sculpt, lift and rejuvenate the face and the hands.
A Woman's Prerogative
Today's women are educated and have much more responsibilities along with opportunities in life. Some of these opportunities are part of improved medical care that has allowed us to live better and longer.
Cosmetic surgery has also greatly advanced and can today offer safe and natural solutions to maintain and restore our appearance and youthfulness that is in demand today.
You no longer need to suffer from, be embarrassed about or simply endure the undesired changes that your body has undergone over the years.
Now you have options and opportunities to restore your face, body and importantly your genitalia to a rejuvenated state and experience the excitement, the passion and the pleasure that life has to offer.
What to choose? Preparing for your Stem cell Vaginal Rejuvenation Thailand:
Take a few moments to review your desired outcome to make sure that you and our plastic surgeon are on the same page.
Our Surgeon will give instruction about surgery before operation.
Contact us today for a FREE consultation; inquire@urbanbeautythailand.com www.urbanbeautythailand.com or +66(0)86 376 4826/ 086 655 2462 for voice call, WhatsApp, Viber, WeChat, Tango & Line chat.