Labiaplasty, Labia Minora Reduction Thailand – Cosmetic Surgery Thailand
Labia Minora Reduction at Urban Beauty Thailand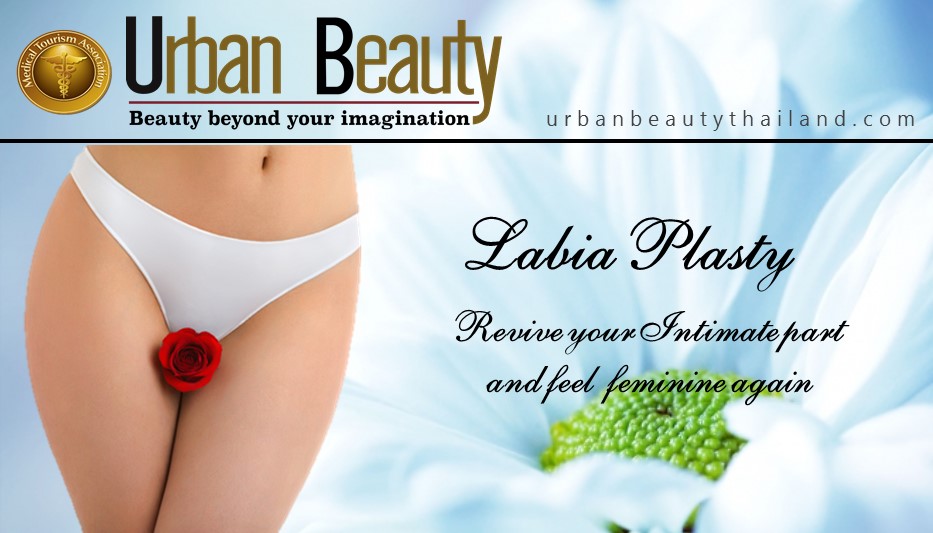 Labia minora reduction surgery (Labiaplasty) is relatively minor surgical procedure to reduce excessively large labia. The labia reduction surgery takes …
FEMALE INTIMATE SURGERY – Labia Reduction by Urban Beauty Thailand
Labia Reduction Thailand
Labiaplasty is a procedure performed on women who dislike the size of their labia minora, which may cause embarrassment with a sexual partner or discomfort in tight pants, with sports, or during sexual intercourse. Some women are born with enlarged labia and therefore opt to have Labiaplasty; whereas others develop the enlargement with age or from child-birth. Occasionally, a woman is self-conscious of her labia since childhood. A labia reduction (Labiaplasty / labioplasty) procedure can be performed to reduce the labia minora.

What types of Labia plasty techniques are available in Thailand?
Traditionally, most gynecologists or plastic surgeons utilize the direct excision and reduction method of Labia plasty.
With this method a long strip of the Labia Minora is excised, leaving a surgical incision at the edge of the Labia which takes longer to heal and can become sensitive.
Board Certified Plastic Surgeons team has performed hundreds of Labiaplasty (labia reduction) procedures in Bangkok, Thailand surgical facilities and reports that the results are immediate and long lasting with almost 100% patient satisfaction.
Technique leaves no external scars, preserves maximum genital sensation, and looks very natural.
At that time a clitoral de-hooding can also be performed to increase the height and length of sexual pleasure for the woman.
Our patients come from all around the world for Labiaplasty (labia minora reduction), including Asia, Europe, South America, Canada, as well as from throughout the United States.
At Urban Beauty Thailand Labiaplasty surgeon also performs other female genital surgery including labia majora remodeling, vaginal rejuvenation or vaginaplasty, pubic liposuction and pubic lift, reconstruction of the vagina and external genitalia deformities, and clitoral reduction.

Is laser used for Labiaplasty in Thailand?
Although laser can be used to make the surgical incision, it does not offer any added benefits in terms of comfort, safety, or better healing.
Anesthesia and Surgery for Labiaplasty in Thailand
    Labiaplasty female surgery is an outpatient procedure.
    It is performed under local anesthesia with some sedation in order to reduce anxiety.
    This procedure is rather short, and can take about 30 minutes.
    At times Labiaplasty is performed in conjunction with Vaginaplasty (Vaginal Rejuvenation), tummy tuck, liposuction, breast augmentation, or other cosmetic procedures.
Recovery after Labiaplasty at Urban Beauty Thailand
 Most patients experience mild discomfort, swelling, and bruising after Labiaplasty which lasts two to seven days.
During this time, women can experience some spotting, and/or urinary hesitance.
You should wear pads, and apply Neosporin ointment to the surgical sites for comfort.
You can take a shower or wash within six hours of surgery, and as frequently as they wish, thereafter.
Although you can return to sedate activities and work within two days, you should refrain from jogging, biking, horseback riding, running, heavy lifting, and sexual intercourse for about 4-6 weeks.
What to choose?
Preparing for your Labia Minora Reduction in Thailand:
If you have any questions about Labiaplasty (Labiaplasty, labia minora reduction), or would like to schedule a Labiaplasty consultation please feel free to contact us;
Take a few moments to review your desired outcome to make sure that you and our plastic surgeon are on the same page.
Our Surgeon will give instruction about surgery before operation.
For more info. you may visit us www.urbanbeautythailand.com or inquire@urbanbeautythailand.com or +66 86 376 4826/086 376 4826/086 655 2462.