Thailand ThermiVa Vaginal Rejuvenation: Sexual Enhancement – Cosmetic Surgery Thailand
Thailand

THERMIVA

The First Non Surgical Vaginal Rejuvenation thailand with No Down Time.
ThermiVa

Boosts Women's Sexual Feeling in Thailand REJUVENATION FOR SEXUAL ENHANCEMENT

ThermiVa aims to, "reclaim, restore and revive feminine wellness, without discomfort or downtime", through gentle heat applied externally and internally. The ThermiVa wand is a small device that shrinks the vaginal tissues and encourages collagen production, as well as improving any bladder problems induced by childbirth and/or the menopause.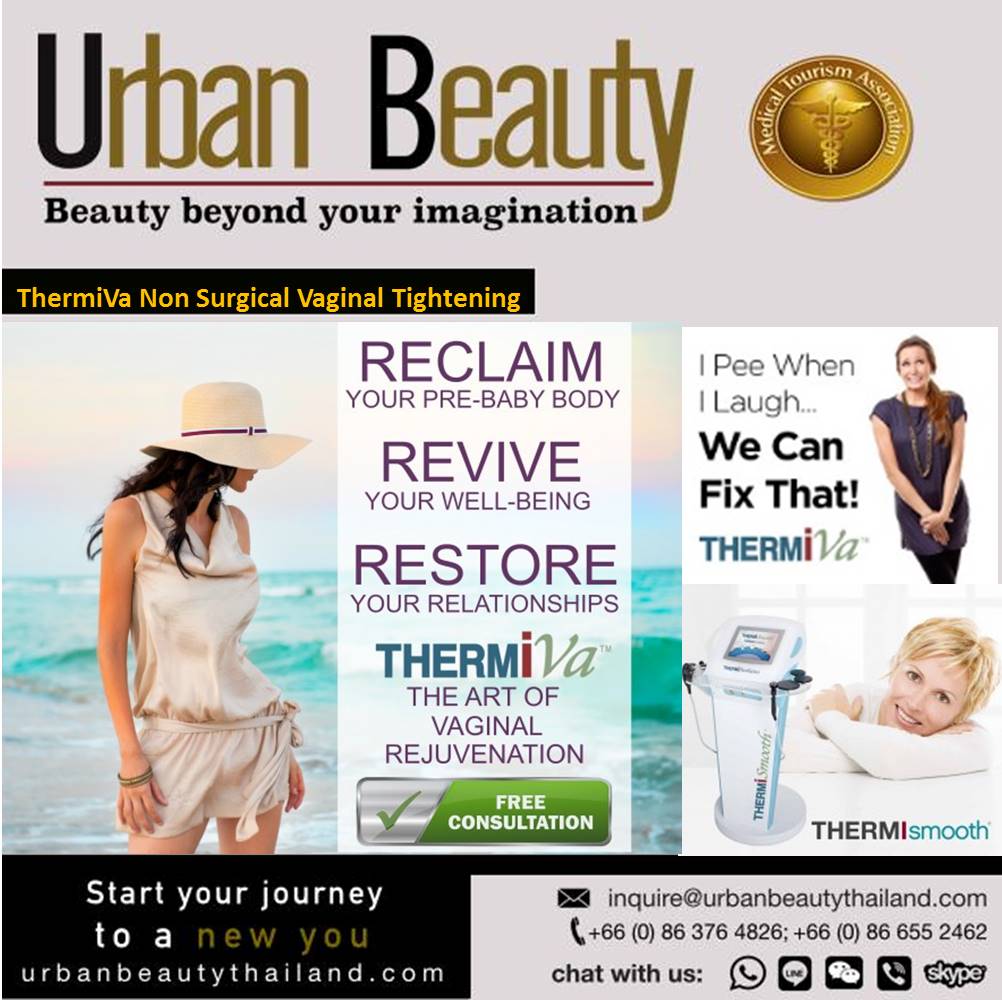 An innovative, temperature-controlled radio-frequency wand is changing the way women feel about their sexual lives…literally. ThermiVa is a unique, non-surgical vaginal rejuvenation Thailand procedure that tightens, combats vaginal dryness as well as strengthening bladder weakness.
The price per session is cost 15,000 THB/approx.468 USD
ThermiVa tones the vaginal tissues and restores function, improving women's sexual lives. Have you had children? If so, you may suffer from weak vaginal muscles. That means looseness that can dull sexual feelings, affecting confidence and libido…not to mention having an impact on relationships!
The joy of motherhood can sometimes seem to be at the expense of your womanhood.
ThermiVa brings back sexual feeling.
Feel like a woman again!
Loss of sexual sensation, reduced pleasure for your partner and yourself and the sexual anxiety this can create can really lower your libido. Sexual issues do not just cause problems in the bedroom either, they can spill over into self-esteem and the quality of sexual relationships.
If you are menopausal or post-menopausal ThermiVa can bring back moisture, act as a collagen activator and rejuvenate the vagina. The loss of estrogen a woman experiences during the peri-menopause, menopause and post-menopause really thins the vaginal walls, leading to less elasticity and promoting less lubrication.
       

Be a Sexual Woman After Motherhood
With ThermiVa Thailand you can enjoy post-menopausal sexual experiences for years to come. Since 50 is the new 30, women who are menopausal or who are past that point, can claim back their womanhood and be in control of their sexual pleasure. Another symptom of childbearing and also menopause can be a leaking bladder. Not only is this inconvenient, but incontinence at any level can be socially embarrassing and confidence crushing, especially if you are an active woman.
If your bladder leaks when you need the restroom or even if you sneeze and cough, then internal rejuvenation can help. ThermiVa is designed especially to penetrate easily and painlessly into the vagina and restore tissue using radio frequency heat.With no surgery down-time, no recovery period and no pain, ThermiVa really is a 'magic' rejuvenation tool that can revive atrophic tissue and transform women's quality of life post-childbirth and/or post-menopause.
Other non-surgical treatments available include the MonaLisa Touch which also tightens the vaginal muscles using advanced laser technology.

ThermiVa Vaginal Tightening with No Down Time Now Offered at Urban Beauty Thailand, Non-surgical vaginal tightening used RF (radio frequency). Thailand THERMIVA The First Non-Surgical Vaginal Rejuvenation.
Be a Sexual Woman After Motherhood, ThermiVa Boosts Women's Sexual Feeling. Get Greater Satisfaction in the Bedroom with Enhancement Treatments, we Also offer Labiaplasty Thailand, Labia augmentation, Labia enlargement & G-Spot Injection Thailand.
For more information you may visit us www.urbanbeautythailand.com or inquire@urbanbeautythailand.com or +66 86 376 4826/0863764826/086 655 2462