Barbie Breasts Thailand – Breast Augmentation Bangkok, Cosmetic Surgery Thailand
Barbie Breasts Thailand

: The HOT

New Trend

!

New Barbie Breast Trend Bangkok

– the

Barbie Breast Augmentation

: For many little girls, Barbie is the figure of beauty and style, with the best figure! Even as adults, we still look at Barbie dolls with their big eyes, bright white smiles, slim waists and perky boobs and wonder if we could ever look like that!
Cosmetic Surgery in Thailand is amongst the most advanced and some of our top surgeons have developed an innovative new technique to perfectly recreate the Barbie Breast look.
Our skilled plastic surgeon in Bangkok has crafted the perfect chest of many Thai celebrities and over the years has developed her signature style, "Barbie Breasts". This trend involves the surgeon designing your breasts to fit your body and placing the silicone in a specific way to sculpt the perfect Barbie-esque, breasts. The Barbie breast look is all about the round shape that stands pert on the body.

There are many reasons why a woman may choose to enhance their breasts; flat chested, uneven breasts, dramatic weight loss, post-pregnancy, or simply that you want to look and feel your best. A recent survey by the American Society of Plastic Surgeons (ASPS), found that 98 percent of women who had breast surgery say that the results met or exceeded their expectations. The survey found that post-surgery women reported:
An increase in self-esteem
An increase in quality of life
Breasts are perkier
The ability to wear more revealing items of clothing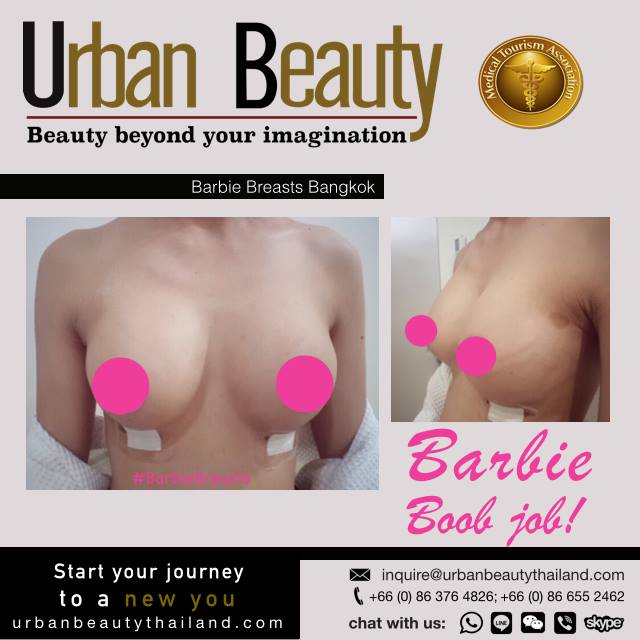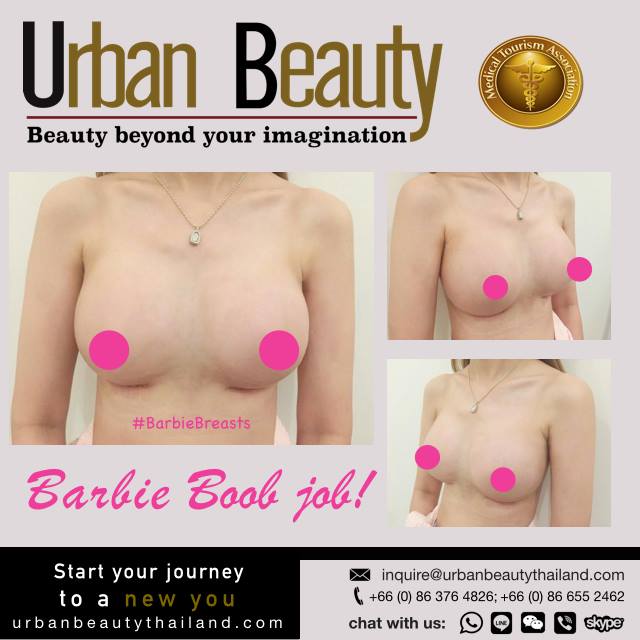 Why choose Urban Beauty Thailand?
At Urban Beauty Thailand, helping our patients achieve their body goals is our number one priority. Furthermore, we work with the best surgeons in Bangkok, Phuket and Koh Samui who will help patients achieve their desired look. Our team will look after you from beginning to end and have a wealth of knowledge on how you can make the most of your trip to Thailand.
Urban Beauty Thailand offer incredible discounts when you book TWO OR MORE PROCEDURES!
Start the journey to a new you and contact us today for a completely FREE consultation with no obligation – inquire@urban.nginnu.com or www.urbanbeautythailand.com or +66(0)86 376 4826 or 086 655 2462.
For the best price surgery in Thailand quote: Barbie Breasts Thailand / Barbie Boob Job Thailand / Breast Lift Thailand / Breast Augmentation Thailand /Breast Augmentation Bangkok / Breast Augmentation Phuket / Breast Lift Bangkok / Breast Lift Phuket / Liposuction Thailand / Liposuction Fat Transfer Package Thailand / Fat Transfer Phuket / Tummy Tuck Thailand / Anti-Ageing Surgery Thailand / Cosmetic Surgery Thailand / CoolSculpting Thailand / VASER Liposuction Thailand / VASER Liposuction Bangkok / Lipo Thailand / Lipo Bangkok / Brazilian Butt lift