Hair Transplant Thailand – Cosmetic Surgery Bangkok, Thailand
Best Price Hair Root Stem Cell Treatment Thailand –  save up to 70%, Get your natural full head of hair back for just THB 65,000, approx. USD 1,895!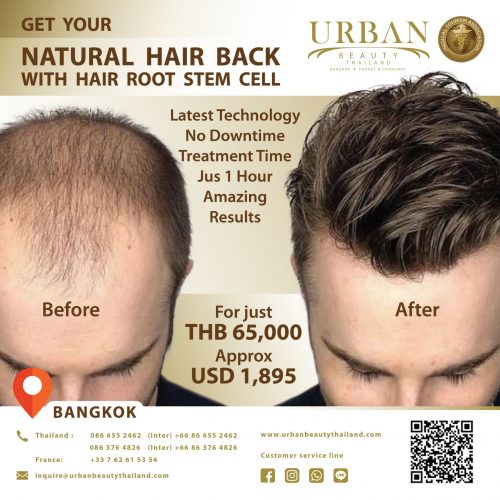 Is hair loss getting you down but you feel like treatments are too expensive? We have the perfect solution for you with Regenerative Hair Root Stem Cell Therapy Thailand – a tried and tested treatment that delivers incredible results and doesn't come with a huge price tag!
Most cases of hair loss is the result of a genetic trait that comes from your parents and can affect people as young as 21. With Stem Cell Therapy Thailand, also known as the fountain of youth, you can reverse hair loss using the latest technology in stem cell harvesting machines, the Regenera Activa.
The Regenera Activa is a top of the line preparation system that is FDA and CE approved. The state of the machine is used to process tissue samples and separate stem cells from parent tissue and is the most affordable and safe option on the market, keeping it in high demand!
See results in as little upto 4 weeks!
With the Regenera Activa our doctors are able to extract patient's own stem cells on a smaller scale which enables them to perform more specialised treatments. Best of all, the entire treatment takes approximately just one hour and is less complicated than other similar treatments which ultimately results in little to no downtime and noticeable improvement within the first month.
No downtime
Non-surgical
Noticeable results within 4 weeks
100% safe
Proven track record of success
Who can benefit from Stem Cell Therapy?
Urban Beauty Thailand's experts will conduct a full and free consultation prior to you meeting with the doctor in order to determine if you are a good candidate for Stem Cell Therapy Thailand. Consultation with the doctor will cost just THB 600, approx. USD 17. This treatment has a proven track record on both men and women who are experiencing hair loss and/or balding, as well as patients with Androgenic Alopecia or patients with hair loss that is characterised by starting in a well-defined pattern.
Why choose Urban Beauty Thailand?
At Urban Beauty Thailand, helping our patients achieve their goals is our number one priority. Furthermore, we work with the best surgeons in Bangkok, who will help patients achieve their desired look. Our team will look after you from beginning to end and have a wealth of knowledge on how you can make the most of your trip to Thailand.

Start the journey to a new you and contact us today – inquire@urbanbeautythailand.com or +66(0)86 376 4826 or 086 655 2462.
For the best price surgery in Thailand quote: Hair Transplant Thailand /  Stem Cell Therapy Thailand / Stem Cell Therapy Bangkok / Hair Loss Treatment Thailand / Hair Regeneration Bangkok / Hair Loss Bangkok / Micro-graft Thailand / Hair Micro-Cloning Thailand / Hair Micro-cloning Bangkok / Affordable Hair Loss Treatment Bangkok / Affordable Hair Loss Treatment Thailand / Best Price Hair Loss Treatment Bangkok / Best Price Hair Loss Treatment Thailand