Low Cost Butt Lift Bangkok, Brazilian Butt Lift Surgery Phuket, Thailand – Cosmetic Surgery Thailand
A Little Pain And A Lot Of Gain With A

Butt Lift Thailand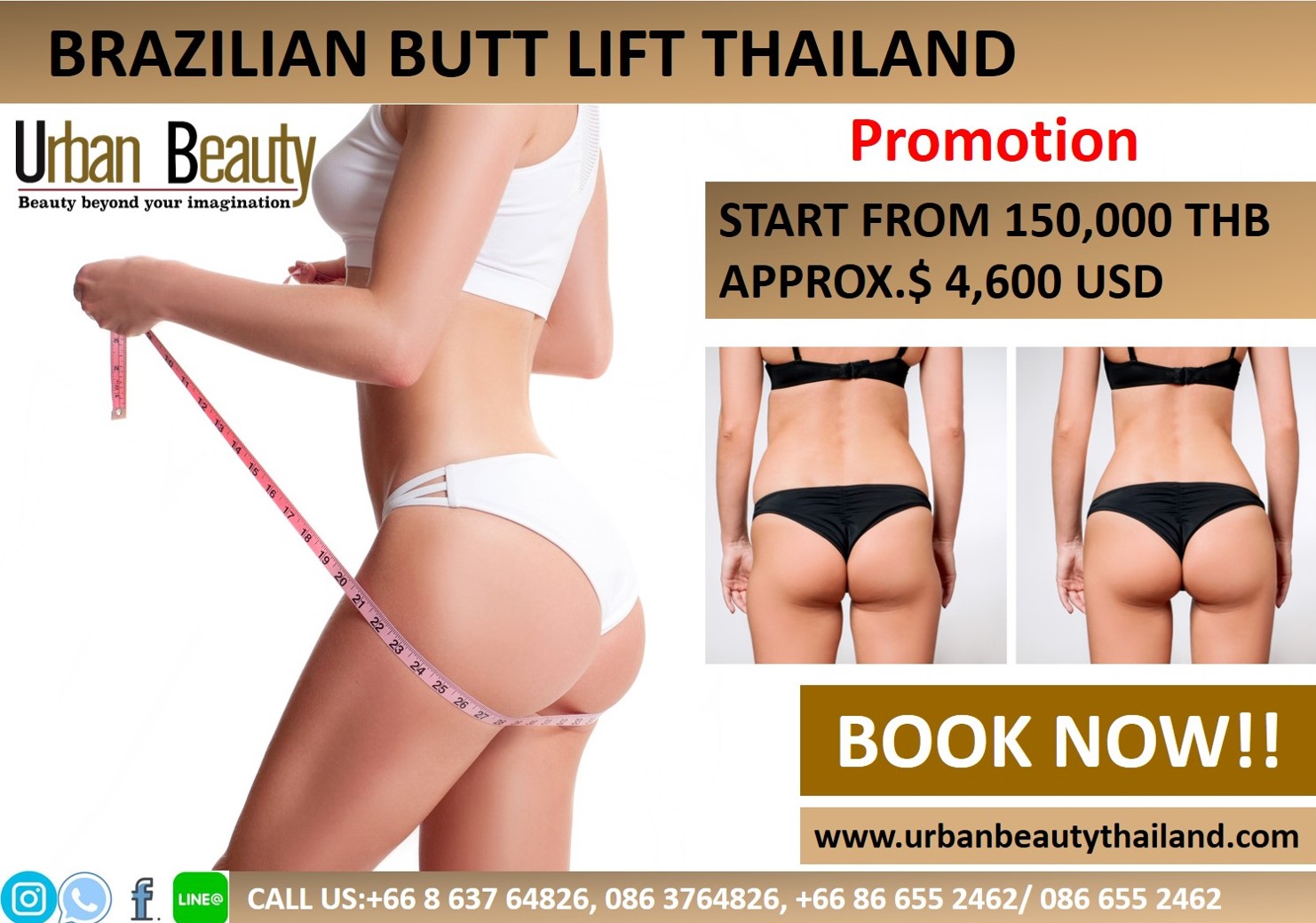 A butt lift Thailand is one of the newest cosmetic surgery procedures. Women in particular benefit from this surgery as they seek to have a traffic stopping butt. Celebrities have led the way with an number of high profile women seeking a butt lift to improve the shape of their posterior.
Urban Beauty Thailand offers a host of butt lift procedures for women who feel as if they are constantly on display.
Are you suffering from a loss of skin elasticity in the butt region because of the aging process and/or weight loss?
Have hormonal changes contributed towards causing your posterior to look saggy?
Do you have cellulite that you're desperate to get rid of?

Have wounds, burns or other forms of trauma contributed to a lump backside?

If so, you are an ideal candidate for a butt lift with Urban Beauty Thailand. No longer will you:

Feel forced to stay seated because you are too self-conscious to walk around due to a fear that everyone is focused on your posterior

Ignore tight clothes because you think they are unflattering

Steer clear of the beach because you couldn't possibly wear a bikini in public
When you have a butt lift at Urban Beauty Thailand, expect the procedure to last between 3-6 hours. You will be placed under general anesthesia with the exact method of surgery dependent on your specific body shape. This is why we urge you to contact us prior to booking an appointment so that you can talk to our medical team about your expectations and they can analyze your body and decide how to proceed.
Our medical team can also perform liposuction on your butt along with the butt lift to reduce the size of your posterior and make it look like you have underwent a dramatic transformation.
When it comes to a butt lift Thailand in general, short incisions are made laterally near the top of the butts though incisions can also be made on the hips and in front of the groin.
The excess fat and skin is removed before the skin is reshaped and pulled above the muscles to the waist. We place drains underneath the skin to collect any excess fluid.
You are then stitched up and the butt lift procedure is finished.
Countdown To A Sensational Figure.
A compression garment will be placed on the butts after the procedure and medication is given should our team deem it necessary or if the patient requests painkillers.
The majority of swelling and bruising vanishes within four weeks though it could be four months for the entire butt region to be 100% healed. Please avoid strenuous activity for at least three months after the butt lift.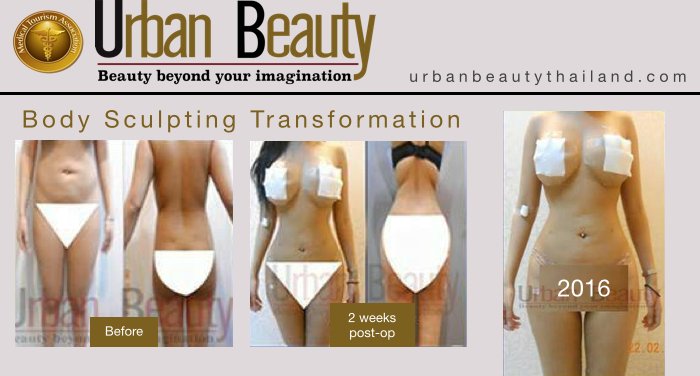 With the advanced techniques used by the surgeons at Urban Beauty Thailand, we believe that standard recovery time will be reduced. And as previous patients have pointed out, a few weeks of inconvenience is worth it for a lifetime of confidence. You can finally proudly show your figure and never be forced into the shadows again.
Be Fabulous With A Low Cost

Non-Surgical

Brazilian Butt Lift Thailand
The non-surgical Brazilian butt lift is one of the safest ways to improve your posterior. Instead of going under the knife and having large scars take away from the beauty of the results, a non-surgical Brazilian butt lift involves taking fat from other areas of your body and injecting it into your buttocks. There is no surgery and as the fat being used is your own, your body won't reject it.
How Does It Happen?
You will be placed under general anesthetic with liposuction performed on the areas of the body which have been chosen beforehand. Prior to the non-surgical Brazilian butt lift, you will meet with our medical team and discuss where the fat should be taken from. The team will then ask you your expectations from the surgery and your medical history will also be assessed to ensure that you are a suitable candidate. Once the anesthesia has taken hold: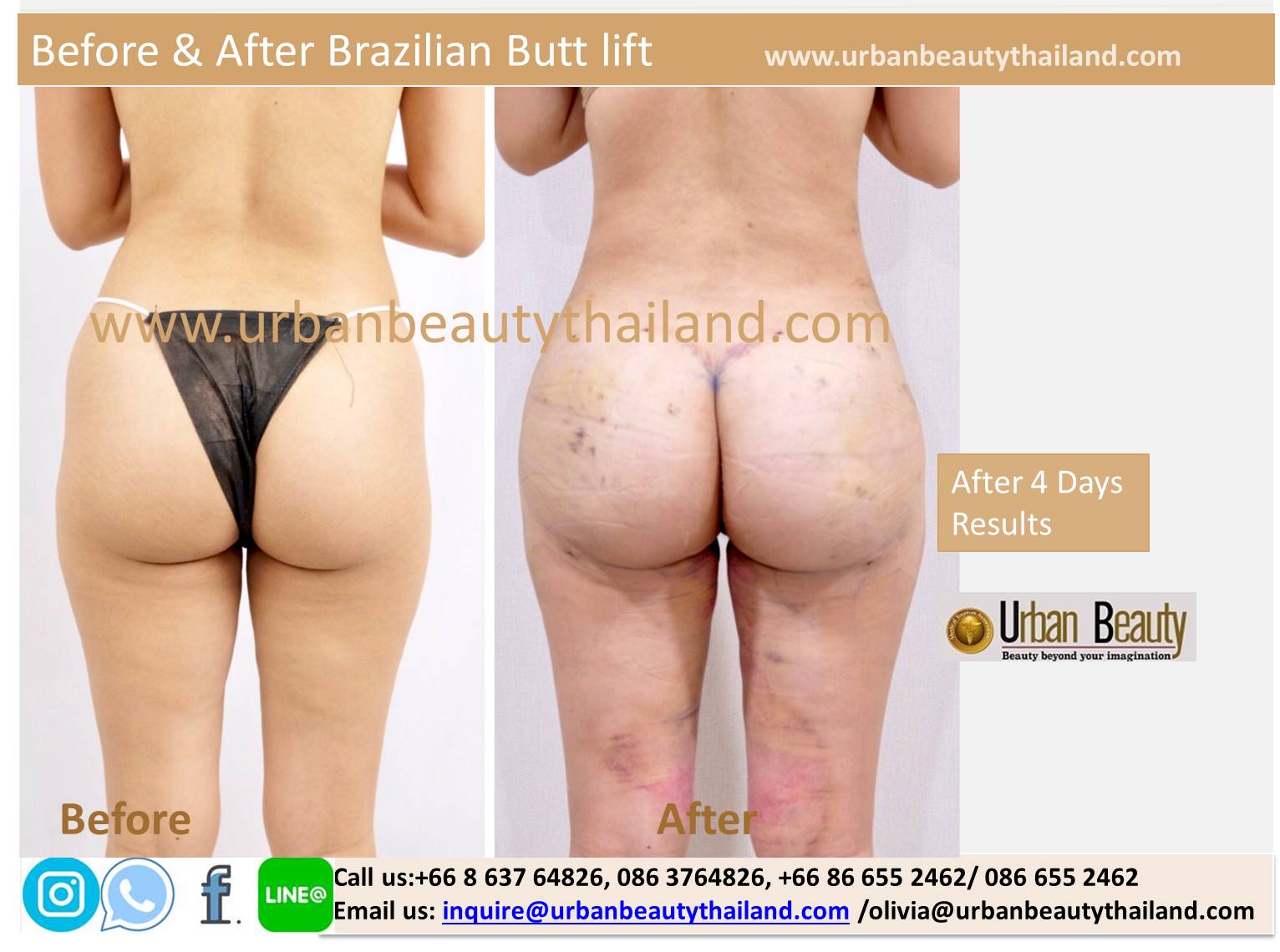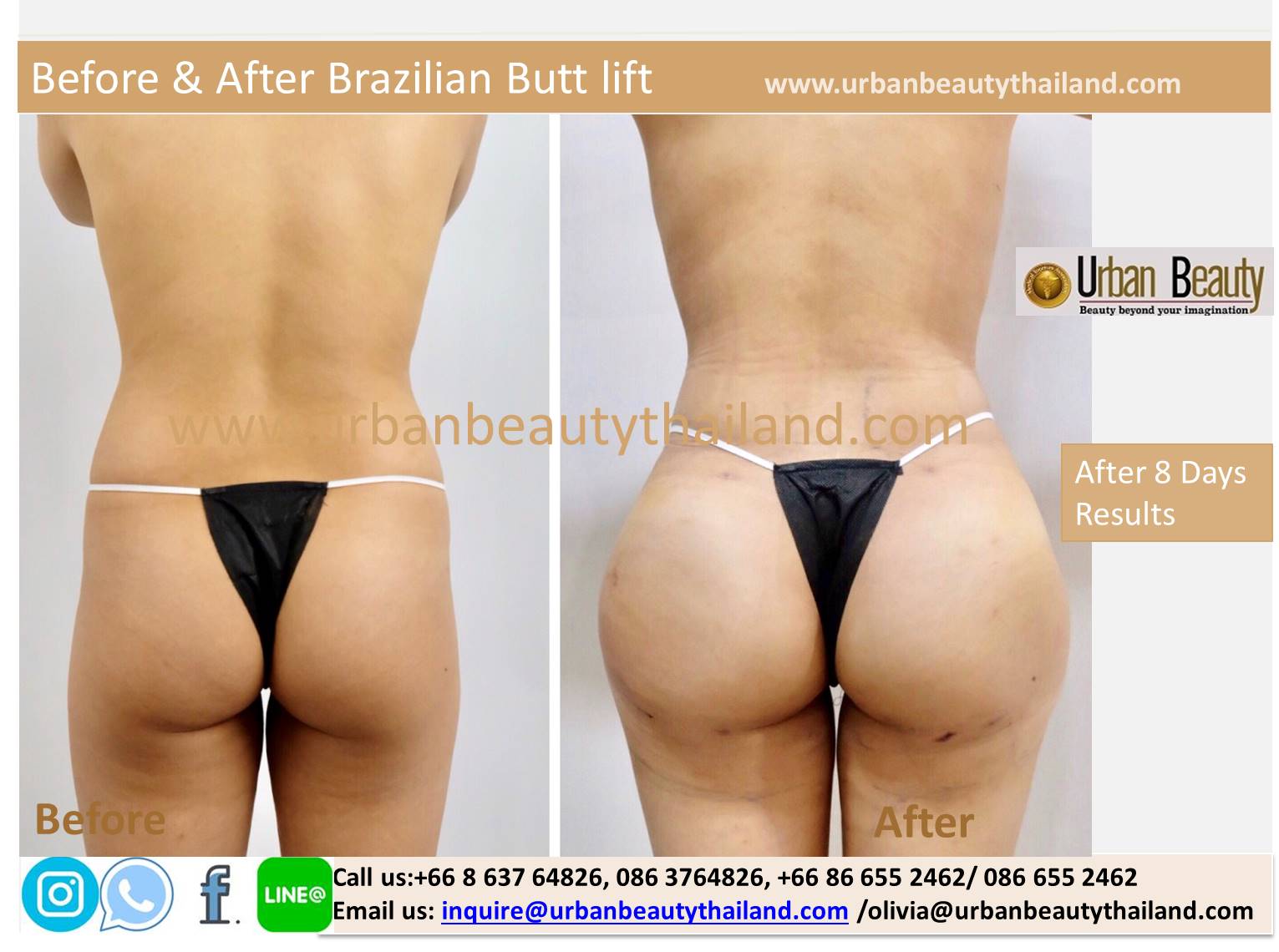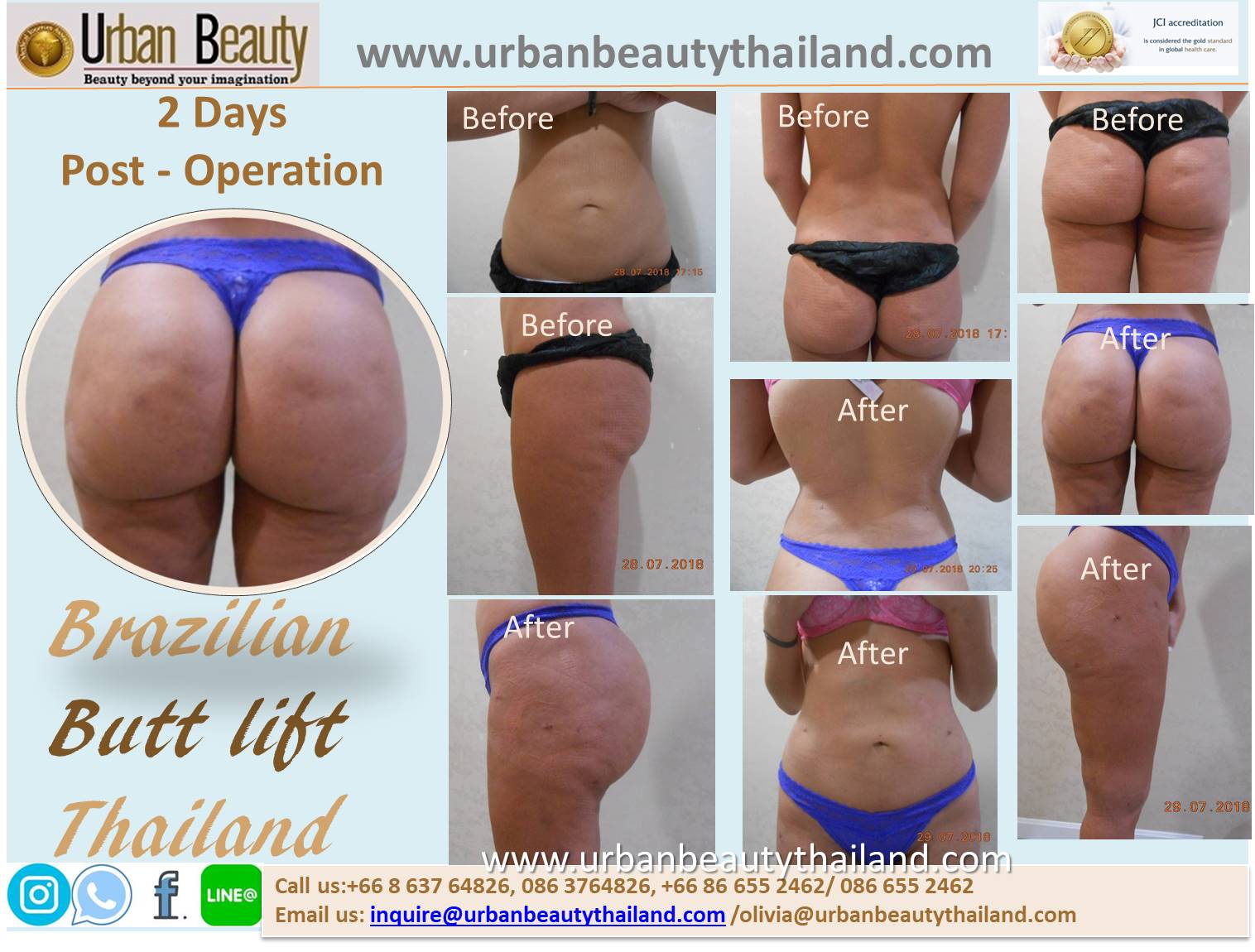 Excess fat from predetermined areas in the abdomen, hips or thighs will be suctioned out
The fat which has been extracted is then processed and injected into the buttock muscle
This process is slow to increase the chances of the fat surviving
The medical team ensures that the fat produces the desired shape of the buttocks
It's possible that up to 50% of the fat cells injected into the buttocks during the non-surgical Brazilian butt lift will dissolve. This means that extra fat may be injected to compensate and there is the possibility that a second procedure may be necessary several months down the line

Compression garments should be worn for 2-3 weeks after the procedure
The surgeons that perform the non-surgical Brazilian butt lift procedure in Thailand are known worldwide for their artistry and skill. They can craft your buttocks into any shape your desire. Please remember, the fat absorption rate varies from patient to patient so the ultimate outcome of a non-surgical Brazilian butt lift is not 100% known before the fat absorption process is completed.
This involve intramuscular augmentation of the glutenous muscle by autologous fat.
To obtain significant volume for fat transfer to the buttock  you must have enough fat at the donor site ,eg abdomen and hip .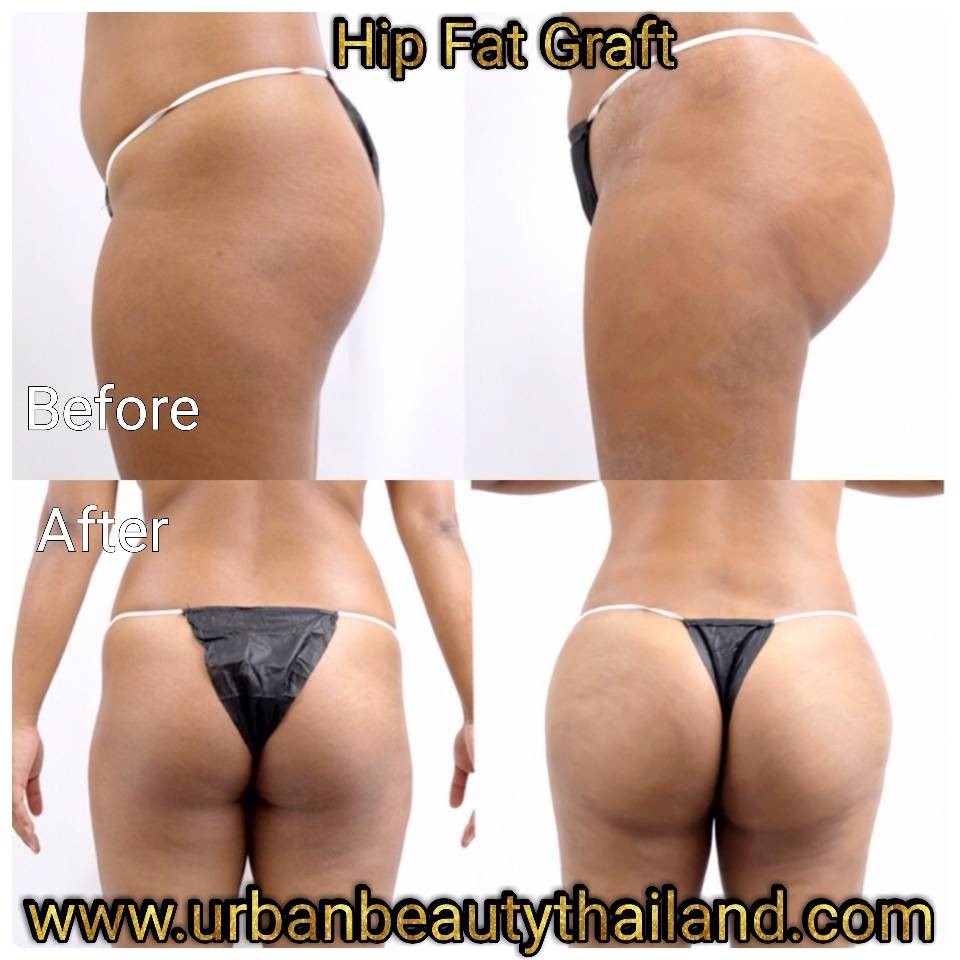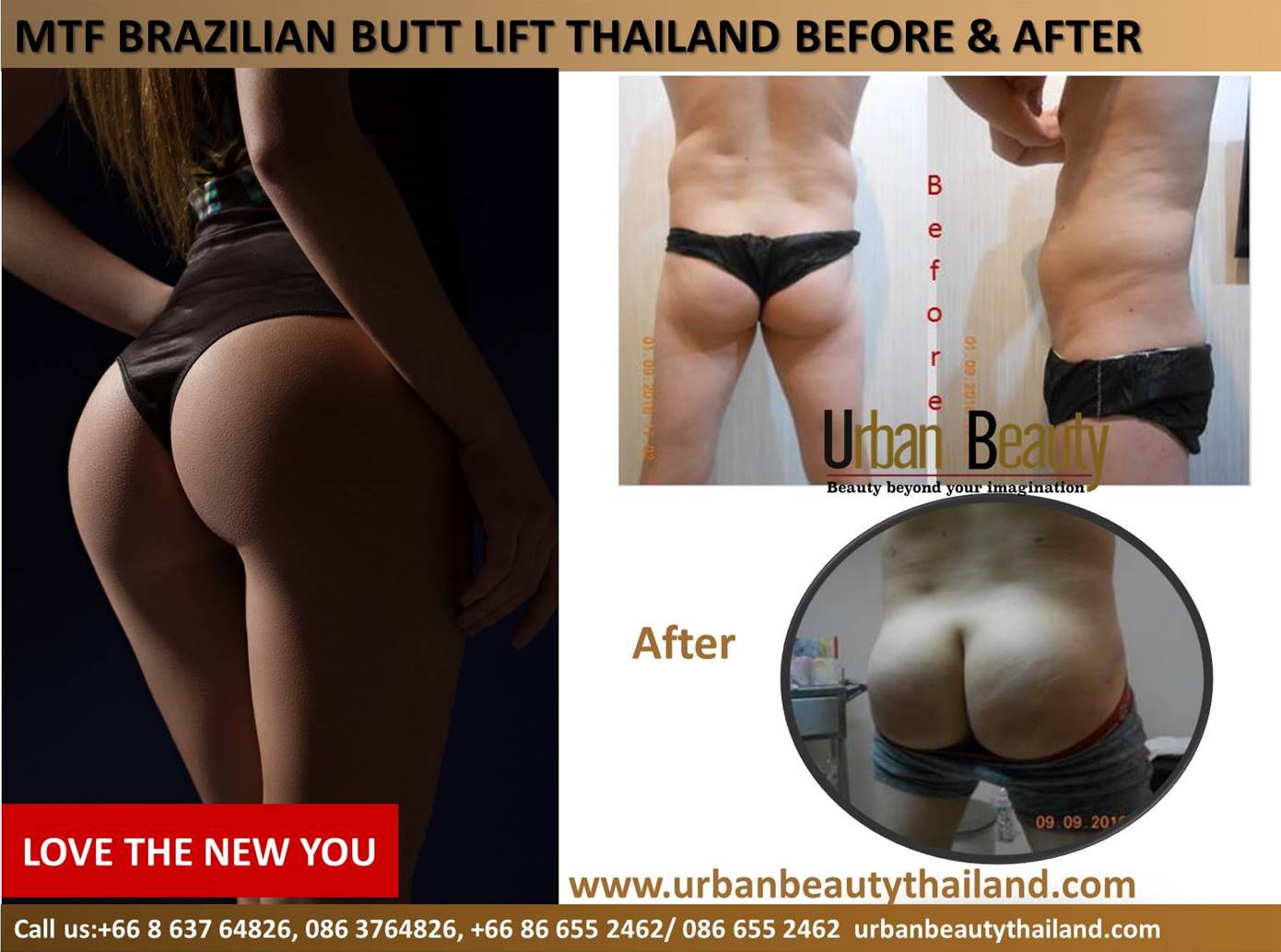 We are offer 2 options for Non-Surgical Brazilian Butt lift as following;
1) Brazilian Butt lift Fat Transfer  ONLY 150,000THB/ appx$ 4,600 USD with all inclusive.
This procedure is require enough fat from your specific body area  and we only suct upon we are agree to injection regarding for the size.
2) Adipose-derived stem cell fat graft + Fat transfer for natural augmentation on all part of body such as Face, Breast, Butt, Hand etc. Adistem is originally and can deliver Stem cell for cell survial more than 300millions cell.Compare with other method such as CAL, Adistem is most Cell Survival among others result is permanantly. Stem cell with Fat graft.
Placed into each buttock area through a single incision overlying the tailbone, buttock implant is positioned to look as natural as possible for the optimal cosmetic effect.
The cost is 150,000baht/appx $4,600.
The result – implant is Slim.
Book Appointment with Urban Beauty Thailand
In order to get effectively evaluation with our surgeons team, please kindly provide us more details as below list;
Photos on specific area including thigh, abdominal, frontview, sideview, oblique and backview
Your previous medical history, if you available
However, the team at Urban Beauty Thailand are among the best in the industry and when you book an appointment with us for a non-surgical Brazilian butt lift, you are guaranteed to receive 5-star treatment to go along with the 5-star results of your surgery. 
Urban Beauty Thailand offer Holiday deals Best Saving in Bangkok, Phuket Thailand with Affordable Prices; Brazilian Butt Lift Thailand Liposuction Fat Transfer Bangkok & Stemcell. For more info. you may email us inquire@urbanbeautythailand.com www.urbanbeautythailand.com or +66 86 376 4826/0863764826/0866552462. 
Let's Us help you with

Brazilian Butt lift in Thailand