Dental Implant Thailand –  Dental Bangkok and Phuket Thailand
Dental Implant Thailand, Dental Implants Bangkok & Phuket –

Transform your smile from just THB 48,000, approx. USD 1,360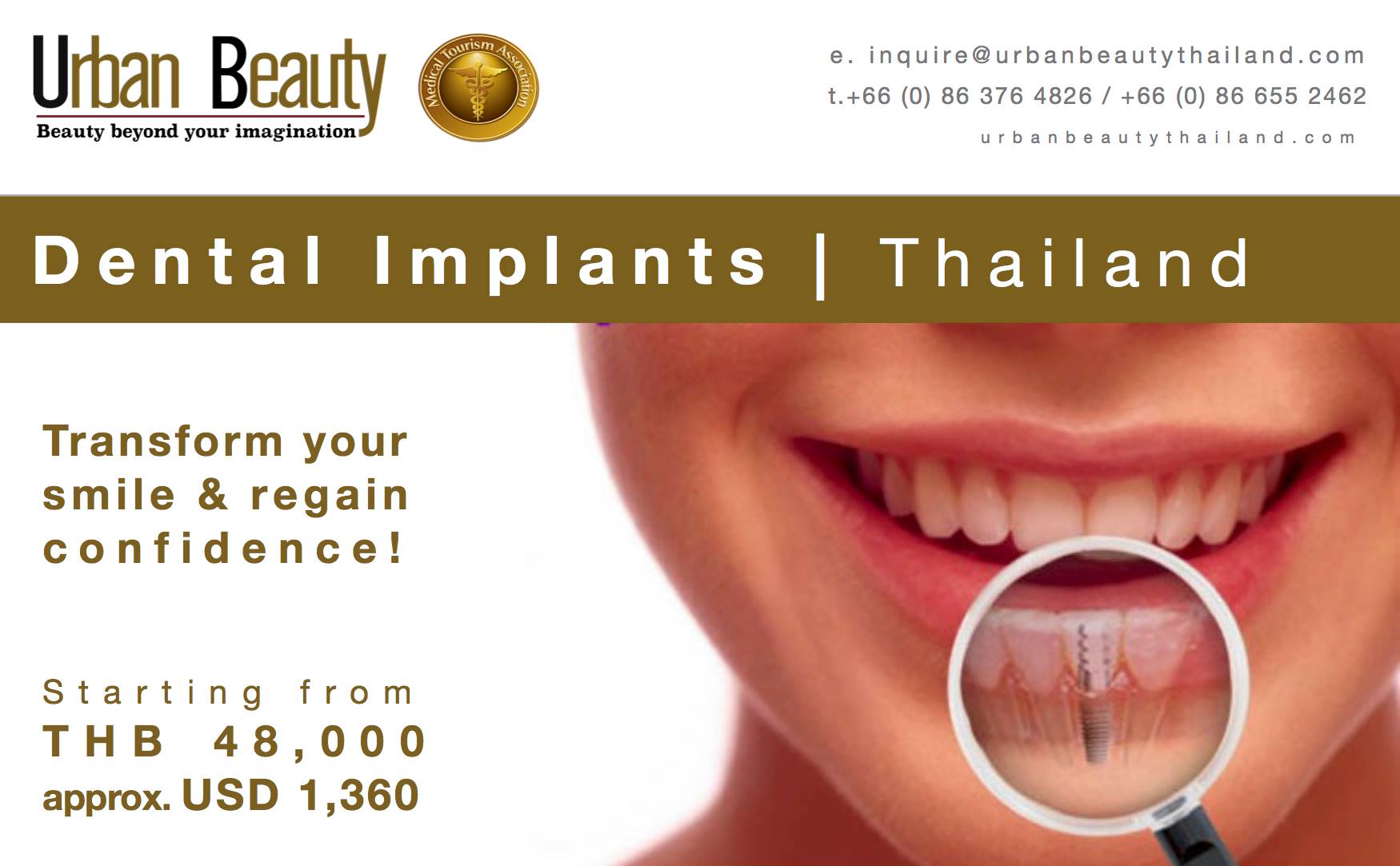 Our smile is often the first thing that people notice about us, and we want it to be perfect! Unfortunately, many people suffer from periodontal disease or have experience an injury which has impacted their smile and ultimately their everyday lives. We offer full cosmetic dental services in Thailand that enable our patients to smile with confidence again!
Dental Implants in Thailand can restore your natural smile & not break the bank! We use the best dental technology from Europe, together with first-class service & prices that are up to
40%

lower than the rest of the world.

A dental implant Thailand is a small screw that replicates the root portion of your natural teeth which is placed into your jaw to hold in place a tooth or bridge. The dental implant Thailand provides a strong foundation for both permanent replacement teeth, or removable prosthesis that have been specially made for a natural look. Dental implants Thailand can be a great option for patients who have lost a tooth, or teeth, due to periodontal disease or injury, and so on.
Am I an ideal candidate for Dental Implants in Thailand?
In most cases, ideal candidates for dental implants Thailand are in good oral and general health. There will have to be adequate bone in your jaw to support the dental implant, as well as healthy gums.
To fully determine which kind of dental implants Thailand are best for you, the dentist will perform a full examination, as well as a panoramic X-Ray and/or CT scan to assess the amount of bone and space available for the dental implants Thailand. The long-term success of dental implants Thailand will rely upon meticulous oral hygiene and regular visits to your dentist.
Types of Restoration with Dental Implant in Thailand
Single missing tooth – with today's technology, there are a variety of implant systems and models available to you. Replacing a single tooth is generally done in three stages and is the best solution in terms of functionality and overall natural look and feel.
Multiple missing teeth – where multiple teeth are missing in different sites in the mouth, the best solution is several single tooth implants. Where they are in the same region, in many cases we can use fewer implants to hold the teeth, as dental implants are stronger than natural tooth roots. This solution involves an implant fixed bridge.
Full teeth replacement – with the advances in dental technology, it is possible to replace a full jaw with dental implants Thailand and a fixed bridge, giving patients a permanent solution to having a full new set of teeth. We offer a variety of options to our patients for full teeth replacement, including:
Fixed bridges anchored to dental implants
Implant supported dentures
All-on-4 & All-on-6 implants
Zygomatic Implants
What Dental Implant material do we use in Bangkok?
There are various types of dental implants on the market and in Bangkok, the two most popular systems that we use are; ITI Straumann and Nobel Biocare.
The types of Dental Implant Thailand available
Our dentist will conduct a thorough consultation to determine which kind of dental implants Thailand are best for you based upon your specific needs, general dental health and desired outcome. Here are the different types of Dental Implants we offer in Bangkok;
Conventional Implants in Thailand
The ideal solution for patients looking to replace one or multiple missing teeth
Normally done in two stages around two to six months apart
Can be done for most types of bone conditions (for moderate or severe jaw bone loss, bone grafting may be recommended)
Immediate Implants in Thailand
Also known as 'one day' or 'same day' implants, these can be placed at the same time as tooth extraction
Depending on each individual case, crowns, bridges or dentures can be done within the same appointment
Recommended for patients with good jaw bone conditions
Immediate Load Implant
Permanent or temporary crowns, bridges or dentures are placed at the same time as dental implant posts are embedded in the jaw
These may follow after conventional or immediate implants
The Dental Implant Thailand procedure at a glance
Dental implants Thailand follow a very similar procedure pattern, whether you are receiving just one or multiple implants. Here's a quick overview of what to expect during the course of your dental implant Thailand treatment:
First evaluation

Full oral examination, panoramic X-ray and/or CT scan to determine condition of implant site and bone. A treatment plan will be prepared and agreed upon with the patient which will outline sequence of treatment and cost.
Implant site preparation
Healthy bone material has been established and the dental implants are ready to be put in place.

Tooth removal where necessary. Dependent on each individual case, the dentist may place implants immediate. In cases where the site must heal before implant, this can take between 3 weeks to 2 months.

In cases where these is insufficient bone structure, bone grafting may be recommended at this stage. Healing time for this can take between 3 weeks to 2 months.

Implant Placement
Once the bone has been prepared, the implant will be placed into the site. The discomfort from the procedure is minor and can take anywhere from one-hour for simple cases and several hours for multiple implants.

Healing – osseointegration

A modified diet may be suggested to reduce pressure on the healing gums.

The implant is left to integrate with the jaw bone and in some cases immediate loaded implant may be possible. Where this is not the case, the implant is left to osseointegrate for between 2 to 6 months.

Attaching the abutement
Once the gum tissue is fully healed and ready, a special abutement is attached to the implant
Placing the Crown/Bridge or Overdentures
The final stage where dental implants are uncovered and a small component is attached to which the dentist will then attach crowns/bridges or overdentures.
Recovery from Dental Implants Thailand
As with any form of oral surgery, you can expect some mild discomfort in the days following, with some bruising and swelling of the gum and soft tissues of your mouth. This can be treated with a regular painkiller and patients can resume completely normal activity post-surgery, however it is advised to refrain from rigorous physical exercise or activities.
What are the main benefits of Dental Implants in Thailand?
Cost Effective
Improved confidence
Improved comfort with less irritation of gums
Improved speech
Improved oral health
Restore proper chewing, ultimately allowing a better diet and overall improved health
Sense of taste may be restored if you were previously using dentures then less denture base will be needed
Long-term solution – implants are very durable with a long life expectancy
Physical appearance will be younger and more natural looking
Why choose Urban Beauty Thailand?
At Urban Beauty Thailand, helping our patients achieve their goals is our number one priority. Furthermore, we work with the best dental surgeons in Bangkok, who will help patients achieve their desired look. Our team will look after you from beginning to end and have a wealth of knowledge on how you can make the most of your trip to Thailand.
Our prices in Bangkok
Here is an overview of our starter prices, for a full price list including Full Jaw Implants, All-on-4 and All-on-6, please contact us.
Dental Treatment
Price Thai Baht
Price US Dollar (approx.)
Single Dental Implant
Straumann SLA (popular)
65,000
1,840
Nobel Biocare (popular)
70,000
1,980
NedDent
48,000
1,360
Intralock
60,000
1,698
AstraTech
70,000
1,980
Straumann SLActive
80,000
2,264
Multiple Dental Implants – 2 Dental Implants with bridge (3 units)7
Straumann SLA (popular)
135,000 – 145,000
3,820 – 4,105
Nobel Biocare
135,000 – 145,000
3,820 – 4,105
NeoDent
111,000
3,140
Intralock
135,000
3,820
AstraTech
155,000
4,386
Note: prices are approx. and final cost will be given upon consultation.
Urban Beauty caters to all of your cosmetic dentistry needs with top quality dental care in Bangkok, Phuket Thailand that is cost effective, safe and in a friendly environment. Whether you need teeth whitening, dental veneers, dental implants, dental crowns, Invisalign? aligners or a full mouth reconstruction, get in touch with us today to begin your journey to beauty beyond your imagination.
Dental Thailand, for more information visit www.urbanbeautythailand.com Ready to discuss with one of our dentist experts? Contact us at inquire@urbanbeautythailand.com or +66(0)86 376 4826/086 655 2462 for voice call, WhatsApp, Viber, WeChat, Tango and Line chat.
For our BEST PRICE Dental Packages, just quote: Dental Implants Bangkok / Dental Implants Thailand / Cosmetic Dentist Bangkok / Cosmetic Dentist Thailand / Dentures Bangkok / Dentures Thailand / Porcelain Veneers Bangkok / Porcelain Veneers Thailand / Invisalign Bangkok / Invisalign Thailand / Teeth Whitening Bangkok / Teeth Whitening Thailand