Low Cost Invisalign Thailand – Cosmetic dentistry Bangkok, Phuket Thailand
Invisalign Thailand: Transform your smile 
Prices start from just THB 49,000 (approx. US $1,410).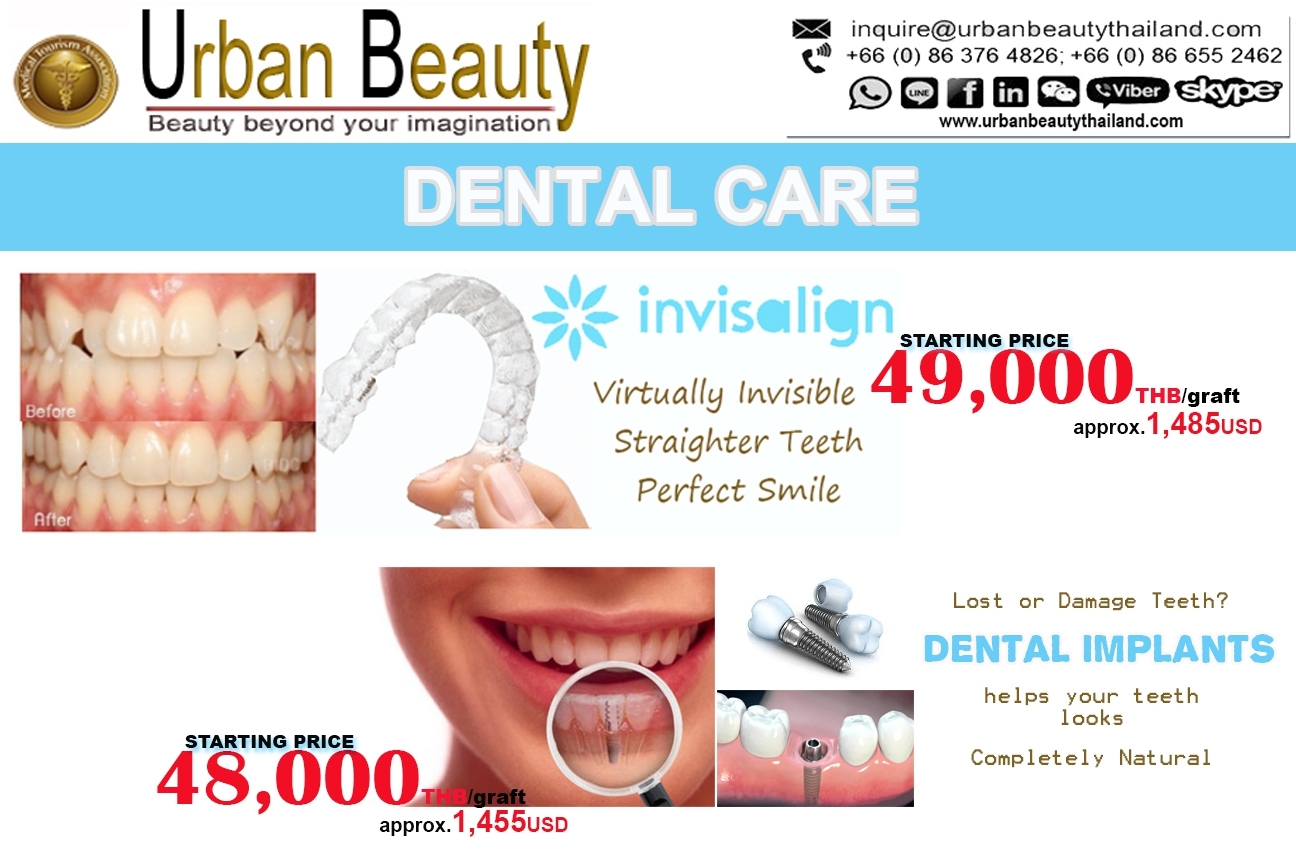 Invisalign Bangkok, Thailand

: Invisalign are revolutionary clear plastic aligners that are customised to fit your jaw perfectly and straighten your teeth the invisible way!
Many people want to obtain a beautiful white and straight smile, but don't want to opt for traditional braces for fear of looking unattractive throughout the treatment and experiencing discomfort. Invisalign Thailand provides a cutting-edge solution with clear aligners that can be removed whilst you eat and brush your teeth.
Invisalign Thailand Benefits
CLEAR – Invisalign Thailand are extremely discreet, so no one will notice you are wearing them.
COMFORT – Invisalign aligners are not made with metal brackets so there is no gum irritation
CONVENIENT – Invisalign aligners can be easily removed to eat drink, brush and floss
CLEAN – Invisalign Thailand do not have metal brackets to catch food or plaque
CUSTOMISED – a 3D digital model of your teeth is created which are used to make your individualised aligners
INCREDIBLE RESULTS – Invisalign Thailand start straightening teeth right away, so you will see quick results throughout treatment, finally resulting in a perfect smile
Am I good candidate for Invisalign?
Our consultants will conduct a full and free consultation with you to discuss your teeth and your goals before you meet the Invisalign certified orthodontist who will then provide a full treatment plan. Invisalign Thailand is an effective solution for a variety of orthodontic issues, including:
Over crowding
Spacing
Overbites
Underbites
Deep bites
Open bites

Invisalign Thailand Treatment
Your course of treatment will be tailored to fit our needs and discussed at length with the orthodontist. Here is an overview of what a typical Invisalign Thailand treatment plan entails:
First evaluation appointment
The orthodontist evaluates and creates a treatment programme for you.
Impressions of your teeth are taken.
Invisalign aligners are created
A CT scan is made from your dental impressions which is used to create an extremely accurate 3D digital model of your teeth.
CAD (Computer Aided Design) software is used to simulate the progress and movement of your teeth.
Advanced stereolithography (SLA) technology is used to build highly precise moulds of your teeth at each stage of your treatment and custom-made clear aligners are made and sent to your orthodontist's office.
Wearing Invisalign aligners
Monthly visits to your orthodontist will be required for adjustments and progress checks.
The orthodontist will evaluate your progress and order a new set of custom clear aligners to. continue the straightening process. The total number of aligners depends upon the individual.
Most people will experience some discomfort throughout when Invisalign aligners are first put on and/or when adjusted while your mouth adjusts to the new aligners. Pain is very minimal and easily managed and the length of treatment will depend upon your individual needs.
Change your life with Invisalign today!
Invisalign Thailand is an incredible treatment that will truly transform your appearance. Invisalign Thailand is a modern day solution for straightening your teeth without everyone knowing about it.
Prices start from just THB 49,000 (approx. US $1,410).
Orthodontics                                          Thai Baht                       Approx. US Dollars


Braces – Metal Braces                          50,000-65,000              1,428-1,857
Braces – Tooth-colored Braces          60,000-85,000              1,714-1,806
Braces – Damon System                     70,000-90,000              1,667-2,428
Invisalign                                                  150,000                            4,285
Invisalign Lite                                          120,000                           3,428
Invisalign i7 Start                                    49,000                             1,410
Lingual Braces                                  150,000-180,000              4,285-5,142
Retainer                                                     3,000                                   85

Why choose Urban Beauty Thailand?
At Urban Beauty Thailand, helping our patients achieve their goals is our number one priority. Furthermore, we work with the best dental surgeons and orthodontists in Bangkok, who will help patients achieve their desired look. Our team will look after you from beginning to end and have a wealth of knowledge on how you can make the most of your trip to Thailand.
Start the journey to a new you and contact us today for a completely FREE consultation with no obligation – inquire@urbanbeautythailand.com or www.urbanbeautythailand.com +66(0)86 376 4826 or 086 655 2462.
For our BEST PRICE Dental Packages, just quote: Invisalign Bangkok / Invisalign Thailand / Teeth Straightening Bangkok / Teeth Straightening Thailand Orthodontist Bangkok / Orthodontist Thailand / Dental Implants Bangkok / Dental Implants Thailand / Cosmetic Dentist Bangkok / Cosmetic Dentist Thailand / Dentures Bangkok / Dentures Thailand / Porcelain Veneers Bangkok / Porcelain Veneers Thailand / Invisalign Bangkok / Invisalign Thailand / Teeth Whitening Bangkok / Teeth Whitening Thailand