Regenerative Medicine in Thailand
Feel younger inside and out

. Beauty in 2016 is about wellness; feeling rejuvenated, energized and enjoying life to the full. Wellness in 2016 is about optimal health and the potential benefits of regenerative medicine in Thailand.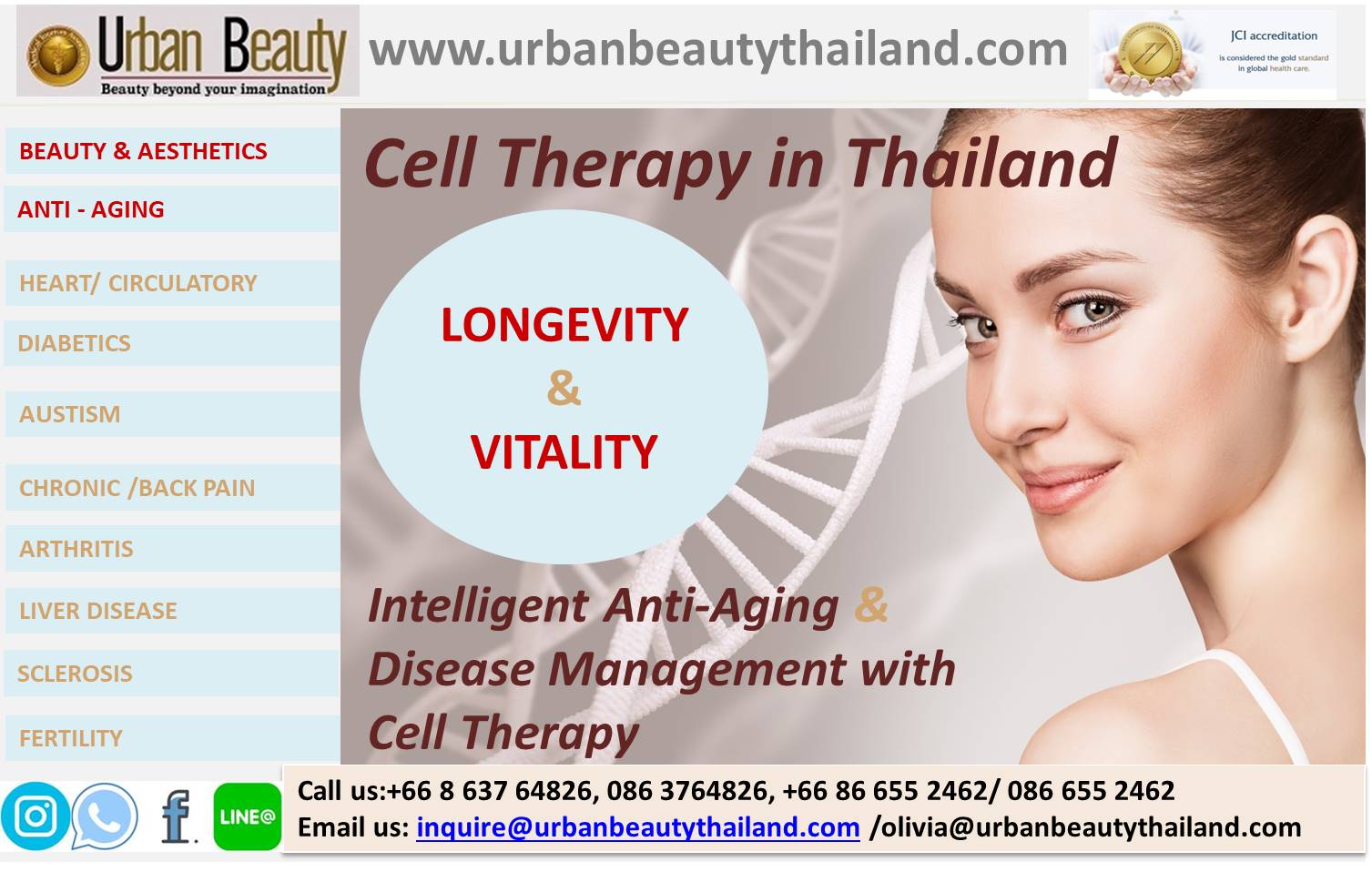 Cosmetic procedures and looking good are often equated with looking younger. Now though, there is a real focus on not just how youthful you look but how young you feel. Advanced medical techniques and developments in wellness therapies have enabled this holistic approach to expand and reach further into health and aging issues. This ever-increasing momentum has created a new generation of futuristic medical solutions known as regenerative medicine.
Cell Renewal Slows Down
Your body is pretty amazing. It is continuously involved in a myriad of processes that keep you going 24/7, one of the most vial of which is cell renewal. From your skin, to your hair to your internal organs, your body is designed to renew an incredible amount of cells every moment of your life. These new cells keep you young, healthy and full of vitality. In other words, they give you a youthful face, body and outlook!
Whilst the body does a good job on its own, as we age cell renewal slows down. We start to look and feel older. Our skin shows visible signs of aging and we are more prone to certain health issues such as osteoarthritis and osteoporosis, fatigue, hard-to-shift weight gain, an aging immune system. Sagging, dull skin, thin, lackluster hair and toxin build-up within the body can leave you feeling and looking less than your best. You begin to look and feel older, with the knock-on effect being that your lifestyle ages too. Not only that, but a debilitating illness and lack of mobility seriously impact your quality and enjoyment of life.
 What is Regenerative Medicine in Thailand?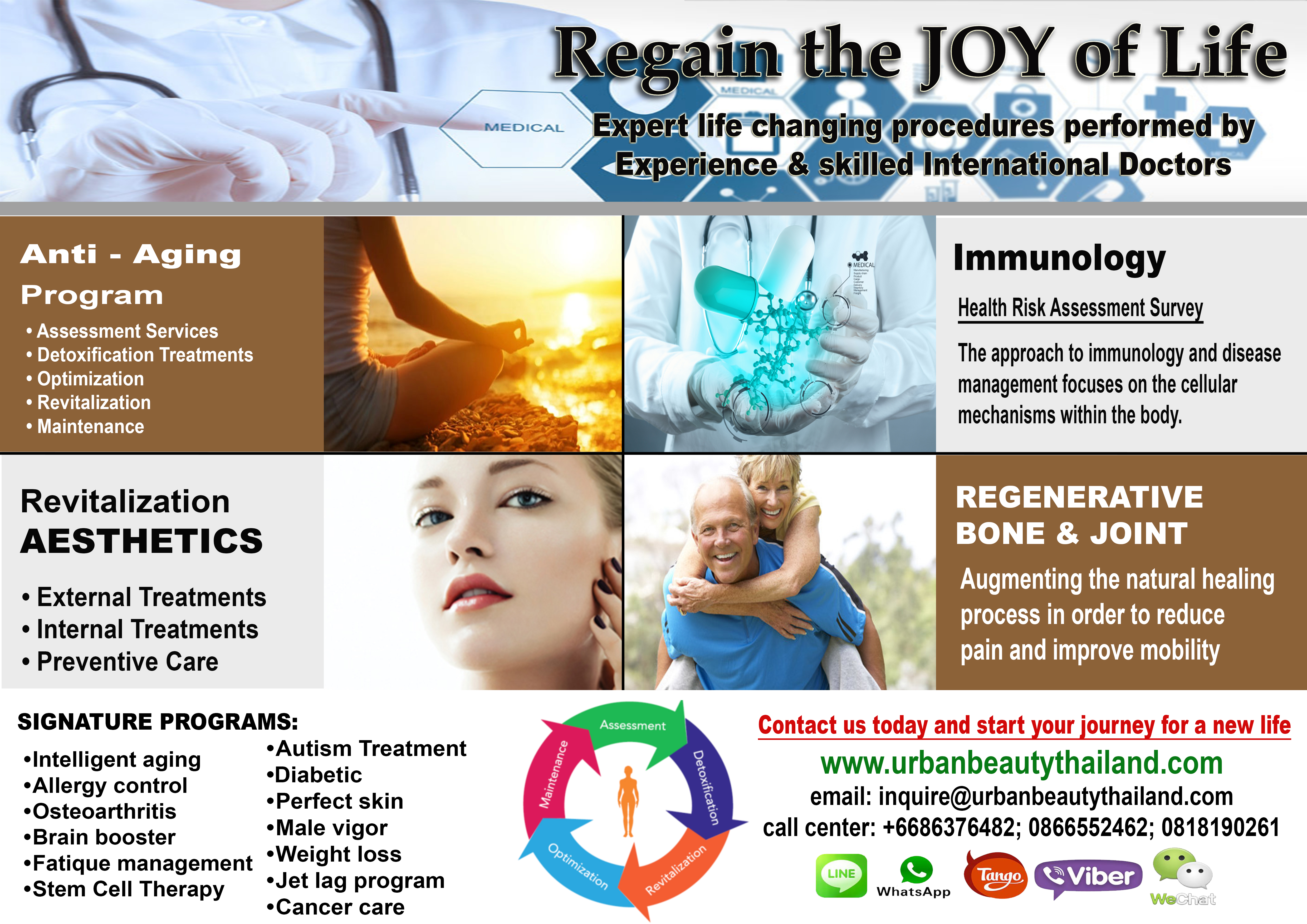 The concept of regenerative medicine is rejuvenation of cells by utilizing and speeding up the natural healing processes of the body. Stem-cell treatments Thailand aim to actually repair, restore and renew cells. This 'active' therapy is injected to kick-start your cells so that they heal and function better; giving your whole body a feeling of vitality.
Regenerative medicine Thailand targets pain and inflammation caused by joint and bone problems, accelerating healing rather than simply dealing with the symptoms. These sophisticated technologies and medical therapies are directed toward combating cellular aging which slows down the aging process leaving the whole body feeling reinvigorated with a new-found zest.
The latest medical knowledge on regenerative medicine can be applied to boost the immune system and allow for disease management through the rejuvenation of cell mechanisms. Meanwhile, the skin is revitalized through detoxification and metabolic rate is improved and accelerated which helps to slim down and get rid of excess fat stores. .
Urban Beauty Thailand specializes in medical regenerative treatments for customers in Bangkok, Thailand. International specialists promise a customized and confidential consultation and therapy for optimal health and wellness, combating cellular aging with the latest techniques and knowledge in biotechnology.
Thailand's Affordable Anti-Aging Regeneration Revolution. Anti-aging used to be about getting rid of a few wrinkles and smoothing out your crow's feet? The difference is that regenerative is about slowing down aging on a physiological level. For more information you may visit us www.urbanbeautythailand.com or inquire@urban.nginnu.com or +66 86 376 4826/0863764826/0866552462 Ambassador Hotel Bangkok, 171 Soi Sukhumvit 11, Khlong Toei Nuae, Bangkok 10110, Thailand