Ulthera Skin Tightening Thailand VS Gold Thread, Threadlift – Cosmetic Surgery Thailand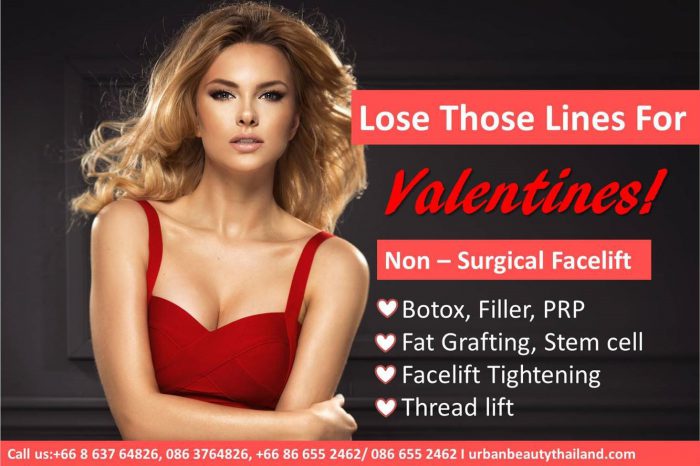 If you've been thinking about facelift surgery but are still uncertain about going under the knife, consider the benefits of the non-surgical facelifts like Thread lift. This innovative procedure delivers facelift-like results with less downtime and scarring.
The surgeon uses suture suspension threads that is approved by FDA standards to lift up the skin tissues in certain areas, and can leave you with a healthier, rejuvenated look and all without surgery.
This innovative facelift procedure can be performed in just one or two hours, often without anesthesia.

Urban Beauty Thailand offers different kinds of thread lift, these includes happy lift, feather lift, suspension lift and spring lift and the most popular for its long lasting effect is the Gold Thread lift.
During a thread facelift Thailand, the cosmetic surgeon inserts thin threads into the face through tiny incisions made in the targeted area. These threads attach to the skin tissue and are then pulled back to lift and smooth the facet last for 8-10 years.
Gold thread lift is using a 99.99% of gold thread which is FDA approved.
Gold is the only material in nature that is not rejected by human skin and therefore can be safely left in place to provide long lasting face lifting and skin rejuvenating effects that would last from 8-10 years.
Gold Thread Lift Thailand is best suited to those patients whose concern is on the cheek area.
And since anyone with a medical license can perform this cosmetic procedure it increases the likelihood of many offering services that have very poor quality.
A thread lift should be done with someone who has the skills and expertise in maneuvering the delicate anatomy of the face to render excellent results with fewer risks.
If poorly done the thread may become visible or pop out of the skin. Sometimes thread breakage could also occur.
Click Below to Review V.D.O
Thread lift Thailand involve several techniques and one of them is the Multiple intradermal non-permanent thread insertion that would lift and tighten skin of the face and neck.
This technique is practiced for ages by the top surgeons in Thailand who is affiliated with the Urban Beauty Thailand and reveals positive effects.
Gold Thread lift is available at FDA approved private clinic only .
In Thailand most of special technique are mostly perform at private clinic. Urban Beauty Thailand also offers other types of thread lift such as, lift, feather lift, suspension lift and spring lift.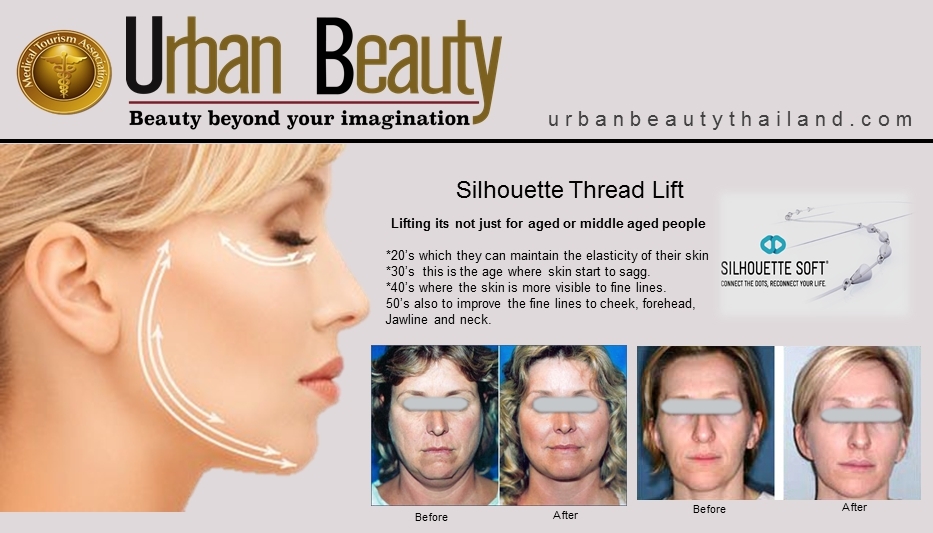 On the other hand, Thailand Ulthera has a unique procedure but has the same goal with the thread lift to give rejuvenation to a sagging skin and to achieve the youthful look a person want to have. To tighten one's skin without scars, downtime, or significant risks seems intriguing to most people.  Up to this point, most Plastic Surgeons have been critical of devices which have touted these claims…until now.
Ulthera (short for Ultrasound Therapy) is using Micro Focused High Frequency Ultrasound to create precise one cubic millimeter lesions (Thermal Coagulation Points – TCP) in the lower skin and deeper tissues.
These controlled lesions create an inflammatory response and eventually tissue contraction, leading to skin tightening.  Full result will take about 90 days to appreciate, but immediate results can be seen before one leaves the office.
Ultherapy  is the only FDA approved device for both tightening and lifting of the muscles and skin of the face and neck, including the eye brows.
Ultherapy is the only technology available that uses ultrasound to heat the muscles and skin to create both deep and superficial collagen production.  The level of the treatment is visualized on an ultrasound screen to insure that the energy is being delivered to the proper level.
Thread Lift and Ulthera differs in one thing:
Thread Lift uses threads to lift and tighten sagging skin and Ulthera uses ultrasound technology that works deep below the surface – without harming the outer layer of skin-for dramatic and long-lasting benefits of facial firming, skin tightening and lifting which is more convenient with cost-effective results.
In Urban Beauty Thailand, we offer you the best of all the best. Gold Thread lift and Uthera treatment will give you the youthful look that you would probably love with cost-effective result.
The Urban Beauty Thailand is the original and has one of a kind treatment in Plastic Surgery, and other forms of beauty and wellness.
Urban Beauty Thailand offer Holiday deals in Bangkok, Phuket Thailand start at 19,000THB/appx $633USD – Ulthera Skin Tightening Bangkok, Ultherapy Before Botox, Restylane, Ulthera Facelift, Laser Skin Tightening in Bangkok, Phuket, Thailand. Best deal Thermage, Coolsculpting Zeltiq Skin Tightening. Beauty Rejuvenation Thailand A combination of Ulthera, Thread Lift, Fillers and Botox. For more information about Urban Beauty Thailand and Thread lift and Ulthera, you may contact us at www.urbanbeautythailand.com. or inquire@urban.nginnu.com or +66 86 376 4826/086 376 4826/086 655 2462. At Ambassador Hotel Bangkok, 171 Soi Sukhumvit 11, Khlong Toei Nuae, Bangkok Thailand 10110