Thread lift Mini Facelift Thailand – Gold Thread lift Thailand
Gold Thread Lift- Face lift Thailand Bring back youthfulness with Gold Thread Lift- Face lift Thailand Skin Tightening Bangkok.

Gold Thread lift Mini Face lift

 in Bangkok & Phuket Enhanced beauty that last log for 8-15 years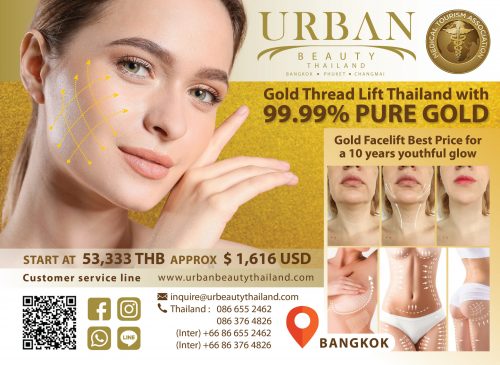 Gold Thread Lift 99.99% pure gold  at  Urban Beauty Thailand  Facial Rejuvenation Guide to Mini Facelift in Bangkok & Phuket Thailand
Gold Thread is 99.99% pure gold and the only product that was produced And certified under the control of the Food and Drug Administration of the United State and European Union.
It has only 0.1 mm diameter for gold thread lift. Because the implantation of  Gold thread into the skin layer will help restoring production of collagen  Elastin and other key components of the skin.
What is gold implantation, what does it help and how?
Gold implantation is the innovation technology in face tightening; the beauty can be maintained for 8 to 15 years.
It can reduce wrinkles and restore youthfulness of the skin to look 5 to 10 years younger than age without surgery.
A small needle just 0.12 mm. threads with 99.99% pure gold size 0.1mm.
Does it hurt and leave a wound?
65% of those who received implantation do not feel any pain at all when receiving procedure because the needles are so small that it does not cause any bleeding but just marks of needles that will be closed only 1 day after implantation.
Before implantation the physicians will use anesthesia for all patient so that the pain in minimal or no pain.
How long can the result are maintained?

It can be maintained between 8-15 years depending on the body's immune system and individual behavioral health care that will help to prolong the maximal efficacy
Gold Thread Lift History:
The gold thread facelift procedure was first commercialized in Europe in the late 1970s. The many brand-names for the gold thread lift procedure are: Gold Filament, Gold Lift – UK & USA; Remaillage – France; Gold Reinforcement – Russia; Happylift – Korea, and Gold Silk – China.
Each of these brand variants has its own specific procedure, based on years of development from practice, & trial and error.
Other difference across procedures can from the additional use of other suture barbed-threads from suppliers such as APTOS®-Threads (tiny spiked threads made from a special bio-compatible material) along with pure gold thread.
Each brand variant also offers a different pattern of threading the web of gold filament and other substance into the face
There are a few gold thread suppliers in the world. You need to make sure the clinics you plan to undergo the gold thread lift use thread that is FDA approved and fully compliant with US FDA Quality Systems Regulations. Contact us if you have any questions.
Keys to Consider:

Gold Thread Lift- mini Facelift Thailand

Gold Thread Lift can be performed on cheeks, forehead, eyes, mouth and neck, and other areas including hands, cleavage, arms, stomach, and hips the use of a special needle.
Gold Thread lift Thailand – Importantly, you need to make sure that the doctor who will perform the procedure for you is board certified, well-trained, and has performed the gold thread lift procedure for a period of time.
Gold Thread lift Thailand – This procedure is promoted and marketed as minimally invasive, non-incision, and non-surgical, it is a complex procedure to interweave threads under the skin.
Gold Thread lift Thailand – A surgeon commented, 'If you are stitching a surface wound you can see what you are doing, but when you are stitching beneath the skin, you are virtually doing it "blind" which, if you are in the wrong hands, could be hazardous.'
Gold Thread lift Thailand– Surgeons must be skillful not to pierce the tissues apart and not to damage large vessels and nerves.
Gold Thread lift mini facelift Thailand– Top doctors in this method are scattered worldwide but for the most part they are in Europe (where the thread lift originated) and Asia (where various cultures hold gold in high esteem). Please contact us for information about founder doctor team who offer and brought this procedure into Thailand.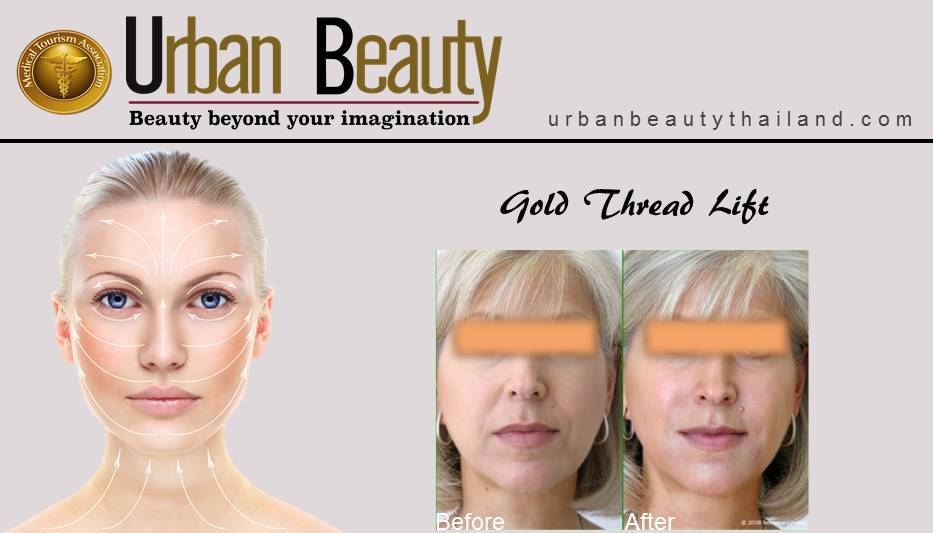 Risk and Complications: Gold Thread lift – mini facelift Thailand
One patient reported that a couple of days after the procedure, she was shocked to look in the mirror and see two gold threads popping out of her forehead.  A quick visit to her facelift doctor was able to remedy this, as the doctor clipped a centimeter off the end of each thread and the rest of the threads did stay inside.
Complications such as these are not uncommon with the gold thread facelift, but if the procedure is done properly it should only happen during the first week or so after the procedure, and is easily rectifiable.
It can simply be the result of the body rejecting the gold threads, which it sees as a foreign object, but as gold is something that is generally not harmful to the body, this shouldn't keep on happening.
Also, a medical journal paper published in Aesthetic Plastic Surgery (The ''Golden Thread Lift'': Radiologic Findings) cites a case study of a 48-year-old patient who reported intense pain in her face.
"Within 10 years she had undergone three ''golden thread lift'' suspension procedures, the last one 2 years previously.
 Skull radiographs showed complete fragmentation of all the implants into small pieces, and a total loss in their vector orientation.
 None of these fragments were oriented straight, as would be expected for them to function as a suspension vector for facial lift. They are unevenly distributed and oriented within the facial and cervical soft tissue.
 A complete surgical removal of all these foreign bodies was also impossible, although a later attempt might be made to remove some of them in open face-lift.
Before & After: Gold Thread lift in Thailand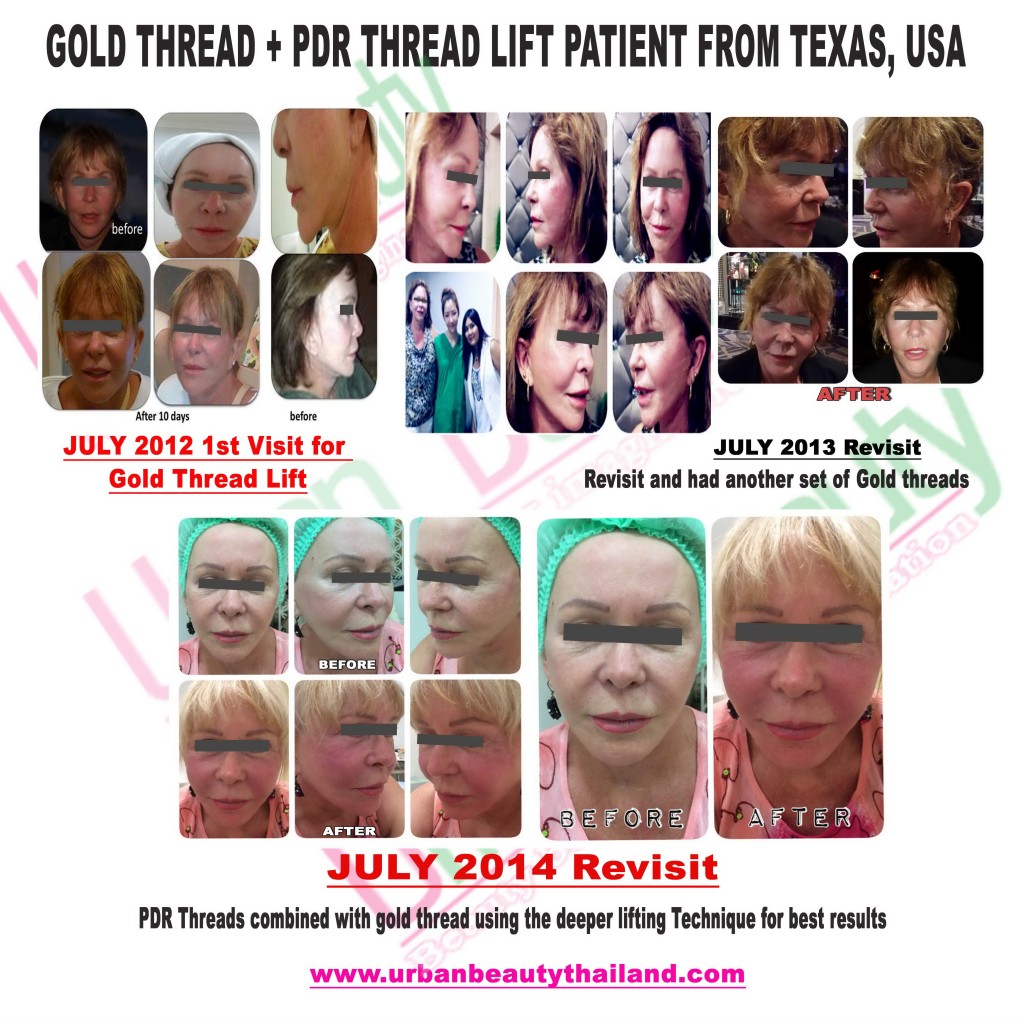 Gold Thread lift Mini Face lift Thailand
Real Testimonials………..
Dear Olivia,
We are both looking very handsome since  our treatments.
You're so nice to take care of us.
Thanks for price and expert doctor, I will   recommend to all the girls.
Best Regards,
Mary, Texas U.S.A,July 12
Although adverse chemical or immunologic tissue reactions are very unlikely with an inert implant material such as gold, such foreign bodies may become infected. In the reported case, just the fragmentation and migration of the implant material resulted in very disturbing pain. Because these procedures are administered commonly for relatively young patients and complete surgical removal is virtually impossible, these residuals may remain for decades, with symptoms worsening through time."
What to choose?

At Urban Beauty Thailand
Take a few moments to review your desired outcome to make sure that you and our surgeon are on the same page.
Our surgeon will give instruction about procedure before undergo.
MORE INFORMATION ON OUR
FACE LIFTING PROCEDURE

:
Let's Us help you with
Gold Thread Facelift

in Thailand