Mini Facelift, Quicklift, Weekend Facelift Thailand Cost – Cosmetic Surgery Thailand
Cosmetic Surgery Thailand

– Thailand Mini Facelift Cost, Reviews and Photos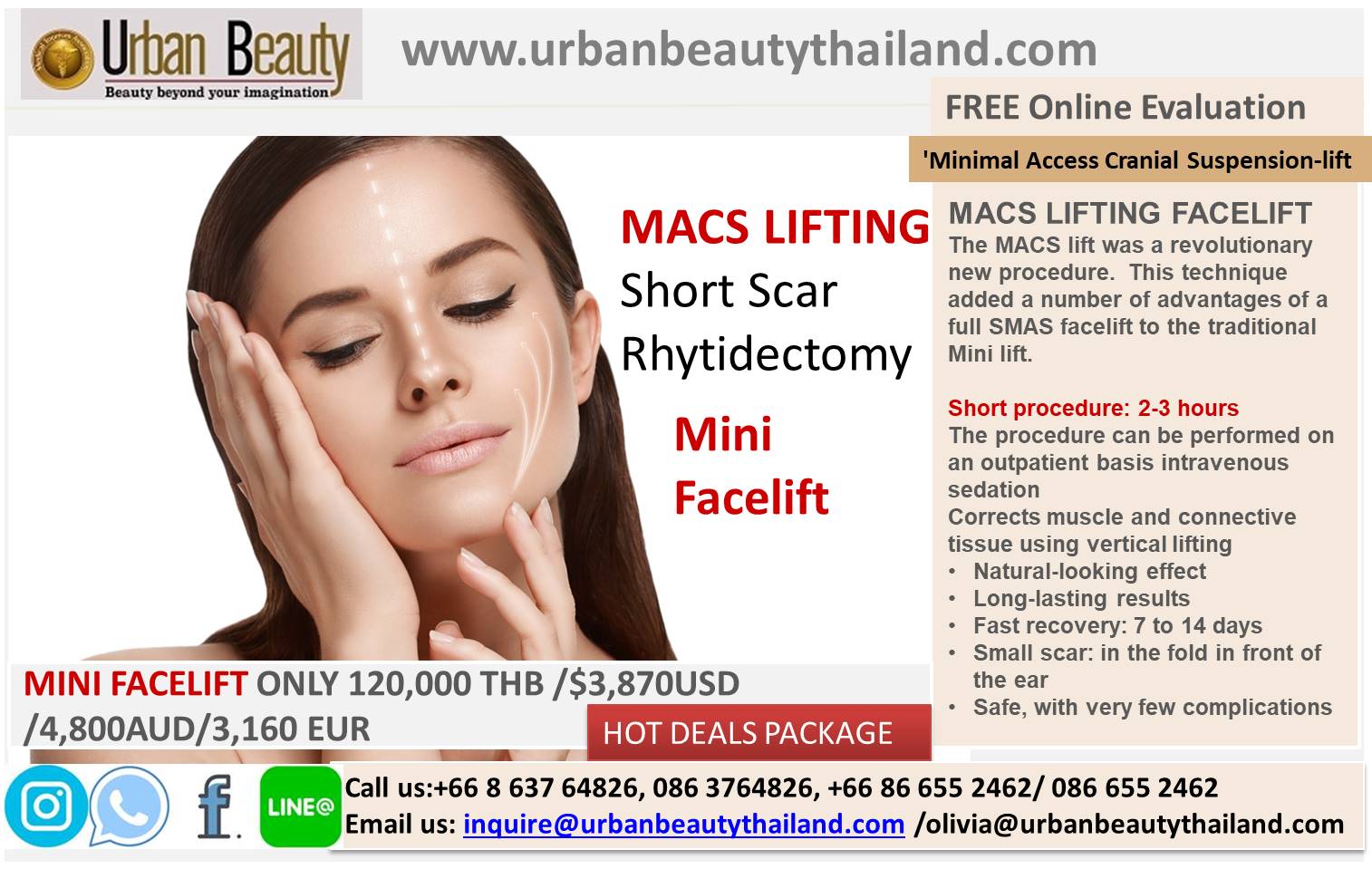 Thailand QuickLift Experience – Mini lift – Weekend face lift
The treatment for everybody who doesn't need a full facelift yet, but just doesn't want to wait until more radical measures are needed. with one hour Mini Facelift Thailand
Free Evaluation, Board Certified, Affordable Cosmetic Surgery Bangkok, Phuket, Samui, Pattaya with Urban Beauty Thailand
Recommend upto 10 days for facelift in Thailand vacation – For proper healing and care & check-ups throughout your Thailand holiday
Experience

with one hour Mini Facelift with Urban Beauty Thailand. As our skin becomes less elastic with age, it may develop loose and unsightly skin folds and wrinkles around the chin, jawline and neck.

When this happens we look older, worn down, and can feel like a walking exhibit on the effects of gravity.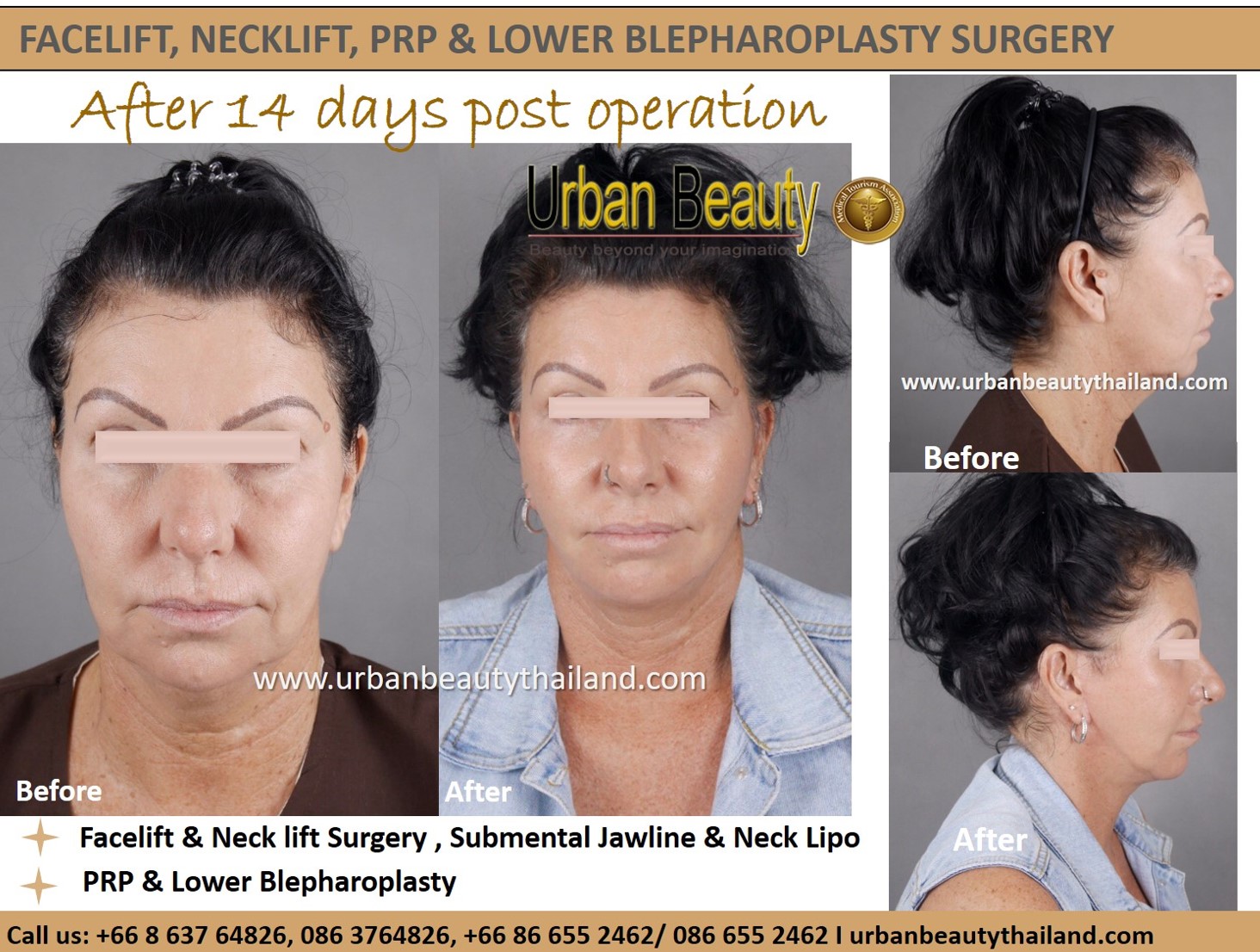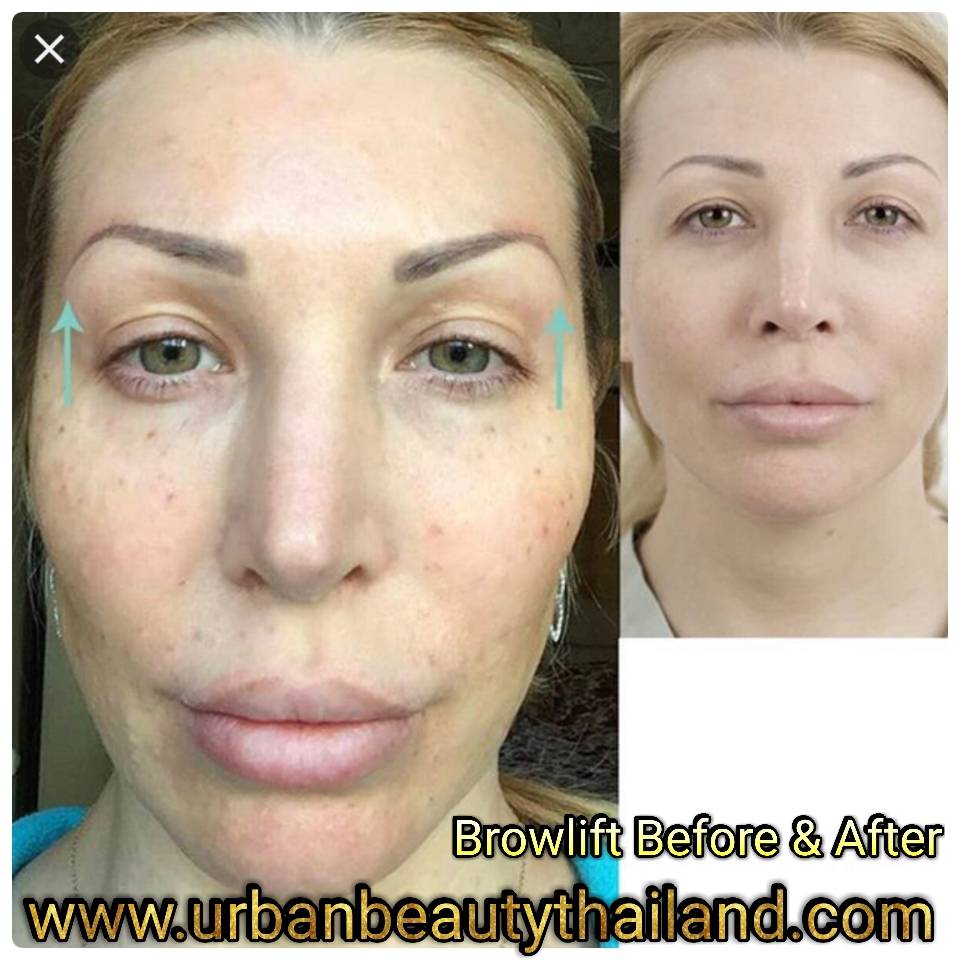 Benefit of Thailand Mini Facelift:
Requires local anesthesia or general anesthesia
You can quickly return home and you'll enjoy the result within two weeks.
Mini lift doesn't just correct your skin, but also the muscles, the subcutaneous fat and the connective tissue of the face and the jaw line.
Incision in the hairline and in the natural fold of the skin in front of the ear,  tightens the skin, corrects the subcutaneous tissues and elevates the weakened muscles.
Our surgeon uses a number of loops, which support of the subcutaneous tissues during the healing period.
These loops are dissolvable and disappear as soon as there are no longer required.
This prevents late rejection of the stitches. The correction of the subcutaneous tissue and muscles lifts your skin in a natural way. We take care to avoid an unnatural appearance!

BEAUTIFUL, NATURAL LIFTING OF THE SKIN
 Modern facelifting has a natural, rejuvenating result because the traction on the facial tissues runs in a vertical way, contrary to the horizontal traction of some old techniques of facelifting, which give a loss of depth in the face.
The tension on the skin and the subcutaneous tissues runs in an upward and not in a sideward direction. Thus we avoid a "too tightened" appearance and achieve a natural rejuvenation.
http://www.youtube.com/watch?v=Db3QSg2GHag&index=57&list=PLrbF4G1KFdpH1sr7dbjbzGyLcVkPSQ7fg
WHAT'S THE DIFFERENCE WITH A FULL FACELIFT
Thailand full facelift is even more effective when the sagging of the skin, muscles, subcutaneous fat and connective tissue, is in an advanced stage.
Thailand full facelift is deep wrinkles, creases and groves found on the face and neck can be eliminated with a full facelift and an endoscopic front lift.
Thailand full facelift is more incisions are made, often also behind the ear and underneath the chin, because mostly all structures of the forehead and the eyebrows inclusive the muscles of the neck, are being corrected.
Thailand Minilift facelift is limited to the central sagging of the tissue of the cheeks and the jowls, often the first, and the most annoying, features of facial aging.
Thailand Minilift facelift is can be combined with liposculpture of the neck, neck muscle correction, eyelid surgery, nose surgery, filling techniques superficial wrinkle treatments or nose.
Thailand Minilift facelift is a popular procedure with our young patients.
Thailand Minilift facelift is No general anesthesia, but very light sedation
How to get a quote: Photographs & Medical history necessary to undergo a surgery, Stay, Requirements. To request the right quote and provide all necessary details and "Make arrangements for a surgery by following these easy steps".
Photographs required for Thailand mini Facelift: Please send 5 pictures of your face:
1 frontal photograph, 1 profile photograph of each side and 1 3/4 profile photograph of each side. It is important that pictures show the head and neck completely.
Details: Age, Weight and Height
Hospitalization: 1- 2 day hospitalization at the hospital is required.
Requirements: Put off smoking 1 or 2 months in advance, since smokers have an increased risk of a delayed healing of scars. Smoking inhibits blood flow to the skin, which may interfere with the healing of incision areas, thus producing small holes in the skin (ulcers).

CAN I BE CONSIDERED FOR OPERATION?
Mini facelift Thailand is for men and women, who want to look younger, without losing the character and the natural expression of their face.
Mini facelift Thailand – It's also an alternative for people who, for personal or medical reasons, choose to undergo a less radical surgery.
Mini facelift Thailand is the treatment for everybody who doesn't need a full facelift yet, but just doesn't want to wait until more radical measures are needed
Mini facelift Thailand- Take a few moments to review your desired outcome to make sure that you and our plastic surgeon are on the same page.
Mini facelift Thailand- Surgeon will give instruction about surgery before operation.
MORE INFORMATION ON OUR
FACE LIFTING PROCEDURE

:

Urban Beauty Thailand – Thailand QuickLift Experience – Mini lift – Weekend face lift Bangkok, Phuket, Pattaya and Samui. Thai's Most Experienced & Trusted Surgeons affordable Word Class Plastic Surgery By Decade Expertise! Save up to 70% on surgery in Thailand! Free Consultation.  For more information you may visit us www.urbanbeautythailand.com or inquire@urbanbeautythailand.com or +66 86 376 4826/086 376 4826/086 655 2462. 
Let's Us Help You With Mini Facelift In Thailand