Penis Size Penis Enlargement Surgery Thailand Penile Enhancement Bangkok – Cosmetic Surgery Thailand
Get the Bigger Penis Size
Penis Enlargement Surgery Thailand
Penile Enhancement Bangkok

Penis widening lengthening Thailand,
Penis Enlargement Surgery Phalloplasty

in Bangkok, Thailand
A lot of men are concerned about the size of their penis and most, if not all of them, are seriously considering ways of increasing the size of their penis.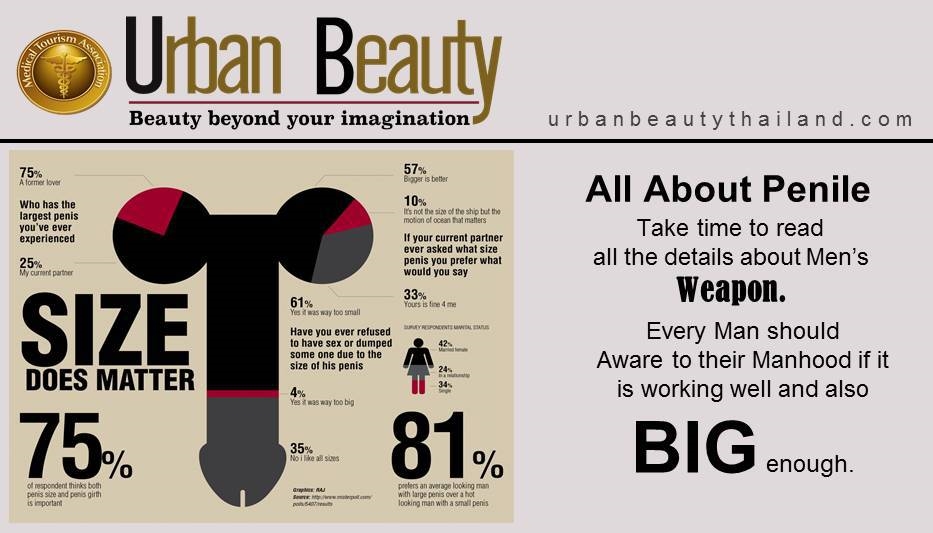 There are a number of options available out there from male enhancement pills which are now popular as for the advertised price; however, this method and techniques can be rather dangerous and will encounter some health problems.  Some of penis enlargement methods do work; however, one should be wary of the products being marketed nowadays since a lot of devious individuals are choosing to take advantage of man's constant fixation on the size of his penis.
 It pays to have a huge penis and no matter what pro-performance people says, nothing satisfies women better than a humungous full-bodied male sex organ.
The fact that not many guys possess large penises may be the reason why a lot of self-help sexual performance enhancers are becoming quite popular these days.
Though expertise in making your bed partner experience mind-blowing orgasm is equally important, there is no reason why you should not find effective ways to enhance the size of your penis especially in this age of unprecedented advancements in medical science.
A common way to alter Penis Size is through Penis Enlargement Surgery Phalloplasty Bangkok, Thailand.
Congenital birth defect called micropenis, those are men that were born with very small size penis not allowing them to procreate.
Some other genetic malformation of the penis such as hypospadias, epispadias or fibrosis of the penis.
The most common reason for men seeking this surgery is an esthetic needs and an individual feeling that their penis is too small.
Thailand Penis enlargement procedure can be divided into two categories temporary and permanent methods. The temporary methods include pills, herbal supplements and vacuum pumps; these methods have various degree of success. Most of the procedures done today are permanent surgical enlargement of the penis length and width.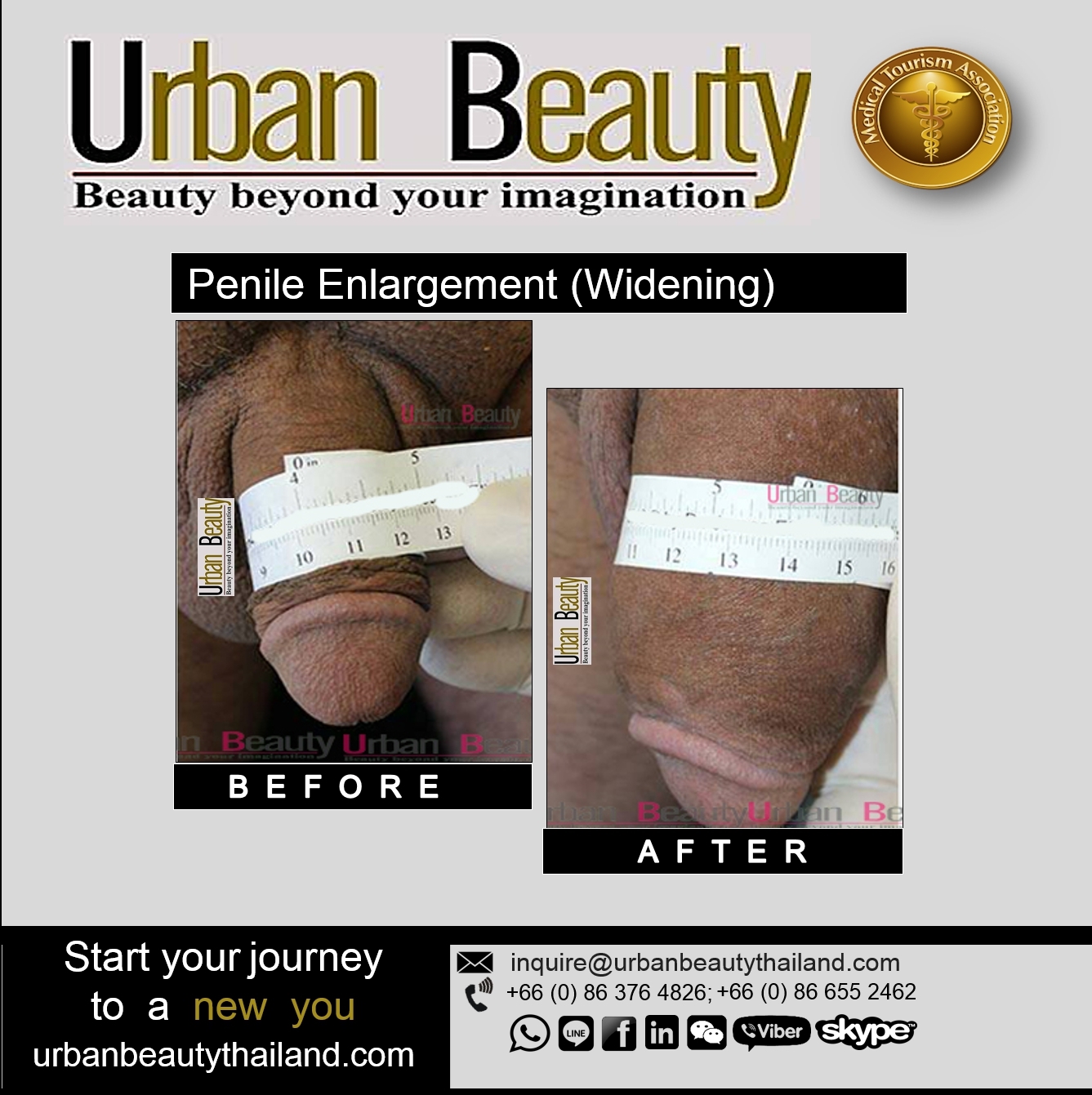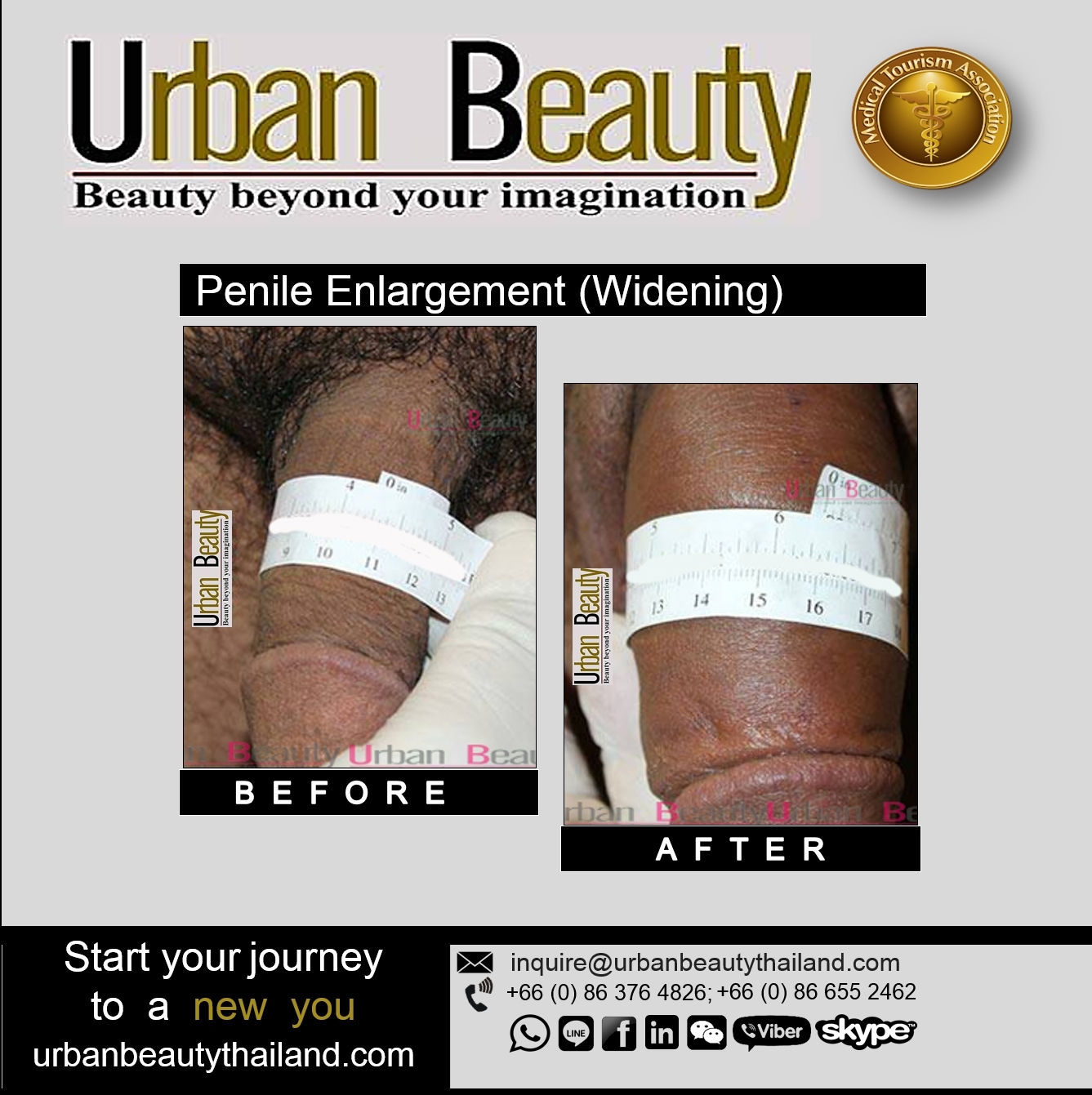 To increase the length the surgeon uses the following technique;
One third of the penis is hidden inside the body, it is attached to the pubic bone by two ligaments, the suspensory and the fundiform ligament.
Cutting those ligaments adds to the penis length additional 2-3 cm in a flaccid state.
The size in the erect state varies considerably.
 After the surgery, to prevent scaring and contraction counterweight is applied to the penis until healing is complete.
Increasing penile girth (thickness): this treatment may be performed with a lengthening procedure or on its own. There are two techniques in common use:
Injection of  liposuctioned fat, from the abdominal wall or thighs, into the dartos fascia, under the skin of the penile shaft
Placing grafts of dermis (a layer of tissue from under the skin surface that is well supplied with blood vessels) and fat from the groin or buttock area within the penile shaft.
Dermal fillers can provide for penis enhancement by increasing girth of the shaft and the head.  Although most think of the size of the penis in terms of merely length, the majority of partners report receiving more pleasure from a man's penis width and not length.
The length operation lasts about an hour and general sedation usually applied.
The width procedure takes one an half hours and can be done using IV sedation.
You will be able to return to work after a few days, but you must wear a bandage for a week.
After the operation it is essential to stretch the penis allowing better healing.
You can return to sexual activity after 10-14 days following fat transfer and 3-4 weeks following length surgery.
The pain is minimal and can be successfully treated with painkillers.
The procedure does not affect the ability to have children.
   
What will be your next step?
Contact us today for a complimentary consultation with our surgeon with decades of experiences in the field of cosmetic surgery. If you have questions about Penis enlargement surgery phalloplasty Thailand/ Male Enhancement Bangkok, Thailand please call  +668 6376 4826/ 086 655 2462 or email  inquire@urbanbeautythailand.com or visit our website  https://urbanbeautythailand.com/ to read more about our MALE ENHANCEMENT  offerings.
 Quote: //Penis Enlargement Bangkok //Fat Busting Package Bangkok // Cosmetic Surgery Bangkok Best Price // Liposuction Bangkok Best Price Package // Gynaecomastia Bangkok Best Price Package // Tummy Tuck Bangkok Best Price // Coolsculpting Bangkok Best Price Package to our beauty consultants for the BEST PRICE!