Hair Transplant Thailand – Hair Loss Prevention Thailand
Hair implants

Hair restoration Thailand is a surgical procedure intended to permanently correct male pattern baldness.

Hair surgeries should be performed by certified surgeons

Hair Loss Prevention
If you notice thinning of your hair or when they suddenly become brittle, you may benefit from specialist medical attention.
A Galeatomy / Galeatomy can be very helpful towards continued healthy hair growth.
The procedure takes place under local anesthetic.
CAUSES of HAIR LOSS
The root of each hair constantly makes new hair. Therefore healthy hair growth requires high vitamin and mineral turn over.
Shortage of important minerals, vitamins and enzymes can result in hair loss, split ends, dullness and combing difficulties.
Stress and certain medications can also cause hair loss.
Hair loss and renewal can also appear in cycles, which often cause alarm. The only treatment for this sort of hair loss is patience.
TIMELY ACTION
After all other medical causes have been eliminated or treated, surgical intervention may help.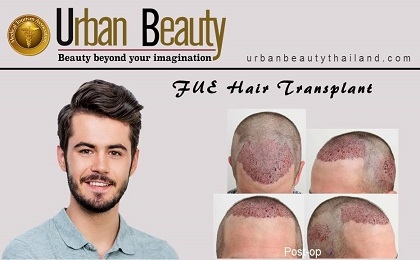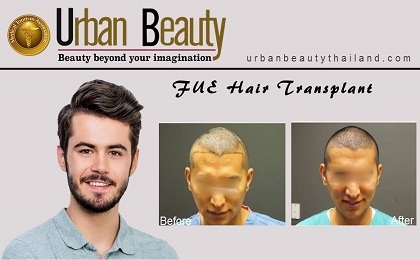 THE SURGERY IN THAILAND
This intervention of Galeatomy / Galeatomy has been described a few decades ago and has experienced several technical improvements.
At Urban Beauty Thailand, we have adapted the method completely for the endoscopic method with minimal scars, above the temples, and immediate recovery.
The physiological mechanism behind the apparent effect of the Galeatomy has not been clarified as yet. In our hands, however, retrospective satisfaction tops 95%.
In female patients we have occasionally witnessed thickening of the hair. In men the best effect is limited to the preservation of the thickness. One has to allow 3 months for the effect to become apparent.
A Galeatomy / Galeatomy, under local anesthesia, takes about 45 minutes. You can go home straight after the procedure, although you should not drive or operate heavy machinery for the rest of the day.
A Galeatomy is often performed in combination with hair restoration surgery to prevent further hair loss. Generally we do not recommend a hair transplant, filling up one area of the scalp, whereas further balding, hair loss, around that area is expected to take place in due course.
Risk from

Hair Transplant

, Hair Restoration procedure Thailand:
RELATED DOCUMENTS: HAIR RESTORATION SURGERY
When should I start treatment?
Urban Beauty Thailand offer Lowest Price FUE Hair Transplant Thailand upto 3,000 grafts 95,000 THB approx. $1 USD per graft only, Save up to 70% less than your countries with Hair Transplant in Bangkok, Thailand. A BLEND OF NEW TECHNOLOGY AND EXPERTISE! Hair Transplant Thailand.Visit us www.urbanbeautythailand.com or inquire@urban.nginnu.com or +66 86 376 4826/0863764826/086 655 2462. At Ambassador Hotel Bangkok, 171 Soi Sukhumvit 11, Khlong Toei Nuae, Bangkok Thailand 10110