Hair Transplant Thailand – Hair Transplant Microsurgery Thailand
Hair Transplant Microsurgery Thailand

HAIR RESTORATION SURGERY THAILAND

– : Own Hair Redistribution
When done right, the result is so natural that even a stylist cannot detect it.
Today hair restoration surgery in Thailand is a one day out-patient procedure requiring only local anesthesia.
Most patients are surprised by how little discomfort, if any, they experience during and after surgery.
Natural looking hair transplant
Click Below to Review V.D.O
HAIR RESTORATION SURGERY – MICROSURGERY: Own Hair Redistribution
Hereditary baldness normally concentrates on the front and top region of the scalp.
This leaves the hair in the rear region as good quality donor hair.
Maximally, a 16 cm by 1, 5 cm skin patch will be surgically removed. The scalp is numbed with a local anesthetic.
Intravenous or oral sedation can be considered.
HAIR TRANSPLANT MICROSURGERY
Under visual magnification, the hair follicles are individually dissected from the donor patch.
This is performed by our team of well trained surgeons and nurses.
Micro-surgical dissection of the donor strip, in a professional way,is essential to have a successful transplant result.
Surgeon cut the harvested donor strip into single or multiple follicle units. Single follicle units are to be transplanted to the front hairline.
Multiple-follicle units (2 to 4 follicles) are used in the upper areas of the scalp, to get more density.
Single follicle grafts/unit
Two hair follicles in one graft/unit
Three hair follicles in one graft/unit
The surgeon implants each graft individually into the balding scalp
The procedure is labor-intensive.
It requires 3 to 5 medical and paramedical specialists.
Surgery lasts 2 to 6 hours.
The result of micro implant surgery is very natural-looking. This technique makes the procedure almost unnoticeable to others.
The scar at the donor site – a straight line – is hidden between the remaining hairs. Due to the use off new surgical closure-techniques – trichophy scar closure-, the fine line scar will be as good as invisible after a few months.
After surgery
Small wounds will develop a scab for about ten days. From the outset, you will notice hair growth, however this is only temporary.
After 3 months most of the implanted hairs have dropped out; thereafter begins the permanent growth.
In 9 to 12 months the new hair will develop to a good length.
Don't allow the hair on your head to vanish and do absolutely nothing about it. For FUT or FUE just 60 baht/graft or just $1+ USD/graft, our surgeons team can make you look younger, healthier and more attractive in just one session. If you book an appointment with Urban Beauty Thailand today, you will gain the full benefit amazing hair transplant skills.

Risk from

Hair Transplant

, Hair Restoration procedure Thailand:
RELATED DOCUMENTS: HAIR RESTORATION SURGERY
When should I start treatment?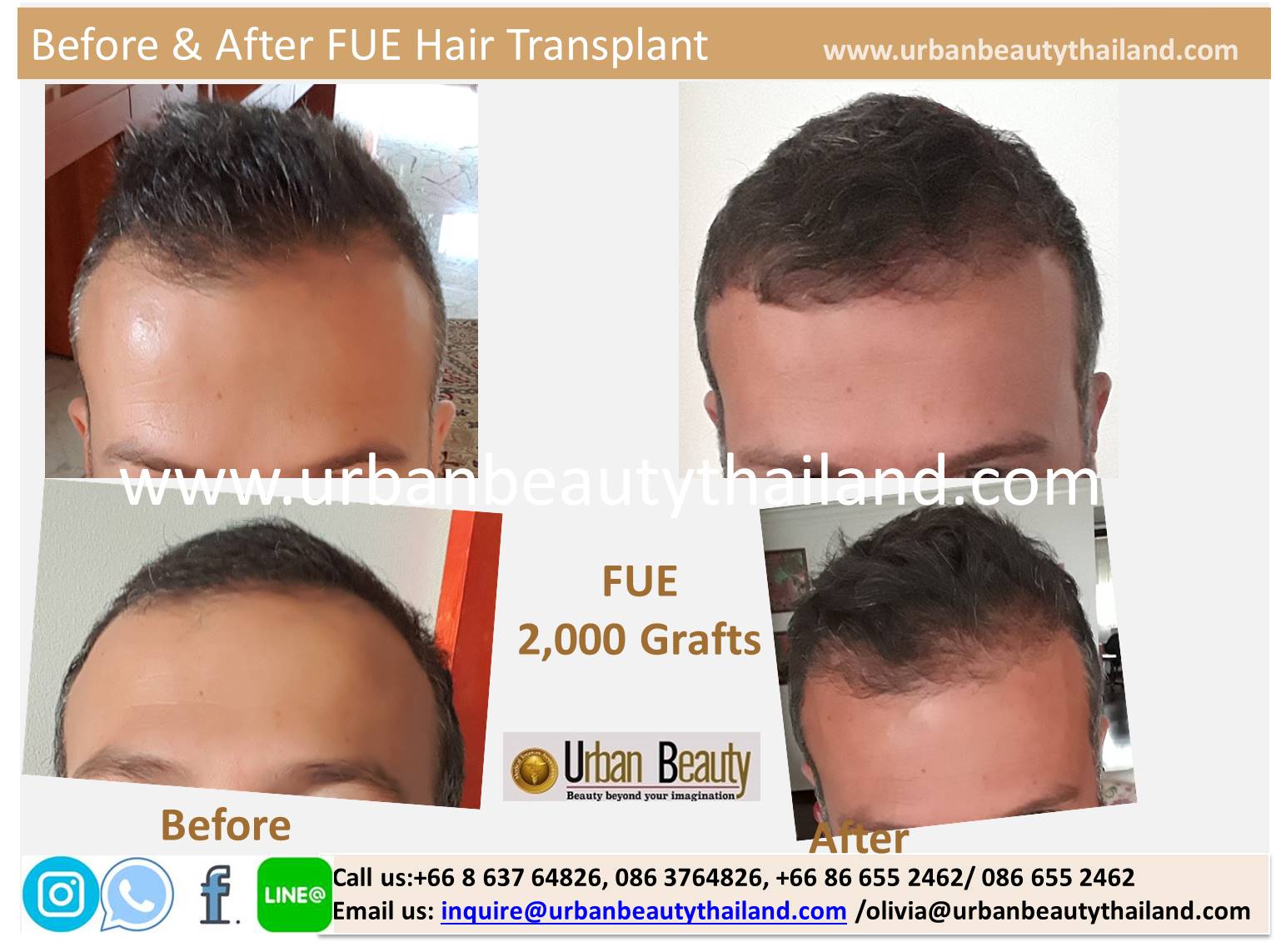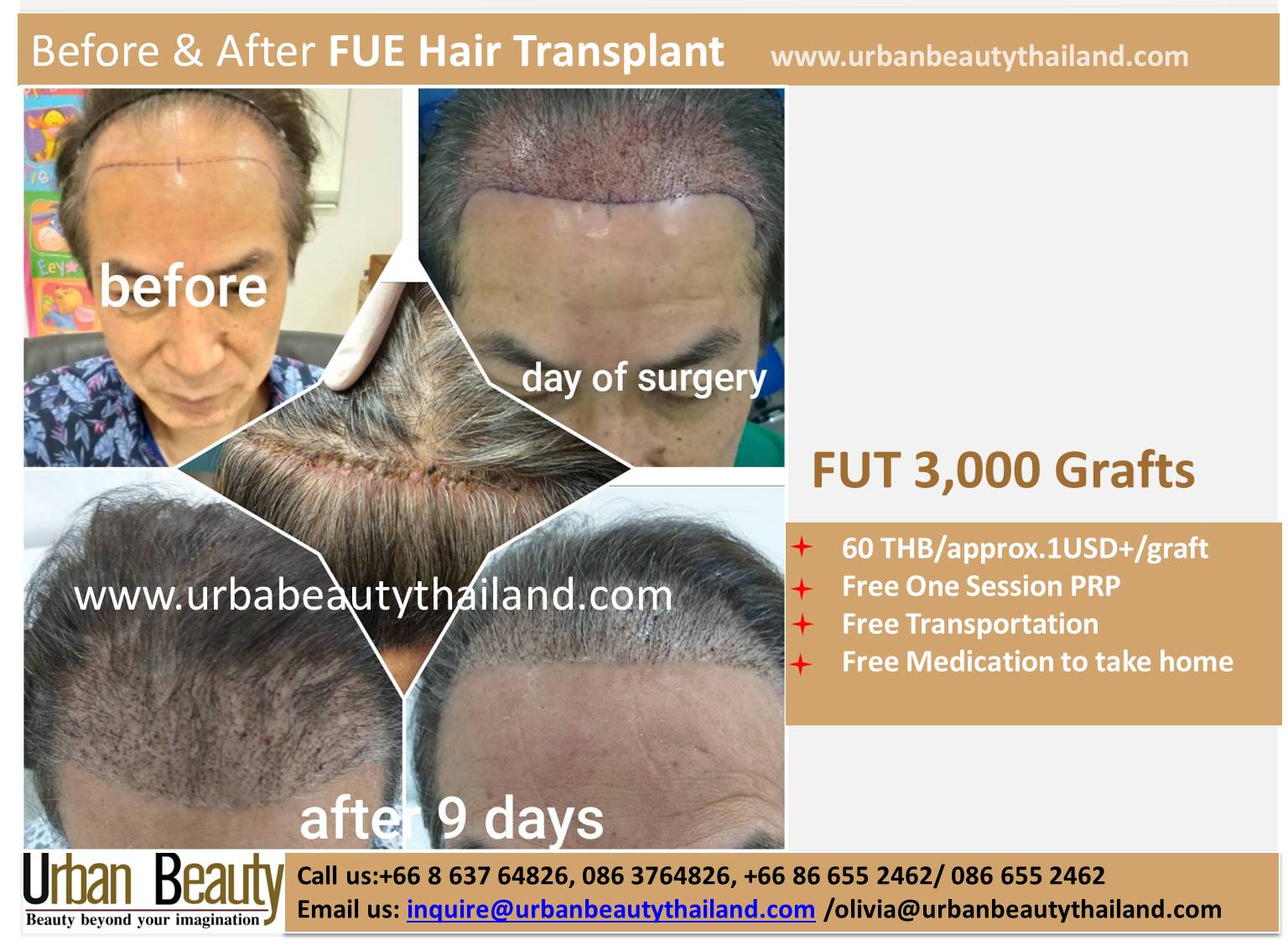 HAIR TRANSPLANT THAILAND FUT or FUE Special Promo $1 USD per graft Hair Transplant Holidays! Hair-Raising Cosmetic Procedures in Specialist Clinics in Bangkok and Phuket, Thailand. Transform yourself now & enjoy the year looking & feeling fantastic! Contact our Beauty Experts now for a FREE consultation. Urban Beauty Thailand offer Lowest Price FUE Hair Transplant Thailand upto 3,000 grafts 95,000 THB approx. $1 USD per graft only, Save up to 70% less than your countries with Hair Transplant in Bangkok, Thailand. Quote: Hair Transplant Bangkok // Cosmetic Surgery Bangkok Best Price // FUE Hair Transplant Bangkok Best Price Package // Robot Hair transplant Bangkok Best Price Package // Hair Restoration Bangkok Best Price // Natural Hair Transplant Bangkok Best Price Package to our beauty consultants for the BEST PRICE! in Bangkok, Thailand. Visit us www.urbanbeautythailand.com or inquire@urban.nginnu.com or +66 86 376 4826/086 376 4826/086 655 2462. At Ambassador Hotel Bangkok, 171 Soi Sukhumvit 11, Khlong Toei Nuae, Bangkok Thailand 10110